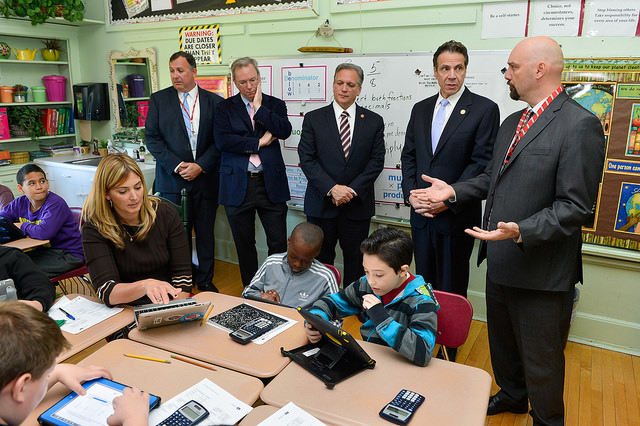 Gov. Cuomo tours a school (photo: Governor's Office via flickr)
---
The following is part of our series, The Cuomo Record, examining incumbent Democratic Governor Andrew Cuomo's first term as he seeks re-election heading to Election Day, November 4

"Dear Chancellor Tisch," wrote Andrew Cuomo in a May 2011 open letter to Board of Regents head Meryl just five months into his tenure as Governor of New York. "Performance is the key to education. It's not about how much we spend, but the results that matter. As data show our education spending hasn't resulted in performance."
"We must focus on measures and accountability," Cuomo implored, giving clear indication of his governing philosophy regarding education and other areas. The governor then cited data that informed and motivated him: the state's ballooning education spending - highest per pupil in the nation - with little to show for it by way of competitive advantage in terms of graduation and college-readiness rates.
The incumbent Democratic governor, now seeking re-election as voters go to the polls on Tuesday, November 4, has governed in what he and his supporters call a fiscally responsible, socially progressive fashion. Education is one of several areas in which Cuomo has attempted to make progress while ensuring smart spending, in many instances applying his penchant for using competitive grants to push his agenda and ensure measures of accountability of the kind that he referenced in the letter to Tisch.
Though at times Cuomo has distanced himself from the most controversial aspects of education policy, such as the troubled implementation of Common Core learning standards, education is an unavoidable gauntlet for political leaders, especially governors.
In his first-term handling of education issues, Cuomo has sought to position himself as the students' champion, a reformer of an antiquated, ineffective system willing to do battle with stakeholders like teachers unions who stand in the way of what he sees as progress, and become a hero to those who favor applying market principles of competition, choice, and quantitative accountability to the education paradigm.
On the campaign trail in early October, Cuomo reportedly said, "We're now saying to the public education system: You have to perform, and you're not just going to get funded for process; you're going to get funded for performance. That is a big deal, and that is a big shift when you've had a public monopoly since its existence."
This type of rhetoric is music to supporters' ears. They call Cuomo a strong leader on education unafraid to fight special interests, namely teachers union and the legislators beholden to them, in the effort to shake up the system, expand what works, and move away from what doesn't. Cuomo's policies on the state level are quite like what former Mayor Michael Bloomberg sought to do in New York City, and the two have received backing from similar reform-minded circles while doing battle with the unions.
Critics, meanwhile, allege that Cuomo is a threat to public education in New York, that he wrongly supports charter schools at the expense of traditional public schools and unfairly targets teachers while not fully funding the state's schools, especially those serving students with the greatest needs in the poorest communities.
In seeking re-election, Cuomo and his campaign point to what they call major accomplishments increasing education spending, but wisely by attaching funding to performance; investing in universal full-day pre-kindergarten; ensuring "the growth of high-performing charter schools"; protecting students from the flawed rollout of the Common Core; and implementation of a new teacher evaluation system, which was the central subject of that 2011 letter from Cuomo to Tisch.
"The governor has reframed our education system so that for the first time every decision is based on performance," said Jenny Sedlis, executive director of Students First NY, a leading education reform organization. "His adoption of a rigorous teacher evaluation system and his support for choice and charters show his commitment to performance."
On the other side of the ledger, Billy Easton, executive director of education advocacy group Alliance for Quality Education (AQE), said that "education is probably Governor Cuomo's largest failure." AQE is largely aligned with teachers unions.
"There's not much room to give him any credit," Easton added, "his education policies are as bad or worse than [former Republican governor] George Pataki's were." While hitting Cuomo for pro-charter policies, demonization of teachers, and lack of adequate school funding, Easton and others do acknowledge Cuomo having agreed to fund a major expansion of pre-kindergarten education in New York - though they give much of the credit for that to the full-court press put on my New York City Mayor Bill de Blasio and his allies.
Because of New York's governing structure, Cuomo and the State Legislature are often at least somewhat removed from the education policy-making process largely controlled by the Board of Regents (the members of which are appointed by the Legislature) and the State Education Department (SED), led by a Commissioner (currently John King) who is appointed by the Regents. The Regents and SED are mostly responsible for the granular aspects of education policy.
The Governor and the Legislature, though, control the state's purse strings and law-making, thus giving them wide-ranging leeway to enact education policy - especially given that this is an area with limited federal reach. The governor's first-term record on education, which he roundly touts, shows an approach guided by the principles he outlined in his early speeches and his letter to Tisch on implementing a performance-based paradigm.
Funding
On the back of Tuesday's ballot, New York voters will find three proposals, the third of which applies to education funding and deals with the Smart Schools Bond Act. Governor Cuomo is urging a "yes" vote on "Prop 3," which would authorize a $2 billion bond sale by the State, the revenue from which would be funneled to school districts who apply for it and meet specific criteria, most notably spending on educational technology or school space and infrastructure.
The Smart Schools Bond Act, which has not been the topic of much conversation this election season, is only one aspect of the larger school funding picture. One other key piece to understanding New York education policy and finances is the State's winning of federal Race to the Top grant money in 2010, just before Cuomo took office. The $700 million grant came via an application process, with New York (and many other winning states) having to agree to certain reforms, including the adoption of the Common Core learning standards and a new system of teacher evaluations.

In a general sense, Race to the Top is a federal example of what Cuomo has often sought to do with funding on the state level, and what the Smart Schools Bond Act will entail if approved by voters and implemented: competitive grants attached to fairly strict policy requirements. In other words, incentivizing reform by attaching funding to specific expectations, the meeting of which is carefully tracked.
The governor has instituted this method on everything from pre-k to community schools to extended learning time grants; job-training programs to economic development at state university sites.
Even while he speaks consistently of reducing spending and spending in more effective, efficient ways, Cuomo has touted increasing education spending in this year's budget and doing so three straight years after cutting funding in his initial budget. In 2011, Cuomo came into office facing a $10 billion deficit and with the state still suffering dramatically amid the national recession.
Cuomo has instituted a policy aimed to cap increases to property taxes, which are a key element in the local school funding equation. The State now sends rebate checks to residents of municipalities that keep their taxes down, which some say has led to detrimental cuts in school budgets and therefore school staff and programming. Cuomo has called it a way to "fundamentally address the structural cause of high property taxes." Easton, of AQE, calls it "a bribe for the voters" to not invest in their local schools.
The property tax levy cap does not institute a hard cap - instead, it insists that residents of school districts must vote (at a 60% approval rate) to enact a school budget if the proposed tax exceeds the established limit, which varies by district based on a formula.
For the 2014-2015 state budget, Cuomo and legislative leaders announced at the end of March, "a $1.1 billion – or 5.3% – increase in education aid for the 2014-15 school year. High-needs school districts will receive nearly 70 percent of the 2014-15 allocated increase."
Education advocates don't see a rosy funding picture, though. In a report released in August called "Billions Behind: New York State Continues to Violate Students' Constitutional Rights," the Alliance for Quality Education and Opportunity Action found New York owing "$5.9 billion in total Foundation Aid and Gap Elimination Adjustment funding" to schools. As it's title indicates, the report asserts that the State is violating its "constitutional obligation of providing every student with a "sound basic education.""
The report also indicates that the State owes much more to higher needs schools than to wealthy schools, noting that the largest impact is being had on schools in small cities around the state. The release of the report included comments from school superintendents outlining cuts they've had to make due to inadequate funding, including across-the-board cuts in some cases or to specific programs like business, arts, and sports in others.
"The findings are clear and shocking. Governor Cuomo has failed to provide the leadership to uphold the state's constitutional responsibility to provide every student with a sound basic public education. The state has a $6.2 billion surplus heading into 2015, there is no excuse to continue to make our students lose out," said AQE's Easton.
Easton even criticized Cuomo's approach to increasing pre-k funding, though he said that in general it was one positive highlight. Easton argues that by making districts apply for the funding and prove ahead of time that they have infrastructure in place to be able to ramp up, the governor is hurting the program's expansion. "Typical Cuomo," Easton says, "'what do I need to spend to give the talking point, even if I don't actually deliver.'"
Cuomo and his surrogates are proud to boast of the latest commitment of funds toward expanding pre-kindergarten throughout the state. They cite competitive grants in 2013 and a $1.5 billion, five-year investment to support statewide full-day pre-k, starting with $340 million in 2014 that largely went toward New York City's program. Cuomo has regularly referenced pre-k on the campaign trail.
"It's a very good thing that we took a large step toward universal full-day pre-k in New York City" Easton said, but added that he believes the money must be sent to school districts around the state to allow them to expand, not withheld in an application process.
Along with a general agreement on the value of expanding pre-k, one other thing Cuomo and Easton both call necessary is reducing the opportunity gap between wealthy and poor students. But, while Cuomo says work is being done on this front, Easton is not convinced. "He has to invest substantial amounts of funds in high-needs school districts, which he has failed to do," Easton said of the governor.
"We spend the most per pupil when you average it out," Easton explains, "but it doesn't help a kid in the South Bronx or Utica" if they are spending a lot "in Westchester." Easton says that the statistic that New York spends the most per pupil in the nation is meaningless. "We spend a lot in wealthy districts...we have astoundingly good results in wealthy districts," he says. This point, of course, gets at the nature of New York's system of using local property taxes to fund district schools.
But, Easton adds: "Money alone is not the solution, but the lack of money is the biggest problem for schools. Money has to be used the right way: making sure that every kid has a high quality curriculum; that class sizes, particularly in the early grades, are small enough; that we have extended time for longer school days, longer school years, after-school programs; and that we have social and emotional supports."
The notion of longer school days and years, as well as expanded after-school programming is another source of agreement among virtually all education stakeholders.
Teacher Evaluation and the Union
As he encourages New Yorkers to give him another four years, Cuomo touts a new teacher evaluation system as a major "win" in his education record, despite the fact that the governor is still working to tweak the system.
In early October, the governor reportedly said, "We have a lot more to do to make those evaluations meaningful and strong and relevant. And that is exciting to me, because it's a whole new track for education, which other states are doing, and we're slow and we're behind, but we're on that track now." Cuomo and those who agree with him see rates of teacher proficiency on evaluations as too high given low rates of student proficiency on exams.
The governor attached funding to implementation of a stronger evaluation system in each school district, which led to major issues in New York City toward the end of the Bloomberg era as the City and the United Federation of Teachers (UFT) were unable to agree to a local system in time to receive funding.
But, almost every district around the state was able to meet the initial deadline set by Cuomo and New York City eventually got there too. Supporters are pleased with the progress thus far, but also agree with the governor that the system needs to be taken even further. Those who believe in performance and accountability assessments for teachers want a system whereby it is possible to more clearly differentiate among teachers, identifying which are effective and which are not - with gradations along that scale.
Sedlis, of Students First NY, said, "The governor took a historic step in enacting teacher evaluations, but he's right to point out a system where 99% of teachers are rated OK suggests that there are still improvements that need to be made."
When the first rounds of common core-aligned exams showed startlingly low student proficiency rates, Cuomo did agree to slow the pace at which the results of the tests would be used toward impacting student promotion and graduation, and in removing teachers from the classroom. But, the deal that was reached resulted in legislation that the governor has still not signed, leaving educators confused.
"It's confusing, because schools don't know which set of rules they're operating under and don't know whether a teacher is going to be classified as 'ineffective' or 'developing' until those recalculated scores are made available," said David Albert, spokesman for the New York State School Boards Association, according to Capital New York.
The governor has continued to sit in conflict with teachers unions, namely NYSUT, the New York State United Teachers. When Cuomo's main Democratic primary challenger, Fordham law professor Zephyr Teachout, performed fairly well again him, Cuomo attributed the result, in part, to his having taken a tough line with NYSUT.
"I knew what I was doing when I did not cater to the teachers union," Cuomo reportedly said in September. "I know what it means to be at odds with the teachers union."
Recently, Cuomo said that with tougher teacher evaluation laws and more support for charter schools, he would "break what is in essence one of the only remaining public monopolies."
In response, Working Families Party (WFP) New York State Director Bill Lipton issued a harsh rebuke, saying in part that Cuomo's "proposed policies on public education will weaken, not strengthen our public education system, and they would represent a step away from the principle of high quality public education for all students. High stakes testing and competition are not the answer. Investment in the future is the answer, and that means progressive taxation and adequate resources for our schools." The WFP is a largely labor-backed group.
In conjunction with his comment about breaking the public monopoly on education, Cuomo told the Daily News editorial board that he wants even more incentives and sanctions in teacher evaluations. "The teachers don't want to do the evaluations and they don't want to do rigorous evaluations - I get it, " Cuomo reportedly said. "I feel exactly the opposite."
Other reactions to Cuomo's comments were also harsh, with several New York lawmakers condemning the governor.
"I am not surprised that Governor Cuomo supports attempts to privatize schools to benefit hedge fund billionaires," said New York City Council Education Committee Chair Daniel Dromm, a former member of the UFT. "These Wall Street fat cats may raise him the most money but public education isn't a business. If Governor Cuomo actually spent time in the NYC public schools, he would learn that there is no independent assessment that says that charter schools perform better than public schools. He should do something constructive for public education for a change."
Cuomo has indeed enjoyed a close relationship with banking titans, receiving sizable donations and allowing significant influence. These donors and advisors are often the same individuals who give funds and sit on the boards of charter school organizations and subscribe to the very education principles that Cuomo has espouses throughout his term.
More on Charter Schools
As evidenced by some of the aforementioned commentary and other such rhetoric in New York and nationally, there is perhaps no issue that divides Democrats like charter schools.
Many Democratic politicians are allied with teachers unions, who generally oppose charters, and are therefore cool, if not hostile, toward the privately-run, publicly-funded, usually non-union institutions. Other Democrats like Governor Cuomo, though, see charters as strong alternatives to traditional public schools and one way by which an education system stuck in the mud can move the ball forward.
Cuomo's support for charter schools has been widely criticized, and was crystallized for many by his recent comments about the public monopoly on education. Cuomo's pro-charter stance was cemented by his appearance at a massive rally in Albany early this year, followed by the protections for charters that Cuomo made sure were included in the following budget deal.
In highlighting the 2014-2015 budget agreement, the Cuomo administration noted that it would "Protect Choice for all of New York's Children: The Budget increases tuition funding for charter school students over three years: $250 per student the first year, $350 the second, and $500 in the third. The Budget will also promote the growth of charter schools by addressing their facility needs, and charter schools will be eligible for pre-kindergarten funding."
The new laws established in the budget deal prevent New York City from charging rent to charter schools as Mayor de Blasio had said he planned to do, and ensured that space would be found and paid for when new charters were approved to open.

In response to Cuomo's public monopoly comments, Dromm was not alone in criticizing the governor's support of charter schools.
State Senator Bill Perkins weighed in: "Saying that there should be more competition among schools—to break a so-called public monopoly—is his way of imposing heedless private business practices on these august institutions that have served our citizens well for more than a century. Furthermore, charter schools perpetuate a system of educational inequality and have ushered in a new generation of separate but unequal outcomes in education. Governor Cuomo's own words—sadly, lead us to believe that profit and privatization is more important to him than serving every child in the state with excellence."
Meanwhile, even though Cuomo drew several lines in the sand around charter schools in the last budget agreement, the issue is not going anywhere as the state cap on charters is going to be a significant topic in the upcoming legislative session. New York City is nearing it's full allotment under the cap and the usual suspects will be mobilizing on both sides of the issue to impact 2015 Albany decision-making. Many will be pushing the governor to ensure the cap is raised or lifted altogether. There is little reason to think that Cuomo will turn away those he has been allied with on the issue.
James Merriman, CEO of the New York City Charter School Center, declined to comment on Cuomo's first term for this article, but did recently pen a Daily News op-ed on doing away with the charter cap - an early stake in the ground on what will be a hot-button issue once legislators return to the capital in January.
Charter schools in New York City, especially those belonging to the large charter management organizations like Success Academy, have performed exceedingly well on state exams. Yet, other charters in the city and around the state have not shown such performance - and even those that do perform well are criticized as being test-prep factories, for counseling troublesome students out, and for educating fewer English-language learners and special needs students than their district counterparts. And, there are always union issues at play. While charter schools continue to educate only a small percentage of New York students, the sector and its influence are growing and much about the charter debate is indicative of big questions about where education is heading both short and long term.
In the piece, Merriman captured the debate over charter schools well, albeit clearly from his perspective: "With such clear results and promise, eliminating all barriers to opening schools that work should be common sense," Merriman writes of lifting the charter cap. "But in Albany, you can count on the teachers union and their supporters to try to bully legislators to prevent even one more charter school from opening — unless, of course, those schools are unionized.
"Special-interest pleading by Albany's most powerful political machine should not trump results. Over the past few years, lawmakers have courageously stood up to the unions, approving laws that expand education options for students. They should do so again.
After 15 years of positive results, it's time for our state law to stop treating our most innovative and high-performing public schools like a threat to be contained."
Also on the 2015 Albany menu will be mayoral control of schools in New York City. Many expect Mayor de Blasio to seek renewal of mayoral control and for the governor and Legislature to be supportive in general. But, determining the specifics of a deal on mayoral control could provide for another education-related showdown between the oft-allied governor and mayor who do tend to look at education quite differently.
Common Core
Cuomo has been a supporter of Common Core, but has criticized the implementation of the new standards by the Board of Regents and SED Commissioner King. Through the most recent legislative deals, Cuomo made sure that students and teachers would not be unduly hurt by the initial years of common core-aligned tests. He now boasts of his work on this issue as a win, while distancing himself from the problems with the standards and their rollout.
Easton, of AQE, said, "the primary responsibility for botched rollout of the common core rests with the commissioner and the regents, but this is a hard-charging, aggressive governor and we haven't seen him step up to the plate and do anything about it."
Cuomo says otherwise. In the lone gubernatorial debate - during which his Republican opponent Rob Astorino referred to the standards as "Cuomo's Common Core" and called their implementation a disaster - the governor rebuked the attacks by saying he had nothing to do with the Common Core, other than to helpfully mitigate the effects of a poorly managed rollout.
"The Common Core is being implemented by something called the Board of Regents," Cuomo reportedly said in February. "The Board of Regents supervises something called the State Education Department. People think the Governor is in charge of the State Education Department. It sounds that way...You would think the Governor is in charge of the State Education Department. Actually, I'm not, I have nothing to do with it. The Board of Regents supervises the State Education Department and I don't appoint anyone to the Board of Regents, either."
Cuomo took action in the 2014 budget deal. In releasing its details, Cuomo touted reform of common core implementation, including that his effort "bans standardized "bubble tests" for young children" and "protects students from high stakes based on unfair tests results."
"In truth, the reason we're in this situation is because the Board of Regents and Mr. King didn't handle it," Cuomo reportedly said in June after reaching that budget deal in March. "That's how we got here. These are problems that have developed because of the improper roll out of Common Core in my opinion. We addressed the issues with the students and now we're trying to address the issues with the teachers," Cuomo said, referring to his continuing work to adjust the teacher evaluation system.
Nevertheless, Cuomo has remained supportive of keeping the Common Core in general, even if he has been quiet about it at times.
In reference to the standards, Sedlis echoed the sentiment of many common core supporters: "The governor made sure we never strayed from the path toward higher standards for kids." As some states abandon Common Core, it is unlikely that New York heads in that direction - especially if Cuomo is given a second term by voters.
On Election Day, Astorino's name will appear not only on the Republican and Conservative Party ballot lines, but also on his newly-created "Stop Common Core" line. While many have dismissed this as pandering, Astorino is looking to pick up on disillusioned parents and teachers who are angry about the way that Common Core has been rolled out in New York and in some cases now see the standards as symbolic of ongoing failure by education leaders. Astorino has said that if elected he'll repeal Common Core, but has only stated that he would replace the standards with better ones created in New York (Common Core was written by a national consortium). Atorino has also not addressed what he would do about the funding attached to the State continuing with Common Core.
It is unlikely to matter, of course, because all polls and prognostications point to a Cuomo win, and most likely by a fairly wide margin. The next steps in the state's education policy will largely be determined by the governor and his fellow legislators, along with the Board of Regents and SED Commissioner. The next year and beyond will reveal a great deal about where New York is heading in terms of its teacher evaluation systems, its implementation of common core, the future of charter schools, and more.
Four More Years
As Cuomo has indicated, he does not plan to veer much, if at all, from the education path he has been on for the past four years.
This will surely lead to further conflict between Cuomo and the teachers unions, as well as education advocates like Easton, the rest of his Alliance for Quality Education, and the politicians, like Mayor de Blasio, who they are allied with.
Cuomo will surely also continue to earn praise from his supporters. "Governor Cuomo should be lauded for taking on an entrenched education system in desperate need of reform," Sedlis of Students First NY said. "He has worked hard to shift the focus from the bureaucracy onto students, which is why our organization has found so much common ground with him."
Perhaps not coincidentally, the governor has touted that his approach is "putting students first" - the phrase entitles the education page on his re-election campaign website.
Informatively, in his 2012 State of the State address, Cuomo outlined his vision for his role in education as "the student lobbyist":
"Well, I want you to know I learned my most important lesson my first year as Governor, in the area of public education. I learned that everyone in education has a lobbyist, I am not kidding. Superintendents, they have a lobbyist. Principals, they have a lobbyist. Teachers have a lobbyist, school boards also have a lobbyist, the maintenance personnel, they have lobbyists. Even the bus drivers have lobbyists. The only group without lobbyists are the students. Well this year, my friends, the students do have a lobbyist. I'm taking a second job, I am going to be the Governor of the State of New York, and I'm also going to be the student lobbyist. And we're going to have to take a fundamental look at what we've been doing, because the purpose of public education is to help children grow. The purpose of public education is not to grow the public education bureaucracy."
***
This article is part of The Cuomo Record, Gotham Gazette's series looking at the governor's first term. Find the other articles in the series here.
***
by Ben Max, Gotham Gazette, with reporting contributed by Katrina Shakarian
@TweetBenMax