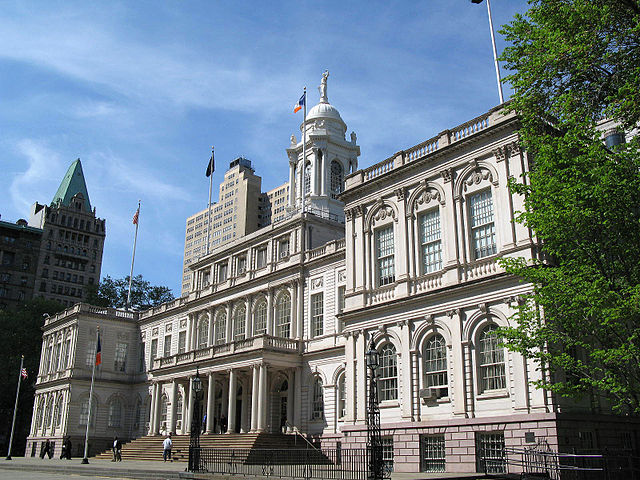 New York City Hall
---
What to watch for this week in New York politics:
Election Day is Tuesday! Use our Guide for the Last-Minute Voter to prepare! It includes our Gotham Gazette-WNYC Election Guide that allows you to enter your address to see who will be on your ballot. It also includes our seven-part series, The Cuomo Record. Be prepared to vote!
All eyes are on Tuesday's elections, though Mayor Bill de Blasio is making some news as he and NYPD Commissioner Bill Bratton held a press conference Sunday to show a united front and criticize reporting about rifts that they called fabricated. And, de Blasio is set to give a major education-themed speech on Monday.
But, most of the attention over the next few days will be on the lead up to Election Day and the results thereafter. Amazingly, it seems that the most interesting story line for Tuesday might be about the vote totals that Governor Andrew Cuomo gets on his different ballot lines. For the statewide races, it appears it's only a matter of margins of victory for the three Democratic incumbents, but, you never know. And, we're watching to see what happens with control of the State Senate as well as who wins in certain New York congressional races, especially that in the 11th district, where incumbent Rep. Michael Grimm is attempting to hold onto his seat representing Staten Island and part of Brooklyn.
On Monday, "Governor Cuomo, along with Attorney General Schneiderman and Comptroller DiNapoli, will hold a pre-election rally in Manhattan. Following this, the Governor and local leaders will hold rallies in Albany and Buffalo," according to the governor's campaign.
Schneiderman starts his day campaigning with Council Speaker Melissa Mark-Viverito in upper Manhattan before meeting the governor, the comptroller, and others in Times Square for their joint rally. Later in the day, the attorney general will campaign in Brooklyn.
Meanwhile, at a noon event, "Make the Road Action Fund members urge Latino Democratic voters to vote for Governor Cuomo on the Working Families Party Line, on Tuesday November 4th." The rally will include Rep. Nydia Velazquez, City Council Member, Antonio Reynoso; Community Activist Jesus Gonzalez and Members of the Make the Road Action Fund.
Expect a whole lot of other campaigning to be taking place on Monday and Tuesday, of course.
For his part, Mayor de Blasio will deliver a speech on education policy on Monday morning at the Coalition School for Social Change in Manhattan. Schools Chancellor Carmen Farina will be in attendance, as will Speaker Mark-Viverito, and other elected and appointed officials.
Comptroller Scott Stringer has no events on his public schedule for Monday.
There will also be a lot of build up this week as New York politicos prepare to head to Puerto Rico at the end of the week for the 26th Annual Somos El Futuro Fall Conference, Nov. 5-9.
The run of the week in more detail:
Monday
On Monday at the City Council, the Committees on Transportation and Economic Development will meet jointly for an oversight hearing on: "Assessing the Economic Impact of New York's Failing Infrastructure - Hearing 2: Transportation."
One World Trade Center is set to open on Monday, according to the Wall Street Journal: "Nine years after ground was broken on North America's tallest building, One World Trade Center is set to open its doors Nov. 3 to publisher Condé Nast, its principal tenant, according to people familiar with the date...The Port Authority of New York and New Jersey, which is developing the tower, is planning an official ceremony to mark the occasion later in November..."
On Monday at noon, "Brooklyn Borough President Eric L. Adams, joined by Brooklyn Chamber of Commerce President and CEO Carlo A. Scissura, will cut the ribbon at Forno Rosso Pizzeria in Downtown Brooklyn...Borough President Adams will welcome the business to the local culinary landscape, while touting the borough's pizza preeminence; just two weeks ago, the top five spots in the Zagat Survey's best pizza list for New York City were all occupied by Brooklyn pizzerias."
And at 12:30 pm in the Bronx, "Borough President Ruben Diaz Jr. will kick off the 4th Annual "Savor the Bronx" Restaurant Week at The Bronx Beer Hall in the Arthur Avenue Retail Market."
Monday evening will see the monthly NY Tech Meetup: "Join fellow technologists for an evening of live demos from companies developing great technology in New York."
Council Member Jimmy Van Bramer will host a neighborhood assembly to discuss participatory budgeting in his district on Monday at 7 p.m.
Also on Monday evening, an event that is part of The Mayors Challenge to End Veteran Homelessness: "Women in Housing and Finance will be sponsoring a panel discussion focused on the policies, programs and practices employed in New York to prevent and end veteran homelessness, along with related ongoing services and resources." The event will include Jessica Katz, Assistant Commissioner for the Division of Special Needs at New York City's Department of Housing and Preservation Development (HPD) moderating a panel with Lorree Sutton, Commissioner, NYC Mayor's Office of Veteran Affairs; Tori Lyon, Executive Director, Jericho Project; Holly Leicht, Regional Director, NY and NJ/U.S. Department of Housing and Urban Development; and Julie Irwin, Homeless Care Line Manager, U.S. Department of Veterans Affairs.
Tuesday
It's Election Day! Vote!
Use our Guide for the Last-Minute Voter to prepare! It includes our Gotham Gazette-WNYC Election Guide that allows you to enter your address to see who will be on your ballot. It also includes our seven-part series, The Cuomo Record and a whole bunch more. Be prepared!
Wednesday
The City Council Committee on Parks and Recreation will convene for an oversight hearing on "Examining the Department of Parks and Recreation's Community Parks Initiative."
'The morning after,' ABNY will host a panel discussion, "Election Day 2014: What Does It Mean for New York." Featured panelists will include: Senior Advisor for Global Government Affairs, Blackstone, Wayne Berman; Reporter, New York Post, Robert George; Political Director, SEIU 32BJ, Alison Hirsh; and Founding Partner and President of the Global Strategy Group, Jefrey Pollock.
Wednesday will see the daylong "NYC Development Finance Conference," featuring Deputy Mayor Alicia Glen as the keynote speaker. "In addition to the Deputy Mayor's insights into the City's economic priorities, the program includes over 20 event speakers and panelists from top public and private institutions in the development industry who will discuss key topics including: NYC's Economic Outlook; Case Studies in Innovative Tax Credit Finance; Making Projects Possible: Attracting Capital; NYC's Changing Industrial Landscape; Tools for Housing New York; Investing in our Infrastructure..."
Council Member Fernando Cabrera will headline the #CUNYmonth "Free Citizenship Application Assistance" event on Wednesday morning in the Bronx: "Experienced lawyers and immigration professionals will assist you with your application."
Council Members Ferreras and Menchaca will host neighborhood assemblies to discuss participatory budgeting in their districts on Wednesday evening.
Thursday
Chairman and CEO of the Metropolitan Transportation Authority Thomas Pendergast will discuss the MTA's five-year capital program on Thursday morning: "A Conversation on the MTA's Five-Year Capital Plan: Keeping a Legacy of Investment on Track." After Pendergast, there will be a "panel discussion moderated by Mitchell Moss, Henry Hart Rice Professor of Urban Policy and Director of the Rudin Center for Transportation at NYU. Panelists include: Seth Pinsky, Executive Vice President, RXR Realty, Carol Kellerman, President, Citizens Budget Commission and Marc Shaw, Senior Advisor CUNY Chancellor for Fiscal Policy and Chair CUNY Institute for State and Local Governance."
The second installment in the "Dig Deeper for a Greener New York" policy forum series: "Funding an Equitable Park System," will take place on Thursday morning. The program will consist of two panels: "Creative funding strategies toward greater parks equity" and "Innovation on the ground" (former moderated by Sally Goldenberg of Capital NY and the latter by City Council Member and Chair of Parks Committee Mark Levine).
Thursday morning will also include "The Missing Link: New Measures for Identifying and Assisting NYC's Highest Poverty Schools." The event will take on: "Mayor Bill de Blasio will unveil 45 new community schools this month in a much-touted effort to help low-income students. But which schools need the most help? And what kind of supports will have the greatest impact? A new report by the Center for New York City Affairs explores these questions in elementary schools, documenting how high absenteeism rates and community challenges can bedevil schools in low-income neighborhoods. We propose a new measure of poverty, designed to identify the highest needs schools, and discuss what should come next in the mayor's bid to reduce poverty's effects on students. Introductory remarks by: Richard Buery, deputy mayor for strategic policy initiatives, City of New York. In discussion with: Rudy Crew, president, Medgar Evers College, City University of New York; Kevin Dahill-Fuchel, executive director, Counseling in Schools; Patricia Mitchell, principal, PS 48 William Wordsworth; Sheena Wright, president and CEO, United Way of New York City"
The Paley Center for Media will host "The Next Big Thing in Open Government" - "an event focused on media innovation and open government" Thursday morning. "Jennifer Pahlka, founder and executive director of Code for America, and Andrew Hoppin, former CIO of the New York State Senate, to participate at event focused on media innovation and open government."
Melinda Katz will host Veterans Day Observance Ceremony in Queens Borough Hall on Thursday.
Thursday morning, Manhattan Borough President Gale Brewer will host "Salute to Women Who Served and Are Serving" event to honor local female veterans from Manhattan.
On Thursday afternoon at 4 p.m., Fordham University and political science Professor Dr. Christina Greer will host a post-election panel to discuss and analyze the results. Panelists will include Gotham Gazette's Ben Max, along with Blake Zeff of Salon, Brigid Bergin of WNYC, Alexis Grenell of Columbia University, and Jeff Smith of the New School.
Council Members Lander, Van Bramer and Menchaca will host participatory budgeting neighborhood assemblies in their districts on Thursday.
During the afernoon, Lander is hosting a 2 p.m. "Participatory Budgeting "Twitter rally" where residents can come together online to suggest PB ideas and see what other people are suggesting. Submit your idea using the following handle and hashtag: @bradlander and #pbdistrict39."
City & State NY's coverage of the Somos conference launches on Thursday with the Kickoff Cocktail event at El Museo de San Juan: "Clear your calendar - it's going down! The Road to SOMOS kicks off on November 6th and you're invited to take part in the festivities. El Museo de San Juan is our meeting spot for a night of fun and excitement. Come one, come all, bring a guest, and hang loose. This is going to be epic!"
"Stationed at the Condado Hilton Plaza Hotel in Old San Juan, Puerto Rico, the City & State SOMOS HUB will feature live stream interviews with business and government leaders attending the SOMOS conference and offer coverage of the SOMOS panel discussions via City & State TV."
Friday and the weekend
Expect news, rumors, and intrigue from Somos in Puerto Rico all weekend.
Otherwise, the city's new 25 MPH default speed limit kicks in on Friday.
Saturday's Civic Design Camp "will bring together a great group of public servants, designers, researchers, technologists and more to learn how different cities are designing better public services, to share new skills, and to ask big questions about the future of design in government."
Council Member Carlos Menchaca will host a general neighborhood assembly to discuss participatory budgeting in his district in Sunset Park on Saturday morning
***
Have events or topics for us to include in an upcoming Week Ahead in New York Politics? Email Gotham Gazette executive editor Ben Max any time: This email address is being protected from spambots. You need JavaScript enabled to view it. (please use "For Week Ahead" as email subject).
***
by Rati Mukhuradze, Katrina Shakarian, and Ben Max
@GothamGazette