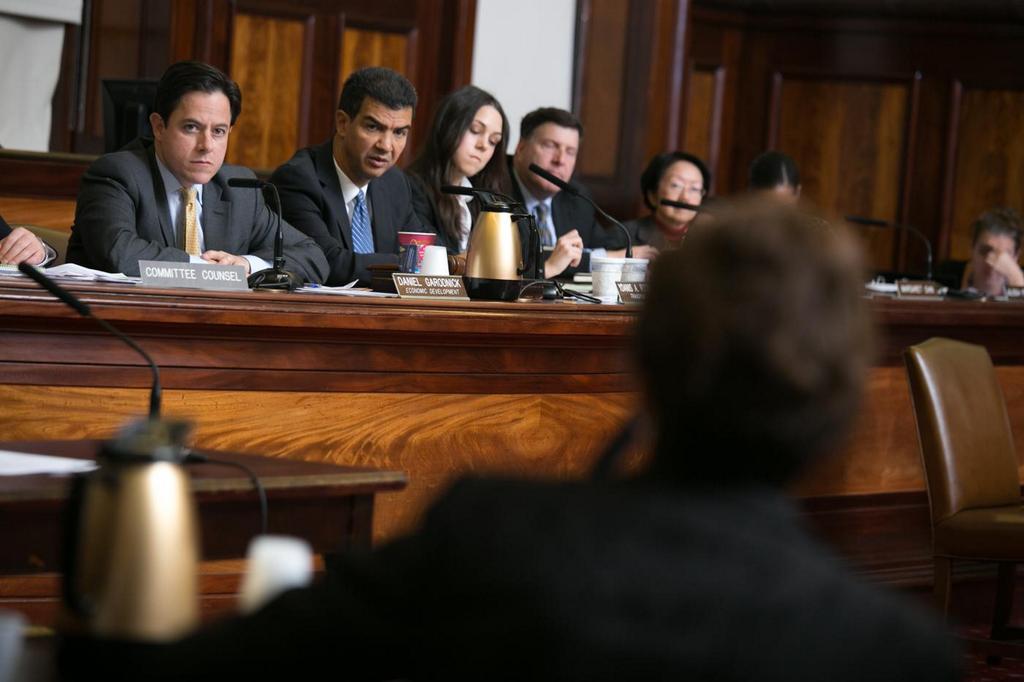 Coucil Members Garodnick, left, and Rodriguez at Monday's hearing (photo: William Alatriste)
---
New York City's $1 trillion transportation infrastructure is in urgent need of fresh investment to ensure safety and promote economic growth, concluded Council Members Dan Garodnick and Ydanis Rodriguez on Monday.
The second hearing in a series dedicated to evaluating the city's overall infrastructure was a joint meeting of the committees chaired by Garodnick (economic development) and Rodriguez (transportation). The next hearing, on Nov. 20, will deal with issues related to bicycles and the city's bike-share programming.
In the wake of Superstorm Sandy and the ever-increasing focus on climate change, one of the key factors in New York City's planning over the next decade and more will be the strained transportation system which includes 24 subway lines, 468 subway stations, 659 miles of track, 18,000 lane miles of local streets, 306 lane miles of highway, and over 1300 bridges.
"Maintaining our city's roads, bridges, tunnels, and subway infrasture is critical to preserving the city's economy," said Dan Garodnick, a Manhattan Democrat. "Severely deteriorated transit infrastructure costs much more to repair than conducting frequent and regular maintenance. Every dollar of deferred maintenance on local roads and bridges costs an estimated additional $4-5 dollars in necessary future repairs."
Garodnick cited a report released in March of this year by the Center for an Urban Future, Caution Ahead, which estimates a budget of $47.3 billion over the next four to five years to modernize the city's transport system. The report was less conservative than the MTA's own Capital Plan 2015-19 which puts that figure at $32 billion. Unfortunately, the MTA has only managed to raise $17 billion and will spend the next few months planning and attempting to bridge the $15 billion funding gap.
Council Member Rodriguez, also a Manhattan Democrat, pointed out the burgeoning strain on the subway system, which has seen record levels of commuters this year. On September 23, the one-day ridership hit an all-time high of 6.1 million people, which proves the need for a "renaissance" in the network, Rodriguez said.
He also pointed out that transport authorities would have to increasingly shift focus away from midtown and lower Manhattan toward the other boroughs, which are underserved by public transportation. "We must look beyond jurisdiction and red-tape to a large vision for our city," he said.
Investment, or lack thereof, was a crucial aspect of the hearing. Testifying before the committees, NYC Department of Transportation (DOT) Commissioner Polly Trottenberg said, "To me the fundamental question is not whether our transportation infrastructure is failing and what the economic impact might be; rather the difficult question we face is what is the right level of public investment in our city's transportation system to ensure public safety, foster economic growth, increase mobility, and improve quality of life for our citizens and businesses in [the] current very challenging fiscal and political environment."
Trottenberg has an important role to play as she was recently appointed by the governor and mayor to serve on the board of the MTA. She said the DOT is trying to "up our game and modernize our asset management system for bridges, roadways, sidewalks, and ferries."
With the start of winter, "construction season," as Robert Collier of the DOT called it at the hearing, is over, and planning season has begun. After the MTA's Five-Year Capital Plan, the next few months will see the release of the MTA Reinvention Commission Report, the New York State DOT Five-Year Plan, the CIty's own Ten-Year Capital Plan and the Regional Plan Association's 4th Regional Plan.
[Related: Transit Advocates Push for More Attentive MTA, Modern Subway System]
In many ways, these reports and plans will decide the future of a city of 8.4 million, one expected to see the influx of 500,000 to 2 million more residents in the next 25 years. All the agencies involved, said Trottenberg, will have to work together, particularly as Mayor de Blasio rolls out his plan to create more affordable housing across the city.
MTA officials were there to discuss their capital plan and initiatives for asset management, commuter safety, and, in particular, Communications-Based Train Control (CBTC). The CBTC automation system would allow for shorter travel times and fewer train drivers on each line.
Other council members raised issues that concerned their districts. Council Member Donovan Richards, a Queens Democrat who chairs the Environmental Protection Committee, questioned the implementation and maintenance of green technologies and infrastructure by the DOT; while fellow Democrat Inez Barron stressed the need for repairs across roadways in eastern Brooklyn. Those representing the boroughs asked for expansion of public transport through Bus Rapid Transit (dedicated express bus lanes) and Select Bus Service.
In the end, Council Member Garodnick recommended enhanced planning between city agencies and the MTA, prioritizing funding to ensure maintenance of infrastructure, coordination with the private sector and enforcement of penalties for inferior work, utilization of better design processes for construction, and an improved procurement process.
Also testifying were members of advocacy groups representing engineers, architects and contractors. "If you build, they will come," said Jeffrey Dugan, from the American Institute of Architects, "but only if they can get there."
***
by Samar Khurshid, Gotham Gazette
@samarkhurshid