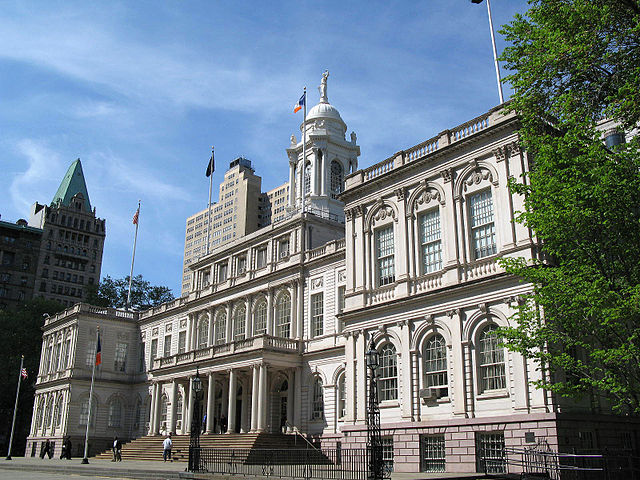 New York City Hall
---
What to watch for this week in New York politics:
After a quiet weekend, Mayor Bill de Blasio starts his week with a Monday morning press conference "to make an announcement at the Brooklyn Navy Yard," according to his public schedule. "In the evening, the Mayor will attend a dinner with a group of leaders from the Jewish community in Manhattan."
While the mayor is in Brooklyn, the Campaign for Latino Representation will be rallying at City Hall, calling on de Blasio to "respect the Latino community, expressing displeasure over what ralliers believe is inadequate hiring of Latinos by the mayor.
Comptroller Scott Stringer starts his week touring facilities at Rikers Island with Department of Correction Commissioner Joe Ponte.
There's lots of interesting action at the City Council this week, including Wednesday hearings on legislation to regulate costumed characters and over the controversial 'plastic bag tax,' plus a Thursday hearing on the state of bicycling in New York City.
There's also other council action, starting with a rally of council members in support of their colleague Debi Rose on Monday at City Hall: "On Friday, it was revealed that a special prosecutor is targeting Council Member Debi Rose's 2009 campaign, despite the fact that the case was investigated and closed without charges by the U.S. Attorney. In response to this development, eleven of Council Member Rose's colleagues rose to her defense and issued a statement, which can be read here. Tomorrow her council colleagues will publicly speak in her support at City Hall."
Participating council members are "Margaret Chin, Corey Johnson, Brad Lander, Stephen Levin, Mark Levine, Carlos Menchaca, Rosie Mendez, Ydanis Rodriguez, Ritchie Torres, Jimmy Van Bramer, and Jumaane D. Williams."
New York City's controversial new policy on policing marijuana possession goes into effect this week, on Wednesday.
City Hall and the Sergeants Benevolent Association are set to meet again on contract negotiations this week - a meeting which is coming at a time of quite fraught relations between the city's police unions and many elected officials - Mayor de Blasio and much of the City Council, members of which just re-introduced several pieces of legislation aimed at changing NYPD protocol in several ways.
On Tuesday, another charter school-related rally in Manhattan - but not one being organized by the larger charter management organizations. See below for details.
And, on Thursday, Ready for Hillary comes to NYC.
The run of the week in more detail:
Monday
On Monday afternoon there had been a planned rally in front of Staten Island Tech High School, "Assemblyman Joseph Borelli, Councilman Steve Matteo, members of the Staten Island Tech Alumni Association, members of the SI Tech PTA, and students of Staten Island Technical High School are holding a rally against proposed changes to admissions criteria for Staten Island Tech and other specialized high schools." NOTE: this event has been postponed due to weather.
Monday's City Council schedule will include: the Committees on Community Development, Housing and Buildings, and Land Use will convene for a joint oversight hearing on "Building Homes, Preserving Communities: A First Look at the Mayor's Affordable Housing Plan" - Speaker Melissa Mark-Viverito will deliver opening remarks; the Committees on Immigration and Aging will convene for a joint hearing regarding the oversight of: "Serving A Diverse Aging Population-Improving Immigrant Seniors' Access to New York City's Senior Services"; the Committee on Higher Education will convene for an oversight hearing regarding "CUNY Graduate Programs - A Focus and review"; and the Committee on Youth Services will meet jointly with the Committee on Mental Health, Developmental Disability, Alcoholism, Substance Abuse and Disability Services, for an oversight hearing on "Services for Mentally Ill Parents and Their Children."
City Council Member Andy King will host a "Domestic Violence Legal Outreach" event in his Bronx district office on Monday to help victims of domestic violence: "To help victims of domestic violence, NYC Council Member Andy King and the Urban Justice Center will be holding Domestic Violence Legal Outreach counseling."
Monday and Tuesday, "The New York eHealth Collaborative's fourth annual Digital Health Conference will bring together 850 senior-level professionals from across the healthcare ecosystem to learn about cutting-edge innovations and foster dynamic conversation addressing how healthcare is being redefined through these technologies."
Monday evening, the New York League of Conservation Voters, NYC Chapter, will host "Celebrate a Greener Skyline." "From cutting carbon emissions to building resiliently for the future, now is an exciting time for the environment here in New York...In addition to Patrick Foye, Executive Director at the Port Authority of New York and New Jersey, and Enterprise Community Partners, NYLCV will honor the critical work of Build it Back."
Also Monday evening, Manhattan Borough President Gale Brewer will testify at the Department of Education's public hearing on the proposed re-siting of Beacon High School to a new building, to be co-located with P.S. 35 beginning in the 2015-16 school year.
And Monday evening as well, Council Member Mark Weprin holds a Vision Zero Town Hall with "representatives from the New York City Department of Transportation (DOT); and representatives from the New York City Police Department (NYPD)...a town hall meeting to give the residents of Eastern Queens an opportunity to learn, ask questions and voice concerns about the Vision Zero traffic safety initiative, as well as the new 25 MPH citywide speed limit," according to a release from Weprin's office.
Council Members Costa Constantinides and Jimmy Van Bramer will hold neighborhood assemblies to discuss participatory budgeting in their districts at 7:00 p.m. on Monday.
Tuesday
According to Chalkbeat NY: "Tuesday, charter-school advocates will host a demonstration calling for the state to provide facilities funding for existing schools, which didn't benefit from the new law. The event, being organized the Northeast Charter Schools Network, the New York City Charter School Center and the Coalition of Community Charter Schools, will set the stage for one piece of the sector's upcoming fight for more favorable legislation."
On Tuesday morning at Foley Square in Manhattan, "Zephyr Teachout, along with Josh Fox, Peter Yarrow, Michael Premo and others, will speak against the Keystone XL pipeline at a rally tomorrow in Manhattan. The rally, hosted by 350.org, will occur ahead of a historic vote in the US Senate on whether to authorize the Keystone XL pipeline. NASA scientist James Hansen has said approval of Keystone XL would mean "game over for the climate,"" according to a release from Teachout's camp.
The de Blasio administration and the Sergeants Benevolent Association are set to meet again on contract negotiations, according to a previous report from Capital New York: "The city has asked that we refrain from providing details regarding contract talks to the media. In the interest of good faith between both parties, we will continue our negotiations with the city, with our next meeting scheduled for November 18," S.B.A president Ed Mullins said in the statement."
Tuesday's City Council schedule includes: a meeting of the Subcommittee on Zoning and Franchises to review land use applications; a meeting of the Subcommittee on Landmarks, Public Siting and Maritime Uses to review Land Use Applications; a meeting of the Committee on Technology for an oversight hearing regarding 311 Data Use and Collection; a meeting of Committee on Education regarding multiple resolutions:
"Resolution calling upon the New York State Legislature to pass and the Governor to sign A. 518/S. 4860, to require dating violence education and dating violence policies in schools.
Resolution calling on the New York City Department of Education to require that all public school students receive age-differentiated anti-bullying instruction and complete an anti-bullying course focused especially on cyberbullying.
Resolution calling on the New York City Department of Education to bring more mentoring programs into schools to combat bullying and violence, as called for in the Stop School Violence online petition campaign by Anthony Vargas, a local high school student.
Resolution calling upon the New York City Department of Education to establish an awareness and prevention program in the public schools athletic league to combat intimate partner abuse.
Resolution calling upon the New York State Legislature to mandate that the New York State Education Department include intimate partner abuse awareness and prevention programs in all public middle school and high school athletic programs";
and a meeting of the Subcommittee on Planning, Disposition and Concessions regarding overview of Land Use Applications.
Tuesday morning, Citizens Budget Commission (CBC) will host a breakfast event with NYC Health and Hospitals Corporation President and CEO Ram Raju. "He will discuss the priorities and fiscal challenges of the Health and Hospitals Corporation (HHC), which plays a pivotal role in the life of the city. In 2013, HHC's 37,000 employees served 1.4 million New Yorkers at 11 acute care hospitals and other facilities. The Citizens Budget Commission recently issued a study titled "Fiscal Challenges Facing the New York City Health and Hospitals Corporation." The study analyzes HHC's current fiscal condition and identifies four major challenges to be addressed."
Also on Tuesday morning, City & State NY will host City & State on Tech, asking experts about NYC use of technology and data for large-scale (city) projects; the de Blasio administration's work to enhance high-speed internet access across the five boroughs; and NYC work to ensure technology literacy among its school students. The event will feature an interview with Manhattan Borough President Gale Brewer.
Also Tuesday morning, the New York City Food Policy Center at Hunter College will host "NYC Health Technology Food Forum: How Can Technology Help (and Hurt) Public Health Initiatives?" on Tuesday morning to address the question of how can health technology be implemented to improve quality food access and security, as well as to "decrease health inequalities and diet-related diseases."
The Manhattan Young Democrats will hold its monthly general meeting on Tuesday evening, this time with special guest Council Member Corey Johnson.
On Tuesday, Brooklyn Borough President Eric Adams will host his second "The City Speaks" forum at Brooklyn Borough Hall. "Visit Brooklyn Borough Hall on Tuesday, November 18th to listen as "The City Speaks", our second forum that is bringing residents and agencies together in order to learn about the policies and guidelines of the services that they provide. Meet with representatives from the NYC Department of Transportation, in order to learn more about street light outages, speed bump requests, installation of stop signs and traffic lights, sidewalk issues and Vision Zero."
The Center For An Urban Future, a think tank, will host its 2014 Gala on Tuesday to honor Managing Director in the Urban Investment Group at Goldman Sachs, Margaret Anadu; Executive Vice President at Dragados USA, Christopher Ward; and "one of New York's largest and most innovative startups" - ETSY.
Citizens Union is holding another in its series of forums on non-citizen voting on Tuesday evening at 6:30 in Williamsburg, Brooklyn, at El Puente.
Council Member Ritchie Torres will hold a neighborhood assembly to discuss participatory budgeting with his district members on Tuesday evening.
Wednesday
On Wednesday, the city's new Chief Technology Officer, Minerva Tantoco, will speak at the Smart City Expo in Barcelona, Spain: "In governance terms, working towards the smart city concept means citizens participating more closely in government decisions, governments opening data, and cities integrating innovation. How are cities responding to these challenges, the challenge of developing better cities, improving citizens' quality of life and generating open and transparent organizations?"
Meanwhile, Mayor de Blasio will be in Washington, D.C. for an early morning interview with POLITICO's Mike Allen. It is likely the mayor will travel to D.C. the night before at the latest, more on his Tuesday and Wednesday schedule is not yet available as of Monday morning.
New City rules around marijuana possession go into effect on Wednesday.
Wednesday's City Council schedule will include: a meeting of Committee on Governmental Operations jointly with the Committee on Civil Service and Labor "examining the diminishment of the civil service system"; a meeting of the Committee on Consumer Affairs to introduce a new bill regarding "licensing of solicitation by costumed individuals"; a meeting of the Committee on Housing and Buildings to discuss a new bill on "Conforming the NYC energy conservation code to the NYS energy code with amendments unique to construction in the city and repealing section 28-1001.2 in relation thereto"; and a meeting of the Committee on Sanitation and Solid Waste Management to see the introduction of a new bill aimed at "reducing the use of carryout bags."
Wednesday morning, Chancellor of CUNY James Milliken will headline an ABNY breakfast event to deliver a speech about "CUNY's essential role in the future of our City and State."
On Wednesday, the Empire Center is hosting leading transportation policy experts to speak to the updates in the state's five-year transportation capital program at "The Road Ahead: Renewing New York's Highway Infrastructure" forum in Albany: "The upkeep of New York's 113,000 miles of roads and 17,000 bridges is the largest component of the state's five-year transportation capital program, which must be updated soon. That makes this an ideal time to address such questions as the following:
What is the condition of New York's state and local highway system?
Is New York's dedicated transportation fund capable of adequately supporting the next capital plan?
How have the Thruway Authority's finances been affected by construction of the new Tappan Zee Bridge?
What's in the latest federal transportation bill "patch" for states like New York?
Can technological innovation help the state meet its infrastructure needs in the context of exceptionally tight fiscal constraints?
What are our options for financing road and bridge capital projects in the future?
What role could public-private partnerships (PPP) play in renewing New York's highway infrastructure?"
Wednesday night will see the "first-ever New York City edition of Capital Pro Trivia Night," featuring questions "on all things New York policy, politics and media" from Capital reporter Azi Paybarah.
Council Members Ritchie Torres, Jimmy Van Bramer and Costa Constantinides will host neighborhood assemblies to discuss participatory budgeting with their constituents on Wednesday evening.
Thursday
Thursday afternoon, Brooklyn Borough President Eric Adams is acting on a new law: "I am an advocate for increasing youth engagement in our borough's civic life, which is why I encourage young Brooklynites to attend a meeting on Thursday, November 20th, from 4:00 PM until 6:00 PM, in the Al Vann Library at Boys and Girls High School in Bedford-Stuyvesant. Students ages sixteen and over can come and learn about how they can join a community board in the coming year."
Thursday morning is the November meeting of the Manhattan Borough Board, chaired by Manhattan BP Brewer.
Also Thursday morning, City & State NY will host "The Art of Advocacy," a forum "convening leaders in media, public relations, and advocacy to discuss the multitude of ways organizations can advocate and mobilize around their cause."
And Thursday morning, Deputy Mayor Alicia Glen will keynote "Crain's Future of New York City Conference: Innovation Central," examining "New York's strengths as an innovation center as well as its competitive challenges" and exploring "how business leaders and policy makers can make a difference for the future of New York City." Featured panelists will also include: NYC School's Chancellor Carmen Fariña; CUNY Chancellor James Milliken; and several other leaders.
Thursday's City Council schedule includes: a meeting of the Committee on Recovery and Resiliency jointly with the Committee on Fire and Criminal Justice Services to discuss two new bills in relation to "a communications access plan for certain emergency events" and "distribution of localized emergency preparedness materials"; a meeting of Committee on Land Use to review "all items reported out of the Subcommittees" and other necessary business; and a meeting of the Committee on Transportation for an oversight hearing, "Leading the Way for Bicycling in America: Where is New York City Now and How Can We Improve?"
Thursday evening, Council Member Torres will hold a "Fordham Assembly" to discuss participatory budgeting.
Also Thursday evening, Ready for Hillary takes New York City by storm.
Friday and the weekend
MTA CEO & Chairman Thomas Prendergast will headline the CityLaw breakfast event Friday and address the MTA Capital Program for the next five years.
Also Friday morning is this year's NYU Steinhardt School's Education Policy Breakfast Series Part I: Early Childhood Education and Closing the Achievement Gap: "This year, we will address an issue that New York City Mayor Bill de Blasio has made a priority: early childhood education.
Over the course of the series, we will look at key issues in early childhood education:accessibility, quality, and affordability. What are the merits and weaknesses of providing universal pre-K vs. targeting at-risk students?...We begin the series with a broad look at the role early childhood education plays in improving student success."
Council Member Torres will hold a "Van Nest Assembly" to discuss participatory budgeting with his constituents on Saturday.
***
Have events or topics for us to include in an upcoming Week Ahead in New York Politics? Email Gotham Gazette executive editor Ben Max any time: This email address is being protected from spambots. You need JavaScript enabled to view it. (please use "For Week Ahead" as email subject).
***
by Rati Mukhuradze and Ben Max
@GothamGazette
Note: this article has been updated