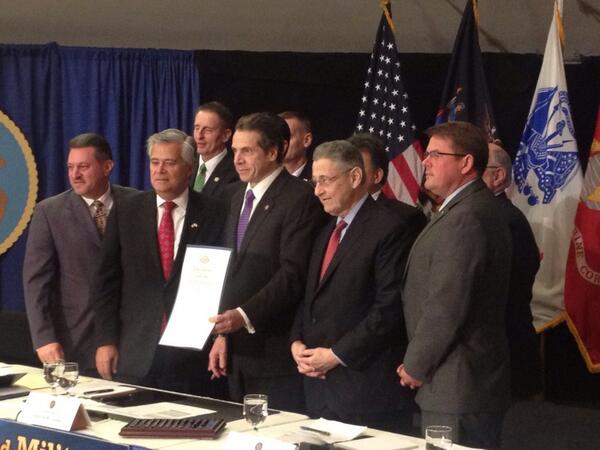 Skelos (left), Cuomo, and Silver will determine if pay raises move (photo: @melissadderosa)
---
New York's legislative leaders think it is far time they got a raise. They will tell anyone who will listen that it has been 16 years since their last raise, yet they remain one of the highest-paid legislatures in the country. Only California and Pennsylvania pay their legislators more and unlike in New York, both of those legislatures are full time.
Legislators came to Albany for session a total of 55 days from January and June of this year. Each member of the State Senate or State Assembly brings home a base salary of $79,500 a year, with the opportunity to earn more through leadership and committee positions. Lawmakers are allowed reimbursement for their trips to and from stays in Albany.
Their state salary is only the tip of the income iceberg for a great deal of electeds who also work as consultants, lawyers, or home builders. The Speaker of the Assembly, Sheldon Silver, reportedly made at least $650,000 in 2013 from his "second" job.
Legislators in California take home $90,526 annually but they are full-time legislators not allowed to hold other jobs. Legislators in Pennsylvania make $83,801 a year and are also full-time.
"The legislature needs to give an indication they are interested in reforming themselves before we talk about giving them any pay raises," said E.J. McMahon of The Empire Center, a right-leaning public policy think tank. McMahon said that Legislature needs to reduce the number of pay-bumping leadership titles it hands out as rewards to loyal members, increase the transparency of what is spent internally, and "show an intent to perform."
"I don't know how necessary pay raises are given that New York has the third highest paid legislature in the country," said McMahon.
New York City-based legislators argue that their price of living continues to increase and that not everyone has a high-paying second job with a law firm. They say they dedicate their time in their districts to working with constituents.
With only six weeks left in the year, legislative leaders are sending major signals that they want to make a deal with Governor Andrew Cuomo to get themselves a pay raise. Problem is, they need to pass it before the year is up because state law forbids a sitting legislature from giving itself a pay raise. Legislative staffers are skeptical that a deal will be reached before the end of the year. Multiple sources indicated that it would have made sense for Senate Republicans to call for a special session this week as they were already in Albany on Monday for a post-election conference meeting. Going forward, leaders will be hesitant to call members back around Thanksgiving, Hanukkah or Christmas.
Regardless of the odds, a number of issues have been linked to a possible pay-raise deal.
As rumors of a pay raise built earlier this year a number of advocacy groups saw an opportunity for the governor to deliver on the progressive policies he promised on the campaign trail that will likely be blocked by the incoming Republican Senate majority.
Citizen Action of New York demanded that legislators "Raise the Wage Before Your Pay," insisting both houses approve a new minimum wage that is higher, indexed to inflation, and allows municipalities to set their own rates - an item that has major backing from Mayor Bill de Blasio.
On Monday Republican Senate Leader Dean Skelos acknowledged that a pay raise was a focus issue, but shot down the idea that he would bargain for one by passing liberal agenda items. "We're not doing the DREAM Act. We're not doing minimum wage, we're not doing taxpayer financing [of electoral campaigns]." He did say he was open to supporting "other reforms we could come up with."
Good government groups would like to see the Legislature agree to more outside income disclosure and increased transparency in how both houses operate.
Speaker Silver, a Democrat, said on Tuesday that he didn't think a pay raise should be tied to a minimum wage increase, noting that both chambers passed a wage increase last year that was not tied to their own salaries. "I believe the members work very hard...and I believe they're entitled to [a raise] after 14 years."
The Legislature passed a bill last year that will introduce staggered increases to the minimum wage until it reaches $9 an hour in 2015. Advocates want the wage raised to $10.10 immediately and indexed to inflation for further increases.
Silver indicated that he would consider moving on per diem reform in exchange for pay raises. A number of legislators have been caught falsely reporting trips to Albany as a way to bolster their pay.
Legislators, including Skelos and Silver, admit that there haven't been any serious discussion about a pay raise deal with the Cuomo administration at this point.
"I'm delighted there are discussions about pay raises," said Democratic Sen. Neil Breslin of Albany. "I believe it is important for legislators based in and around [New York] City who face an escalating cost of living. I think it is important that it be tied to tightened restrictions around per diems."
Deal making for pay raises has had a long and impactful history in Albany. The last time the Legislature got a pay raise, its members allowed Gov. George Pataki to institute charter school programs in the state.
In 1998 the Legislature had gone a decade without a pay increase. With the threat of a veto Pataki traded a 38 percent hike for the institution of charter schools and the threat that legislators would not be paid if they failed to pass a budget on time. The charter plan let an unlimited number of public schools convert to charter schools and allowed for the creation of many new charters.
This time around Cuomo appears interested in securing pay raises for executive staff as he has mentioned a few times during his first term that it is hard to attract talented individuals into state government at the current pay scale.
Good government groups say it would be distasteful for the Legislature to barter a pay in a quid pro quo manner. Dick Dadey, executive director of Citizens Union, has advocated per diem reform and limits on outside income to accompany any pay raise.
McMahon of Empire Center said that in general the Legislature has slowed its rate of performance over the years: more bills are introduced while there is little debate over the few bills that actually come to a vote.
"Per diems aren't necessarily the problem," said McMahon. "It's the extras like the leadership stipends that keep people under the thumb of the leaders that need to be reformed. We need them to demonstrate they are intent on earning what they are already paid. I think they could be here [in Albany] less and get more done. The end of session has become such a scam, where the leadership just waits to cut a deal on whatever the governor has got. I don't think the Legislature functions deliberatively," said McMahon.
Some rank-and-file legislators feel the same way. They would like to see more debate and democracy in general and aren't happy that the leadership appears uninterested in moving major policy points before the end of the year. But they also don't want to upset the applecart when so many other members would like to see a pay raise for next year.
A pay raise deal might not be the only thing on the agenda if the Legislature manages to come back before the end of the year. Both Skelos and Silver have said they would like to create a spending plan for the State's $5 billion surplus created from bank settlements. The two legislative leaders have indicated they would like to see the cash used in one-shot investments in infrastructure - a sentiment Cuomo has echoed. But as legislators and insiders point out, it is unlikely all three men have the same definition of "infrastructure."
***
by David King, Albany editor, Gotham Gazzette
@DavidHowardKing