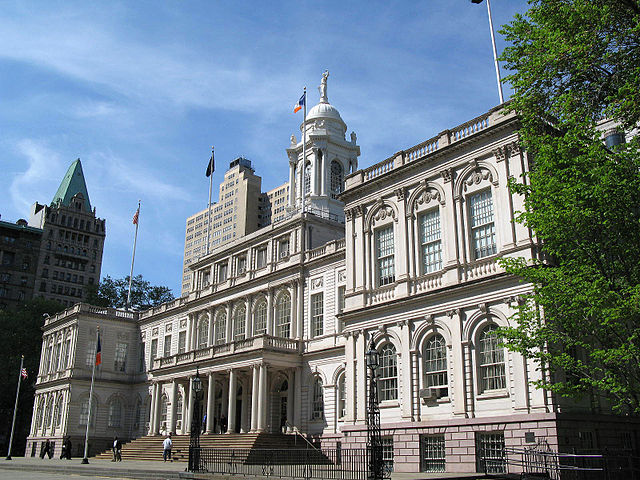 New York City Hall
---
What to watch for this week in New York politics:
This week sees a fairly busy schedule of committee hearings at the City Council beginning on Tuesday, with the first December Stated Meeting scheduled for Monday, Dec. 8.
We're continuing the watch for word from the Staten Island special grand jury convened by District Attorney Dan Donovan in the aftermath of the death of Eric Garner. We should know soon if the grand jury is recommending charges against the police officer whose chokehold around Garner's neck led to Garner's death. We're also watching for more fallout from the killing of Akai Gurley, an unarmed black man shot by a police officer in the stairwell of a NYCHA building in Brooklyn. The City Council Committee on Public Housing, chaired by Council Member Ritchie Torres, will hold a hearing Tuesday, Dec. 9 on "The Relationship between Lighting and Safety in the Wake of the Akai Gurley Shooting."
Also watch this week for word of a special legislative session in Albany, where lawmakers may be called to look at lame-duck legislation, including a pay raise for the next Legislature (which will look very much like the current one, of course). If this special session is indeed called, we may very well see those elected to fill vacant Assembly and Senate seats sworn in early so that they can vote on any end-of-year bills.
Mayor Bill de Blasio begins his week delivering "remarks at the World AIDS Day event at the Apollo Theatre." De Blasio then heads to Washington, D.C., where he "will meet with President Obama and elected officials, community and faith leaders, and law enforcement officials in the Eisenhower Executive Office Building to discuss how communities and law enforcement can work together to build trust to strengthen neighborhoods across the country; the Vice President will also attend."
City Council Speaker Melissa Mark-Viverito also begins her week speaking at the World AIDS Day event; as do Public Advocate Tish James and Comptroller Scott Stringer. Then, Stringer "visits constituents at Hamilton Grange Senior Center [and] the Lt. Joseph P. Kennedy Senior Center." In the evening, Stringer "attends West Side Federation of Neighborhood and Block Associations Annual Holiday Party," all according to his public schedule.
Schools Chancellor Carmen Fariña begins her week with a tour of "a classroom with Deputy Mayor Richard Buery at P.S. 15, a community school in Manhattan. She will then host a press conference to make an announcement."
What to watch for this week in detail:
Monday, Dec. 1
The League of Conservation Voters will host its annual New York Dinner on Monday, December 1, featuring Hillary Clinton, and honoring the retiring president of the Natural Resources Defense Council, Frances Beinecke.
Also Monday evening, Citizen Action of New York's annual gala. The event will feature Attorney General Eric Schneiderman as a speaker and will honor former Citizen Action board member Catherine Abate; Eddie Bautista of the NYC Environmental Justice Alliance; Dr. Joan Mandle of Democracy Matters; and John Samuelson of TWU Local 100. The host committee is a long list of Democratic elected officials, activists, and organizations.
And on Monday evening, Council Member Carlos Menchaca is hosting a "meeting and community conversation on the proposed plan for the redevelopment of the Sunset Park Library. The proposal consists of a new and larger library and roughly 50 units of housing, all of which would be affordable and accessible to our community."
Monday is also World AIDS Day.
Tuesday, Dec. 2
The City Council schedule for Tuesday, December 2, is set to include: the Committee on Juvenile Justice will meet for an oversight hearing regarding "Examining DYFJ's Juvenile Justice Oversight Board"; and the Subcommittee on Zoning and Franchises will hold an oversight hearing on "Cablevision Franchise Agreement and Collective Bargaining."
Tuesday morning, the CUNY Graduate Center will host a seminar looking at the implementation of universal free lunch in all New York City middle schools: "This fall, universal free lunch was implemented in all New York City middle schools, feeding 160,000 middle school children in grades six through eight. At this seminar we'll discuss progress, challenges, successes and the way forward."
On Tuesday at noon, there is said to be a rally "Billionaires Bought Our Government, Now They Want to Take Control of Our Schools" on the steps of Tweed Courthouse, headquarters of the city Department of Education.
Community Voices Heard will hold its annual Shirley Chisholm "Lights of Freedom" Awards dinner on Tuesday evening, Dec. 2, celebrating "the hard work of our honorees and members who have been fighting for justice and equality for all low income and working New Yorkers" and honoring NYS Senator and Democratic Conference Leader, Andrea Stewart-Cousins, among others. The event's host committee includes Co-Chair and New York State Senator Gustavo Rivera; Council Members Lander, Rosenthal, Mark-Viverito, and Torres; and Assembly Member-Elect Michael Blake, among others.
Tuesday evening, "2014 Elections and Looking Forward to 2016"..."A progressive conversation" featuring: Zephyr Teachout - Gubernatorial Candidate for Democratic and WFP Party Nominations; Gloria Mattera - Green Party; Wilfredo Larancuent - International Vice President Workers United/SEIU; and Daniel Altschuler - Make the Road Action Fund, WFP Secretary.
Tuesday evening will see the latest installment of the popular monthly NY Tech Meetup in Manhattan: "Join fellow technologists for an evening of live demos from companies developing great technology in New York."
Also Tuesday evening, Comptroller Stringer is hosting a Jewish Heritage & Culture Celebration.
Tuesday is also Giving Tuesday.
Wednesday, Dec. 3
Wednesday will feature the "2014 Campaign Roundtables: Reflecting on the NYS Governor and State Senate Races" at the New School, featuring two impressive panels:
Panel on the 2014 Governor's race: 9 am to 10:45 am, moderated by Rob George, The New York Post:
Kate Albright-Hanna, communications director, Teachout campaign
Alexis Grenell, City & State
Peter Kauffmann, senior advisor, NYS Democratic Committee
Michael Lawler, campaign manager, Astorino campaign
Brian Murphy, CUNY Baruch College
William O'Reilly, consultant, Astorino campaign
Jessica Proud, spokesperson, Astorinio campaign
Zephyr Teachout, Democratic primary candidate
Matt Wing, Cuomo communications director
Panel on the NYS Senate Race race: 11 am to 12:30 pm, Moderated by: Jeff Smith, assistant professor of politics and advocacy, The New School, and Brigid Bergin, WNYC Radio:
Gerald Benjamin, SUNY New Paltz
Tom Doherty, Mercury strategy firm
Blair Horner, New York Public Interest Research Group
Naomi Konst, The Accountability Project
Ben Lazarus, StudentsFirstNY
Janos Marton, former special counsel, Moreland Commission
David Nir, Daily Kos
Jeff Plaut Democratic pollster
Basil Smikle, Basil Smikle Associates
Wednesday morning will see "Diane Ravitch on the Uses and Abuses of Education Data" at the CUNY School of Journalism: "Education historian Diane Ravitch, Research Professor of Education at New York University, is one of the nation's leading scholars warning about the uses and abuses of testing, privatization, charter schools and other education strategies. In conversation with Prof. Andrea Gabor of Baruch College and Errol Louis of the CUNY Graduate School of Journalism, Ravitch will talk about the crisis inflicted on public education in the name of reform."
Wednesday will also feature the Manhattan Institute Book Forum: Lessons of Hope: How to Fix Our Schools, with the author and former chancellor of the New York City schools Joel Klein: "In this revealing and provocative memoir, the former chancellor of the New York City schools offers the behind-the-scenes story of the city's dramatic campaign to improve public education, and an inspiring blueprint for national reform."
Wednesday's City Council schedule will include: a meeting of the Committee on Civil Rights to examine a bill aimed at "Prohibiting discrimination based on one's arrest record or criminal conviction"; a meeting of the Committee on Transportation regarding oversight of "App Technology and the Transformation of the Taxi and For-Hire Industries" and evaluation of a bill aimed at "Removing the off-street parking requirement for base station licenses."
Prior to that civil rights committee hearing, there will be a Fair Chance Act Rally at 9 a.m. on the steps of City Hall.
In honor of World AIDS Day there will be a City Council event Wednesday evening at City Hall to commemorate the day, with City Council Speaker Mark-Viverito, Council Member Corey Johnson, the Council's LGBT Caucus, and others.
An event on Wednesday evening: "The Responsive City: In collaboration with the Program on Profits and Purpose at New America."
Thursday, Dec. 4
Thursday's City Council Schedule will include: a meeting of the Committee on General Welfare regarding oversight of " EarlyLearn NYC" and a meeting of the Committee on Environmental Protection regarding the oversight of "Citywide Localized Flooding" and consideration of a bill in relation to "Filing semi-annual reports on catch basin cleanup and maintenance."
Thursday will see "Rebuilding Our Neighborhoods: The Koch Plan 25 Years Later: Join the Association for Neighborhood & Housing Development and JPMorgan Chase, with Special Speakers for a policy conference on the 25th anniversary of the historic Koch affordable housing plan and the lessons it holds for today's NYC housing policy. The conference will honor the very first affordable housing Financed with the LIHTC program – Equality House – built on the Lower East Side by Asian Americans for Equality (AAFE)."
SCEC Demo Night will also be Thursday, December 4th: "Interested in learning how teams of NYC teachers are evaluating edtech tools based on real classroom challenges? Come hear from the EdTech Evaluation Fellows about their emerging practices and lessons learned and see their matched companies demo their products. You might just find like-minded teachers and new solutions to common education challenges."
Also look for "Invisible Child: One Year Later," an event at Brooklyn Historical Society that will follow up on the important New York Times series focused on a young homeless girl, Dasani Coates. WNYC's Andrea Bernstein will speak with Andrea Elliot, the author of the Times series, and one of Dasani's teachers.
On Thursday, Council Member Robert Cornegy, Jr. is hosting a "Cut Out the Violence" commemoration event in Brooklyn to recognize and call attention to the epidemic of gun violence and its victims.
According to a release from Center for an Urban Future, on Thursday, December 4th, "several of New York City's leading architects will unveil innovative new design ideas for strengthening New York City's branch libraries at a design showcase and policy symposium that is being convened by the Center for an Urban Future and the Architectural League of New York. The design showcase and policy symposium, which will be held at the Japan Society in Midtown, will also feature panel discussions about the future of branch libraries with speakers that include HPD Commissioner Vicki Been, NYCEDC President Kyle Kimball, City Council Majority Leader Jimmy Van Bramer, City Council Member Brad Lander, Borough President Eric Adams, former Chicago Public Library Commissioner Mary Dempsey, David Kramer of the Hudson Companies, Michelle de la Uz of the Fifth Avenue Committee, Jukay Hsu of the Coalition for Queens and many other distinguished community leaders, developers and policy experts."
Friday and the weekend, Dec. 5-7
Friday, Dec. 5, will see the Crain's 2014 Best Places to Work Awards.
Friday will also see "NYC Latino Civic Engagement Forum" hosted at CUNY's Murphy Institute and by a number of organizations including Bridgeroots, El Puente, Citizen Action of New York, and more. Our Ben Max will be a panelist.
On Friday, New York Law School will host "Housing Justice: A Public Forum on New Yorkers' Right to Counsel in Eviction Proceedings." Details: "The New York City Council is considering legislation that would make New York City the first place in the US to establish a right to counsel in eviction proceedings. Join us to hear from bar leaders, judges, community members and other experts on the impact that the right to counsel would have on housing and homelessness, public welfare, and the administration of justice and to hear what we can learn from experiences throughout the US and around the world."
Saturday, Dec. 6, will include continuation of the "Fall 2014 Chancellor's Parent Conference Series: Middle School" at Tweed Court House.
Beginning Sunday, Dec. 7, "The Duke and Duchess of Cambridge will visit the United States of America," arriving in New York and attending "a private engagement on behalf of the American Friends of The Royal Foundation that evening." The Duke will head to Washington, D.C. on Dec. 8 while The Duchess remains in New York, where she will be rejoined by the Duke. [All of the details included here come from this press release]
"On his return to New York, His Royal Highness will attend a reception organised by the Royal Foundation, in recognition of the conservation work carried out by Tusk Trust and United for Wildlife partners: Wildlife Conservation Society; Conservation International and The Nature Conservancy.
"The Duchess of Cambridge will carry out two engagements in New York while The Duke visits Washington. Her Royal Highness will be accompanied by The First Lady of New York City, Chirlane McCray, on a visit to a local child development centre. They will learn about how this organisation fosters the healthy development of children and families by providing high-quality mental health and educational services, which is an issue strongly supported by The First Lady. Her Royal Highness will also attend a lunch, hosted by the British Consul General in New York, to celebrate the achievements of a successful British community in New York from the culture, arts, hospitality and business sectors.
"On Monday evening, Their Royal Highnesses will attend an NBA Basketball game to help launch a new collaboration between the Royal Foundation, United for Wildlife and the NBA.
"On Tuesday 9th December The Duke and Duchess will visit a youth organisation to see the work they carry out in partnership with an inner city youth development foundation. Both organisations focus on programmes and projects that promote positive youth development and social learning. During the visit, The Duke and Duchess will learn about the wide-ranging support services on offer to young people to help them reach their potential, particularly through an arts-in-education model that supports the artistic and intellectual development of the participants.
"The Duke and Duchess will then attend an event celebrating the wealth of British talent in the creative industries based in New York. The reception will be in association with the UK Government's GREAT campaign. The Duke will also attend a technology themed event, hosted by a New York-headquartered technology company, which will bring together entrepreneurs from both the UK and the US.
"The final engagement of the visit will be the University of St. Andrews 600th Anniversary Dinner at the Metropolitan Museum of Art. The evening event will support scholarships and bursaries for students from under-privileged communities, new student sports facilities in St Andrews, investment in the university's medical and science faculties and a lectureship in American Literature at St. Andrews."
***
Have events or topics for us to include in an upcoming Week Ahead in New York Politics? Email Gotham Gazette executive editor Ben Max any time: This email address is being protected from spambots. You need JavaScript enabled to view it. (please use "For Week Ahead" as email subject).
***
by Rati Mukhuradze and Ben Max
@GothamGazette
Previous version of this post started with a look at Thanksgiving week:
What to watch for this week *and next* in New York politics:
This week will be a short one for public political events, but there's quite a bit going on at the start of the week, not the least of which is a busy Monday schedule of committee hearings at the City Council, followed by a full-body Stated Meeting on Tuesday, at which several bills will be passed and others introduced. Tuesday also features a City Council training hosted by Council Member James Vacca aimed at helping council members and their staffs learn to better utilize the City's open data portal.
We're also continuing the watch for word from the Staten Island special grand jury convened by District Attorney Dan Donovan in the aftermath of the death of Eric Garner. We should know soon if the grand jury is recommending charges against the police officer whose chokehold around Garner's neck led to Garner's death. And now, many will be watching for more fallout from the killing of Akai Gurley, an unarmed black teenager shot late Thursday night by a white police officer in the stairwell of a NYCHA building in Brooklyn.
Mayor Bill de Blasio begins his week with only one event on his public schedule, though it is closed to the press: "Mayor de Blasio will host a community meeting with local elected officials and community members at City Hall as part of the administration's ongoing efforts to engage the community and build more support for the City's bid for the 2016 Democratic National Convention."
Public Advocate Tish James and City Council Speaker Melissa Mark-Viverito will begin their weeks at "Food Bank for New York City Legislative Breakfast" in Manhattan.
What we have for the next two weeks in detail:
Monday, Nov. 24
The New York City Campaign Finance Board will hold a public hearing Monday morning at its Manhattan office on rules regarding text message campaign contributions: "on proposed rules setting minimum requirements for receiving text message contributions to be eligible for public matching funds." Manhattan Borough President Gale Brewer, among others, will testify. "SMS contributions provide candidates with the potential to engage a wider set of contributors and the CFB with an opportunity to expand the reach of NYC's landmark small-dollar matching funds program. Read more about the challenges and opportunities posed by SMS contributions at the CFB's blog."
On Monday morning, "New York City Council Speaker Melissa Mark-Viverito joins Hunter College President Jennifer Raab, Margarette Purvis, president and CEO of Food Bank For New York City and others at a legislative breakfast to release a report on the state of hunger and the emergency food network in the city a year after cuts to SNAP, Roosevelt House Public Policy Institute at Hunter College," according to City & State NY. According to her public schedule, Public Advocate James will also be in attendance. This will be followed on Monday by a Council General Welfare Committee oversight hearing on hunger in New York City, among other agenda items (see below).
Monday, the NYC Department of Health and Mental Hygiene's Bureau of HIV/AIDS will launch "New York Knows" in Manhattan (after iterations in the Bronx and Brooklyn), "bringing together Manhattan community partners to encourage those who do not know their HIV status to get tested—and to link those who test positive to care and support services."
On Monday at 1 p.m., "Manhattan District Attorney Cyrus Vance convenes a roundtable with law enforcement partners to discuss a new grand jury report on fraud related to minority and women business enterprises," according to City & State NY.
Monday's City Council schedule will include: a meeting of Committee on Transportation to see the introduction of new bills relating to "increasing the number of accessible pedestrian signals"; the Committee on General Welfare will hold an oversight hearing on "Hunger in New York City"; a meeting of the Committee on Cultural Affairs, Libraries and International Intergroup Relations to consider a resolution: "recognizing and commemorating January 13th as Korean American Day in the City of New York"; and a meeting of Committee on Health to consider new bills relating to pet shops:
Proposed Int. No. 55-A - Regulating pet shops.
Proposed Int. No. 73-A - Updating the definition of "pet shop" within the animal abuse registration act.
Proposed Int. No. 136-A - Spaying, neutering and licensing of animals sold in pet shops.
Proposed Int. No. 146-A - Microchipping animals sold in pet shops
Monday evening is The Riders Alliance 2014 Gala in Manhattan. BP Brewer, among many other elected officials, will be in attendance. [Read our look at the advocacy work of Riders Alliance as it and others seek a more responsive, effective MTA]
Tuesday, Nov. 25
Tuesday's City Council schedule includes: a meeting of Committee on Finance to consider the following:
Resolution concerning the increase in the annual expenditure for the Steinway Street, 34th Street, 125th Street, 47th Street, 86th Street Bay Ridge, Columbus/Amsterdam, Forest Avenue, Myrtle Avenue Brooklyn, 161st Street, and Sunnyside Business Improvement Districts, and the setting of the date, time and place for the hearing of the local law increasing the annual expenditure for such districts.
Resolution approving the new designation and changes in the designation of certain organizations to receive funding in the Expense Budget.
And other such business as may be necessary
And the City Council will hold a full-body Stated Meeting in the Council Chambers at 1:30 p.m., presaged, as always by a pre-Stated press conference led by Speaker Mark-Viverito.
Tuesday evening, NYC Department of Education will hold 2014 Panel for Educational Policy meeting at the High School of Fashion Industries in Manhattan.
Wednesday, Nov. 26
Watch for pre-Thanksgiving news dumps, everyone!
Thursday, Nov. 27 through Sunday Nov. 30
Happy Thanksgiving! We hope you enjoy the holiday. As always, lawmakers, advocates, and many other volunteers will be spending time at food pantries, soup kitchens, shelters, and other places serving those in need.
It's a quiet weekend politically, of course. But, things pick up again starting Monday, December 1 - here's what we have for the first week in December as of now, we'll update for Sunday Nov. 30, and please do send us items to include any time: