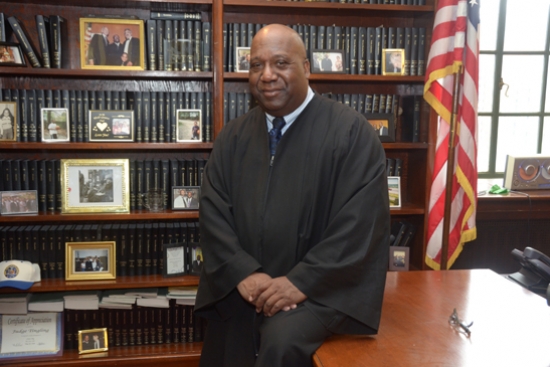 Hon. Milton Tingling has been named the new New York County Clerk (photo: uft.org)
---
The judge who put the brakes on Mayor Bloomberg's 'soda ban' will be the next New York County Clerk.
State Supreme Court Justice Milton A. Tingling was appointed County Clerk last week by the Appellate Division, replacing Norman Goodman, who has served as clerk for 45 years. Tingling will take office on January 1.
It seems unlikely that Tingling, 61, will have a dramatic effect on city policy as County Clerk, which is largely a managerial role. The clerk summons Manhattanites for jury duty, keeps court records, and collects revenue. A clerk's most visible platform might be his or her signature at the bottom of every jury summons.
Goodman, 90, told the New York Law Journal he was surprised that Tingling wanted the clerk job, as Tingling was re-elected to a second term on the Supreme Court just last month. Both County Clerk and State Supreme Court Judge come with a salary of $174,000 a year.
Tingling's highest-profile decision was his 2013 rejection of Mayor Michael Bloomberg's proposed regulation of large sugary beverages. He ruled that Health Department didn't have authority to enforce the ban, which would have made it illegal for some businesses to sell some sugary drinks in containers larger than 16 ounces.
The proposed regulation was "arbitrary and capricious" because it would apply only to some businesses and only some sugary drinks, Tingling wrote in his decision, adding that the regulation would "eviscerate" the separation of powers between the Mayor and the City Council.
"Such an evisceration has the potential to be more troubling than sugar sweetened beverages," Tingling wrote.
Another of Tingling's rulings, in 2010, ended the state practice of shackling juvenile offenders while taking them to court.
Tingling was nominated for his new job by State Assembly Member and County Democratic Party Chair Keith Wright, a childhood friend. Wright himself had been rumored for the position, though some say he has his eye on Rep. Charles Rangel's congressional seat.
Both sons of judges, Tingling and Wright are old friends who went to rival New York City high schools – Tingling to Horace Mann and Wright to Fieldston.
"He was a better football player than I was, used to come over and try and steal all of our girls," Wright, who represents Harlem, told Gotham Gazette. "He became a very talented lawyer and a great judge."
The New York Post reported last month that Wright was considering applying for the job.
"I don't know where the New York Post got that from, but they didn't call me," Wright said.
Tingling, who grew up in Washington Heights, also has political connections with other Upper Manhattan elected officials. Former Mayor David Dinkins chaired his unsuccessful 2008 campaign for Surrogate's Court judge, Rangel was that campaign's honorary chair, and longtime State Assembly Member Herman Farrell supported Tingling in his first election.
Tingling also donated to the campaign of City Council Member Inez Dickens, State Board of Elections records show.
Tingling did not respond to a request for comment.
He served as a Civil Court Judge from 1996 to 2000, and a Supreme Court Justice since then. Tingling graduated from Brown University and earned his J.D. from North Carolina Central University School of Law.
In a statement announcing Tingling's appointment as the next County Clerk, Appellate Court Presiding Justice Luis Gonzalez said, "Justice Tingling has distinguished himself as an able jurist and is admired for his high commitment to the judiciary and fair administration of justice."
***
by Casey Tolan, Gotham Gazette
@CaseyTolan