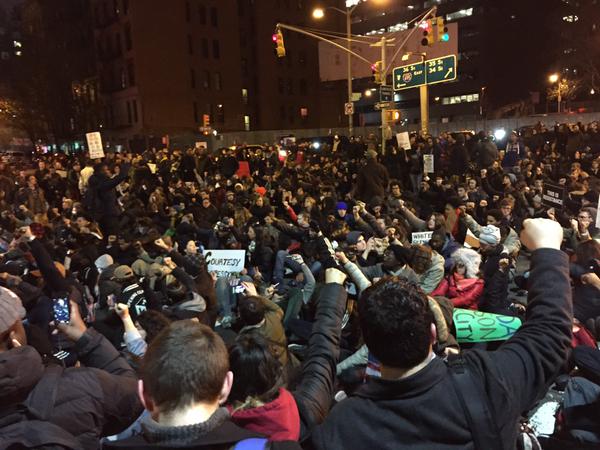 Protesters Thursday night in NYC (photo: @WarOntographer)
---
A day after a Staten Island grand jury declined to indict NYPD officer Daniel Pantaleo in the chokehold death of Eric Garner, Gov. Andrew Cuomo and Assembly Speaker Sheldon Silver, two of most powerful men in the state, said they are interested in passing major criminal justice reforms during next year's legislative session.
There is no need to wait that long to take significant action, says a coalition of groups operating under the banner "This Stops Today" (after words spoken by Eric Garner shortly before his death), that includes Communities United For Police Reform, Center for Popular Democracy, Make the Road NY and the NYCLU, among others. The coalition and other advocates are calling on Cuomo to veto a bill passed in both houses of the Legislature that would allow the rules for police disciplinary action to be decided in collective bargaining with unions rather than by elected officials.
The bill, S7801/A9853, and Cuomo's veto of it, is a major platform item for those involved in action across New York City in response to the grand jury decision. For a second straight night on Thursday, protesters flooded streets, chanting, shutting down major roadways and staging 'die-ins.' The bill passed overwhelmingly in the Senate and Assembly. The only votes against in the Senate came from Sens. Liz Krueger and James Seward.
On Thursday, Gov. Cuomo told Susan Arbetter on The Capitol Pressroom that he wants to look at reforming police training and the grand jury system, and at instituting body cameras for police across the state. "I think long term this is something we have to look at this session," Cuomo said. "I think we need a comprehensive look."
Speaker Silver issued a statement saying he is committed to "working with Governor Cuomo, my colleagues in the Legislature, Mayor de Blasio and with law enforcement to improve the manner in which we police our streets and to restore the people's faith in our legal system."
Neither Cuomo nor Silver discussed the police conduct bill. The governor's office did not return a request for comment for this story.
New York City Council members including Brad Lander and Jumaane Williams have also called on Cuomo to veto the bill. "If signed into law, this bill would severely undermine the City's ability to hold police officers accountable for their actions," said the two in an August statement.
"The Council Member and many of his progressive colleagues are on record calling on the Governor to veto the bill. The need for strong civilian oversight of police discipline is more important now than ever," a representative from Lander's office told Gotham Gazette on Thursday.
The legislation has been pushed through the Legislature with the support of law enforcement unions only to be vetoed by Govs. David Paterson, Eliot Spitzer, George Pataki, and Mario Cuomo.
The Brooklyn NAACP is asking constituents to call and write to Cuomo to urge his veto. "This bill would strip local public officials of disciplinary authority over the police officers they employ, which would have a detrimental impact on the accountability of local police departments, and thus safety and public confidence in the police," reads the form letter offered by the group.
Cuomo did not veto any legislation before Election Day this year, but has used some controversial vetoes since.
The state's Court of Appeals ruled once in 2006 and once in 2012 that police discipline should be left in the hands of public officials and not determined during collective bargaining with unions.
"Police officers – who put themselves in harm's way for the sake of public safety – have the right to fair treatment and due process," reads the August statement from Lander and Williams, who co-authored the controversial NYPD-related Community Safety Act which passed in 2013 over a veto by then-Mayor Michael Bloomberg. "At the same time the authority to investigate police misconduct, and pursue discipline when appropriate, must be held by government officials who are accountable to the public. As we saw just last week in the police union press conference blaming Eric Garner for his own death, the unions' inclination is to protect their members at all costs."
***
by David King, Albany editor, Gotham Gazette
@DavidHowardKing