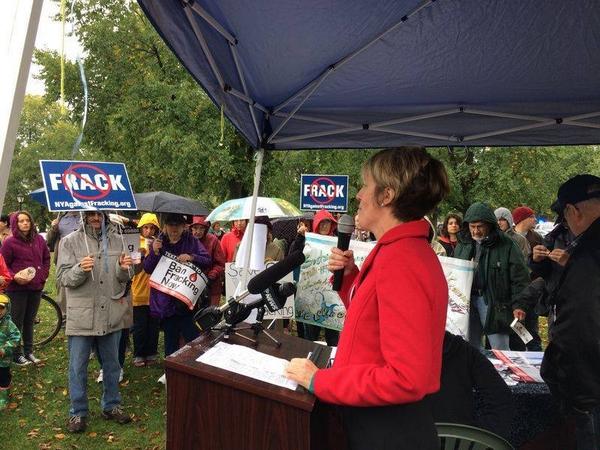 Zephyr Teachout speaks to an anti-fracking crowd (photo: @FrackAction)
---
With major announcements expected on hydraulic fracturing (aka fracking) and casino sighting in New York expected imminently, watchdogs are warning that small town officials are not subject to tough enough ethics and disclosure laws and could be hiding major conflicts of interest.
"By the end of the year, we should have positions on both that are clear," Cuomo told Susan Arbetter on The Capitol Pressroom Monday, referring to fracking and casino locations. "We'll start the new year with major decisions under our belt."
A special commission is set to announce casino locations on Wednesday, Dec. 17, while the fracking decision is said, by Cuomo, to be coming once a Department of Health report provides the governor with clarity on the dangers of allowing the practice. Cuomo was dogged by anti-fracking activists throughout his re-election campaign and his primary opponent, Zephyr Teachout expressed vehement anti-fracking views.
A report by The New York Public Interest Research Group called "Drilling Down: Local Fracking Decisions Highlight Failures in New York's Municipal Ethics Laws" looks at how municipalities that passed pro-fracking measures may have been influenced by public officials with conflicts of interest. NYPIRG's report found that multiple local officials had leases with oil companies that would pay out if fracking becomes legalized in their region.
Blair Horner of NYPIRG told Gotham Gazette that he has a meeting set with Gov. Andrew Cuomo's office to discuss extending the state's disclosure and conflict of interest standards to municipalities. "The Governor himself has expressed concern about ethics laws for municipal officials," said Horner. "So we hope to start with him."
NYPIRG's report cites a quote from Cuomo's 2010 policy book "Clean Up Albany."
"With all the obvious potential for conflicts of interest and significant sums of taxpayer money at stake, the current laws regarding municipal ethics are both weak and frequently unenforceable," Cuomo wrote.
In June of this year a state Court of Appeals Judge ruled that municipalities can ban fracking by using zoning laws. The ruling came after a couple of towns had moved to ban the practice and it empowered municipalities in an unprecedented manner. Now local governments had control of the implementation of major state policy.
On Wednesday, the New York City Council will see legislation introduced to ban fracking in the city, according to the Epoch Times.
Meanwhile, this summer local governments played a major role in attracting or fighting off casino proposals as the state went through the process of actually locating casinos after the legalizing them in 2013.
The support of local governments is important to casino and fracking interests because it sends a message that the projects are popular in localities, but also because town infrastructure is used heavily when a casino is built or fracking is implemented.
Towns and local officials have been the target of both anti-casino campaigns and the lobbying efforts and promised cash of pro-casino groups. Even municipalities abutting areas targeted for casinos have been offered millions of dollars by casino groups for their support.
NYPIRG's report found that the state's disclosure laws have a loophole that exempts lobbyists from reporting efforts to lobby local officials in municipalities with fewer than 50,000 residents.
NYPIRG further details a list of local officials who had a financial interest in the promotion of fracking while they voted for pro-fracking resolutions.
Horner and the report's author Russ Haven told reporters that the Town of Sanford in Broome County is a "poster child" for the need for reform. They said the town supervisor had gas leases for his personal and business properties and that the town itself holds a lease.
The town supervisor of Windsor worked for a major oil and gas company for 32 years and had a gas development lease on 30 acres worth of property in the town.
Horner argues that towns don't have the financial resources to police ethics and properly weigh the arguments made by monied interests.
Local meeting laws need to be strengthened, Horner says, with meetings being videotaped and made available online. He adds that towns need boards of ethics to oversee conflicts.
NYPIRG is itself opposed to fracking, citing safety and health concerns, among others. Horner told reporters that he thinks pro- and anti-fracking groups should have to disclose their lobbying efforts and expenses and that he expects that local governments will be expected to weigh in on an increasing number of issues from wind energy to casino siting. "At the very least they should be subject to the state's ethics laws," Horner said.
***
by David King, Gotham Gazette
@DavidHowardKing