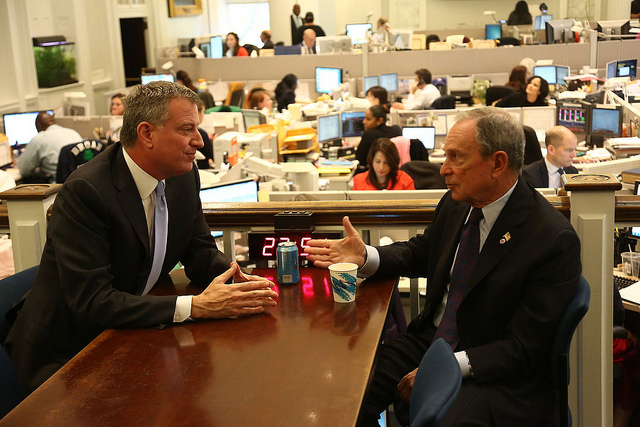 Bill de Blasio and Mike Bloomberg at City Hall on Nov. 6, 2013 (photo: Ed Reed/Mayor's Office)
---
Bill de Blasio won the mayoral election by drawing a clear contrast between himself and Michael Bloomberg. Since he took office almost a year ago, de Blasio has continued to attack his predecessor's policies.
While he was gracious during his inauguration speech with Bloomberg in attendance, de Blasio has not shied from criticism in the ensuing months. De Blasio usually refers to the "previous administration" instead of criticizing Bloomberg by name. His evaluations of Bloomberg policy on housing, policing, education, Sandy recovery, and other issues have ranged from "not appropriate" to "abhorrent."
Bloomberg himself has kept silent on the de Blasio tenure, as he promised he would. But in interviews, on Twitter, and on Bloomberg's website, his aides have defended the administration's record and corrected what they say is misinformation. "We've been surprised the extent to which it's been necessary," Howard Wolfson, a former deputy mayor, told The New York Times in September.
De Blasio has praised Bloomberg's work on issues like public health, environmental action, support for growth in the technology industry, and what he has called Bloomberg's "extraordinary and appropriate" advocacy for gun control across the country. He's also working to expand Bloomberg policies like the Citi Bike system.
"I have no trouble challenging the assumptions of the previous administration when I disagree with them, but I also am very comfortable saying when I think they were essentially right," de Blasio said at a February press conference.
Here are twelve 2014 moments when de Blasio criticized Bloomberg's policies and attempted to show his moves in a new direction:
1. On public housing:
"The Bloomberg approach to development at NYCHA was unacceptable. The previous approach, we rejected and this is entirely starting over." --Bill de Blasio, February 8

De Blasio has promised a "reset" of relations between the city and New York City Housing Authority residents, and specifically attacked Bloomberg's proposal to build market-rate housing on NYCHA property in order to raise revenue for the troubled agency. He also criticized delays in funding NYCHA security cameras and other improvements under Bloomberg -- but admitted that the delays had also been "unacceptable in my administration."
2. On municipal union contracts:
"The murky waters [in the city budget] have been created in part by the previous administration's unprecedented failure to resolve 152 collective bargaining agreements with city workers, some of whom have been without contract since 2008 ... The way they budgeted was not appropriate. You cannot ignore open labor contracts for years on end." --Bill de Blasio, February 12

De Blasio accused Bloomberg of publicly vilifying city workers during contract negotiations. When discussing the budget, he doesn't talk as often about the $2.4 billion surplus left over by the previous administration, though the path to that number has been questioned.
3. On charter school co-locations:
"Look, I'm not going to mince words about what I feel about how the Bloomberg Administration made decisions on co-locations. I think it was abhorrent. I think it was done without real consultation with parents, real consultation with the schools that were going to be affected, the receiving schools. And I think a lot of those co-locations proved to be very problematic in practice." --Bill de Blasio, February 27

One of the most contentious political issues of the year has been charter schools, which de Blasio accused Bloomberg of unfairly favoring. He has said he would put a moratorium on new charter school co-locations, but moderated his stance after opposition (and legislation) from Governor Andrew Cuomo.
4. On homelessness:
"[Gov. Cuomo and I] are going to work together to undo the mistakes of the previous administration. I think the cancellation of homelessness prevention programs is one of the reasons why we literally have the all-time highest number of New Yorkers in shelter at this very moment." --Bill de Blasio, March 25
He called youth homelessness one of the city's "most profound" problems. Homelessness is up under the de Blasio administration, as of August, as the new mayor seeks new ways to combat the crisis.
5. On affordable housing:
"We can get a lot more done than the previous approach allowed for ... In many cases there was a bit of a laissez-faire approach to development. And whatever was put forward in a particular case by a developer was accepted pretty much wholesale." --Bill de Blasio, April 7

Affordable housing is one of the centerpieces of de Blasio's policy agenda. He has outlined a plan to build or preserve 200,000 units of affordable housing in the next ten years, which he says is key to fighting income inequality in the city. This is another area where Bloomberg administration veterans shot back, citing 175,000 affordable units preserved or built during the former mayor's tenure.
6. On small business fines:
"We have to also respect our small businesses ... That didn't happen all the time in the previous administration. Some real boundaries were overstepped in the name of revenue production. Many small businesses were treated unfairly. Many rules were applied very arbitrarily. And it undercut the ability of some small businesses to survive." --Bill de Blasio, April 24

According to de Blasio, small businesses in the Bloomberg era, especially businesses outside Manhattan, were subjected to punitive and unfair fees under a "de facto quota system." De Blasio has said he wants to create a more "compassionate" climate for small businesses.
7. On policing:
"For much of the previous 12 years, there was a growing tension and a growing disconnect between police and community all over our city. And that is not an acceptable state of affairs." --Bill de Blasio, July 28
De Blasio has emphasized that tension between the police and communities of color in New York is a problem that has gone on for "decades," not just during the Bloomberg administration. But his opposition to stop-and-frisk policy practiced under Bloomberg was a highlight of his campaign. Bloomberg resisted stop-and-frisk reforms "quite aggressively" before eventually changing his policy, de Blasio said.
8. On Superstorm Sandy relief:
"I have respect for everyone in the previous administration. I'm sure they were trying their best. But the formula was not a good formula ... What was missing in the previous approach is a focus on real human beings – homeowners, and public housing residents, who needed relief immediately." --Bill de Blasio, September 5
Bloomberg's policies to rebuild storm-ravaged neighborhoods in New York focused more on infrastructure than people, de Blasio said. But he has also praised Bloomberg's focus on resiliency for future storms. Cas Holloway, a deputy mayor under Bloomberg, released a long statement in response to criticisms of the administration's Sandy policy, saying that no other city or federal effort "invested as much funding in as many homes as quickly as New York City did after Hurricane Sandy."
9. On park funding:
"It's been decades of disinvestment in our parks, decades, and again, it did cut along demographic lines ... We believe fundamentally in an agenda of fighting inequality ... I think it's fair to say the previous administration didn't see the world that way. So it just wasn't a priority." --Bill de Blasio, October 7

De Blasio has criticized Bloomberg for investing more in Manhattan parks like the High Line and not as much in smaller, outer borough parks. But he didn't follow through with a plan to force wealthy, privately-funded park conservancies like the Central Park Conservancy to fund maintenance for smaller neighborhood parks. "The Bloomberg administration made $5 billion in capital investments in parks, the largest capital investment in the city's history," said former Parks Commissioner Veronica White.
10. On closing schools:
"The previous administration had a policy that a school like this was left to fend for itself, and that's why we're here today, because we reject the notion of giving up on any of our schools." --Bill de Blasio, November 3
De Blasio's plan, which he calls "Renewal Schools," aims to turn around underperforming city schools instead of closing them.

Bloomberg schools chancellor Dennis Walcott responded that closing failing schools and replacing them with smaller schools was one of the "great education success stories any city has ever experienced."
11. On Rikers Island:
"When I came into office...I knew there were problems, but I didn't know there had been this level of neglect. And I didn't know that so many failed policies had gone unchanged. And I didn't know that so much failed leadership had been left in place." --Bill de Blasio, November 20

Specifically, de Blasio talked about mental health on Riker's Island, and has claimed that his is the first city administration to seriously pursue mental health reforms on the island, which de Blasio visited for the first time as mayor this week.
12. On job training:
"What was quite striking [in the past] was a lot of placements worked for six months or nine months or a year and then the person was back out of work. And a lot of placements were low-wage jobs. This is just not a good public policy, not a good use of taxpayer dollars, not something that actually sets the person up for the future." --Bill de Blasio, November 21

De Blasio argued that the Bloomberg administration missed the opportunity for higher-paying jobs, and aimed instead for quantity of jobs over quality. Former Bloomberg press secretary Stu Loeser told Capital New York that the previous administration "increased job placements from 500 to almost 30,000 a year all across the pay spectrum and led to the highest-ever number of New Yorkers with jobs."
What to watch for in 2015: will Bloomberg break his self-imposed de Blasio gag order?
***
by Casey Tolan, Gotham Gazette
@CaseyTolan
@GothamGazette