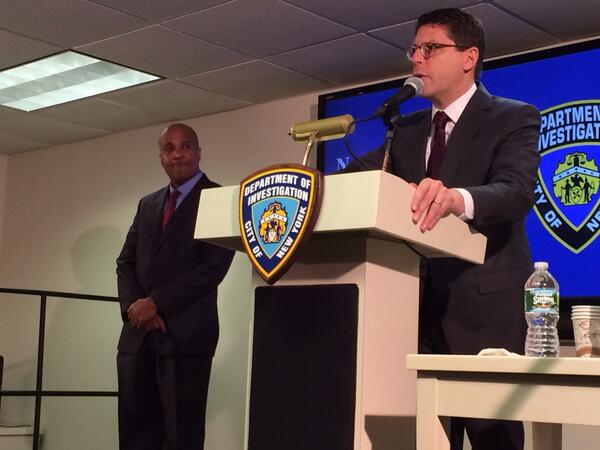 DOI Commissioner Peters, right, and IG Philip Eure (photo: @jill_jorgensen)
---
On Monday, the new Inspector General (IG) for the NYPD is presenting his first report to Mayor Bill de Blasio, City Council Speaker Melissa Mark-Viverito, and Police Commissioner Bill Bratton. The report, authored by Department of Investigation Commissioner Mark Peters and his chosen NYPD IG Philip Eure, deals with "accountability and transparency in substantiated chokehold cases" against NYPD officers. It finds several areas of concern, including that recommendations for punishment of officers found to have used department-banned chokeholds were often not followed by former Police Commissioner Ray Kelly.
The report's release comes at a fraught time in mayoral-NYPD relations and amid ongoing controversy around a Staten Island grand jury's decision not to indict Police Officer Daniel Pantaleo, whose chokehold led to Eric Garner's July death. There is also an internal NYPD investigation into Pantaleo's actions, which makes the report all the more relevant. As does the fact that City Council Member Rory Lancman has a bill with 29 sponsors (of a 51-member body) to make NYPD use of a chokehold during an arrest a misdemeanor offense.
Lancman recently told Gotham Gazette that he believes it is time to move forward with a hearing on his bill, which he sees as necessary because the NYPD has not been successful in stopping officers from using chokeholds despite a decades-old ban on their use.
Significantly, the new report from the Department of Investigation and Inspector General also explains three other major areas that the IG's office will be issuing reports on: "patterns of low-level arrests and summonses" (aka Broken Windows policing); "surveillance of religious and political groups," and "police encounters involving people with mental illness." No timetable for these subsequent investigations or reports is given, but it is made clear in the introduction to the chokehold report that the initial wave of work done by the new IG office yielded these four key areas of concern among stakeholders in NYPD practice.
For the IG office's first report, though, Peters and Eure examine what happened in ten recent cases where officers were found to have improperly used force by chokehold. The report highlights that when the Civilian Complaint Review Board (CCRB) issues disciplinary recommendations in such cases, they are often ignored. It also looks at problems with communication and training - some of which, the report acknowledges, are already being addressed by the mayor and police commissioner through such efforts as a new training course for all NYPD officers.
The report makes clear that "the death of a Staten Island man, Eric Garner, on July 17, 2014, after he was brought to the ground by an officer's arm around his neck in the course of an arrest, cast a spotlight on the use of chokeholds by NYPD officers and the enforcement of the chokehold prohibition." The report includes suggestions related to consistent discipline, better communication, and more, but as expected, it does not reference Council Member Lancman's bill.
Just days before the report's publication, Lancman told Gotham Gazette that it is time to move forward on police-reform legislation, including his. He said he expects a hearing on his and other NYPD-related bills in the coming weeks, though there is none scheduled at this time. If and when one occurs, it is likely that the IG's report will feature prominently.
On his chokehold bill, Lancman said, "The goal, ultimately,...is not to punish cops or put more cops in jail, it's to deter cops from using this particular maneuver. Because it's so dangerous, because the NYPD itself has said they shouldn't perform it."
"The misconduct is dangerous," Lancman reiterated. And, according to Peters and Eure's report, it is not being punished by the NYPD. "I don't want to tell the police how to do their job," Lancman continued, "but the way that they are doing their jobs is leading to people being killed who shouldn't be killed."
In November, Mayor de Blasio explained his opposition to Lancman's bill: "I think the best way to handle that is through NYPD policy, and what's going to happen is the retraining of the entire police department, on a variety of approaches, including the fact that the chokehold is not an appropriate tool to use. But I've also said publicly, and I'll say it again – there are some exceptional situations, and I want to respect our men and women in uniform who may be put into a life and death situation, literally one-on-one, them and a perpetrator who could literally mean to kill them, and they have to defend themselves – and that might involve a chokehold. And so I don't think it should be made a matter of a legal prohibition, I think it should be handled by department policy."
Lancman counters the mayor's points by saying that not only is the NYPD not appropriately ridding its ranks of chokehold use, but that there is nothing about his bill that could or does override the legal fact that anyone - police officer or not - may use whatever force necessary to defend themselves in a life-or-death situation.
***
by Ben Max, editor, Gotham Gazette
@TweetBenMax
Note: this article has been updated to remove mention of Peters and Eure appearing Monday on the Brian Lehrer Show - they were scheduled to appear, but had to cancel last minute according to Mr. Lehrer.