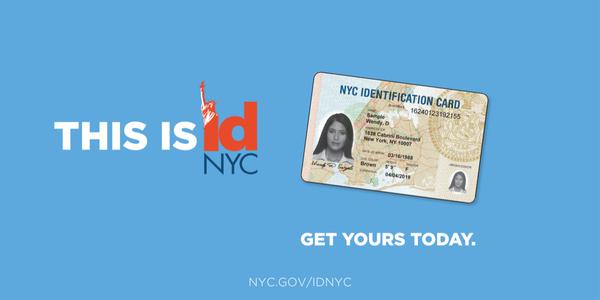 IDNYC promotion, from Twitter (@IDNYC)
---
Let the marketing campaign commence. There will be more than two thousand advertisements in three languages across subways, buses, check cashing facilities, laundromats, nail and hair salons. You'll see advertisements in citywide newspapers and community and ethnic papers in numerous languages. Listen for radio ads running in nine languages. All that and watch for a PSA playing in taxis and online featuring Mayor Bill de Blasio, First Lady Chirlane McCray, and City Council Speaker Melissa Mark-Viverito. That's the vast extent of the campaign city officials say will promote the country's largest municipal identification program.
IDNYC, the City's much-awaited, ambitious initiative aimed at providing photo identification to many thousands of New Yorkers, officially launched Monday to much fanfare and a massive marketing initiative. To promote the card, the City is unleashing a $1.8 million outdoor public awareness campaign, coordinated among different city agencies, advocates, and community organizers by a Campaign Outreach Director hired by the Mayor's Office of Immigrant Affairs. Teams of neighborhood organizers are also spreading the word.
In total, the IDNYC program will cost the city approximately $8.4 million in 2015, a city official confirmed. For New Yorkers, the card will be free of charge this year and city officials do not have estimates for how much it might cost next year, though Mayor Bill de Blasio said it would be a small fee as he happily announced the program launch at a Monday press conference in Queens.
Along with the free one-year membership to 33 cultural institutions that comes with the card, the Mayor today announced a host of benefits to appeal to a wide swathe of residents. These include the card's acceptance by ten large financial institutions, including Amalgamated Bank, Carver Federal Savings Bank and Popular Community Bank. The ID will also be integrated with BigAppleRx, the city's prescription drug discount card. Along with these benefits, cardholders will receive discounts on movie and Broadway show tickets, theme parks, sports events, and other discounts at facilities like NYC Parks Recreation Centers, YMCAs, New York Sports Club and Food Bazaar.
These partners and others, such as public libraries, will also be involved in outreach and advertising efforts to boost enrollment.
To call the program a success, the City is hoping to enroll more than one percent of the population. Other cities with similar ID programs have seen an enrollment rate of about one percent, but a city official explained that New York expects to top that figure because of the city's demographics. With New York's diversity, large number of undocumented immigrants, and many residents who don't have a state driver's license because they rely on the city's public transit system, it is well positioned. Add in what the official called "a card program that has the most significant package of benefits nationwide" and there is optimism about higher enrollment than what other cities have seen.
One key feature of the card - a military veteran designation and associated benefits - that the Mayor proudly revealed Monday, will be delayed until later this year.
The media campaign was formulated in consultation with different city agencies to ensure maximum exposure and CUNY's Center for Community and Ethnic Media provided a list of media outlets. Outreach efforts will be "ongoing" the official said, as the program expands with new features.
***
by Samar Khurshid, Gotham Gazette
@SamarKhurshid
Note: This article has been corrected to more accurately capture the role that CUNY's Center for Community and Ethnic Media (CCEM) played in the ID program planning. CCEM was not a strategic partner.