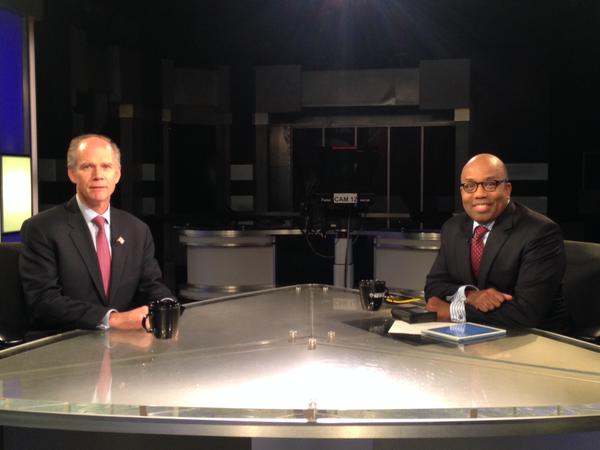 Dan Donovan, left, with Errol Louis on the NY1 set (photo: @InsideCityHall)
---
Staten Island District Attorney Daniel Donovan, a Republican, is running for Congress and widely considered the favorite no matter who the Democrats nominate to face him in an upcoming special election. If Donovan wins that contest in New York's 11th Congressional District, what will happen to his DA seat?
Donovan, who presented the grand jury case against Police Officer Daniel Pantaleo in the killing of Eric Garner, is already in a re-election year. So, there will be a vote for Richmond County (as Staten Island is also known) District Attorney in November 2015 no matter what. The question is: will Dan Donovan be on the ballot? It is far too early to tell, but with Donovan seen as difficult for any Democrat to beat in the race to replace disgraced former Congressman Michael Grimm, there are several key moving parts to be aware of.
Experts say Governor Andrew Cuomo will likely set the special congressional election for the spring. On Wednesday at an unrelated event the governor told reporters he had no timetable for calling the election.
Whenever it happens, if Donovan wins the NY-11 special, he will have to vacate his position as District Attorney. Donovan is an accomplished prosecutor with an impressive resume, but is facing a storm of criticism over the lack of indictment from the Pantaleo grand jury. On the Republican-heavy borough of Staten Island, though, many are supportive of the grand jury decision. The congressional district encompasses all of Staten Island and part of Southern Brooklyn.
There has been little attention paid to or indication of who would run for DA if Donovan should step down.
Matthew Smalls, a Democrat from from Staten Island's North Shore, announced on Monday that he is running for the DA seat. He has previously served in Manhattan as Assistant District Attorney under the former DA Robert M. Morgenthau. Attacking Donovan's record in a statement he released to the press, he stated in part, "Donovan hid while New York City grappled with the aftermath of his incompetence. And now, like a true politician, he is leaving his mess for someone else to deal with."
Tom Shcherbenko, president of the Staten Island Democratic Association, has come out in support of Smalls, who looks to be the only Democratic contender so far. "I haven't heard of anyone else, besides (Smalls) setting up a committee yet," said Shcherbenko.
Republicans have also not specified if they have anyone waiting in the wings to replace Donovan, but political watchers seem to think that State Senator Andrew Lanza is primed for the position. Lanza, a lawyer from Staten Island, has the name recognition to be a strong candidate, plus a resume including service in the Manhattan DA's office and on the City Council..
Should Donovan be elected to Congress, the Governor will appoint an interim DA for the remainder of his term. The Governor is required by law to announce a special election for Grimm's seat and an announcement in this regard should not be too far off, though Cuomo may wait until after his Jan. 21 budget address and State of the State speech. During a Wednesday evening appearance on NY1, Donovan said he expects an announcement from the governor sometime after the speech.
There is speculation that Cuomo may call it to coincide with the District Attorney and other elections of 2015, which would be the most cost-efficient for the state. "There is talk that he might call it on primary day," said consultant Jerry Skurnik of Prime New York. In that case, Donovan would be unable to run and the Democrats might have a better chance at the DA seat, Skurnik said. "Without Donovan running, it's not impossible for Democrats to win the seat."
***
by Samar Khurshid, Gotham Gazette
@SamarKhurshid