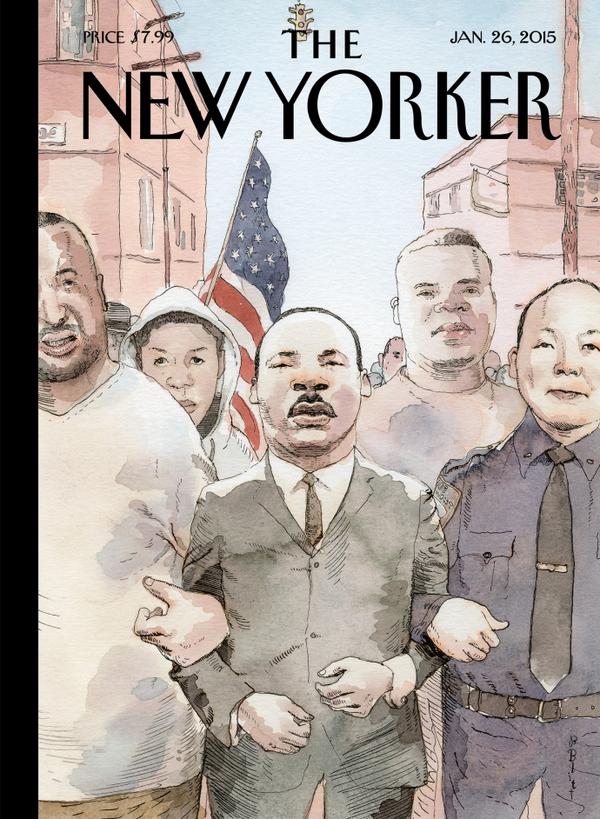 Upcoming The New Yorker cover art by Barry Blitt (via @NewYorker)
---
As an embattled mayor faces off against stubborn police unions and the City Council revisits police reform, New Yorkers are gearing up to march in the streets for what looks like the most significant celebration of the legacy of civil rights activism in the country in years. The annual Martin Luther King holiday comes this year at an especially pregnant moment in New York City and elsewhere. The holiday itself and days surrounding it will include a great deal of action around today's major civil rights issues, especially that of criminal justice reform.
Outrage against racial injustice has become widespread in the last few months and the dialogue over inequality and discrimination, especially in law enforcement, has gripped the entire nation. A movement that began to steam after the July death of Staten Island resident Eric Garner at the hands of an NYPD officer has been boiling over in the face of events across the country, including in Ferguson and Cleveland, and the lack of a grand jury indictment against Daniel Pantaleo, the officer shown on video with his arm around Garner's neck.
Activists, community organizers, scholars, and elected representatives are commemorating the best-known American champion of civil rights and racial equality, Dr. Martin Luther King Jr., as numerous protests and panels planned over the next several days call attention to issues of racial injustice not only in New York City, but across the nation.
Things are especially tense in New York after Garner's death, the Pantaleo decision and resulting protests, and the killing of two police officers on Dec. 20. Thousands have protested in the streets and angry words have been hurled, at times by some protesters and regularly by police union leaders. It is a time when, according to a new poll, 46 percent of New York City voters say race relations are "good" and 45 percent say they are "bad."
Mayor Bill de Blasio has sought to quell controversy and his Police Commissioner Bill Bratton has taken to dozens of media appearances as middle man. Meanwhile, as they gear up for a major MLK Day march, activists say that their demands have not changed, but that a period of calm was appropriate after Officers Rafael Ramos and Wenjian Liu were killed.
What is unclear is what renewed protest activity will look like and what the NYPD response will be. Throughout most of December, the city saw minimal violence, property damage, and arrest totals despite nightly protests, which often shut down busy roadways.
Along with protests, New York City will see a variety of panel discussions and commemorations of Dr. King's legacy. All should take on special poignancy this year.
"The conversations around this are highlighting the fact that the country is segregated, physically and mentally," said Christina Greer, Professor of Political Science at Fordham University, and author of Black Ethnics. "Martin Luther King Day is more important than ever. Dr. King's work has advanced, but his work is not over," she added.
Greer sees the movement as an expression of a disaffected public which responds to incidents such as the Garner case, but fails to choose effective leaders to represent their interests. "You can't have democracy without active citizens," she said.
In this atmosphere of growing outrage, Martin Luther King Day is particularly important this year, according to Glenn Martin, founder and executive director of JustLeadershipUSA.
"More and more people are understanding how the criminal justice system has eroded the gains of the civil rights movement and Dr. King would have been embarrassed that we allowed this," he said.
Martin criticized the militarization of police departments and over-policing, and cited incarceration statistics to argue that more black men are disenfranchised now than when Dr. King was alive (King was assassinated in 1968). The criminal justice system, he believes, has become an instrument of control over poor people and people of color.
The most interesting aspects of the current movement, Martin said, is that there is no identifiable leadership, which gives the movement longevity. "It's hard to chop off the head when you don't know who it is," he said. He lauded the participation of many more young people, particularly white people, and the use of technology - such as the video of Eric Garner's death - which has long-lasting resonance beyond the geographical boundaries of New York, even the United States.
The protests have indeed sprung up from various quarters and no one organization has spearheaded the movement.
"A real movement is never a single organization," said Alex Vitale, Professor of Sociology at Brooklyn College who focuses on urban politics, policing, and social movements. "The Civil Rights Movement wasn't; the anti-war movement wasn't. There will be conflict at times but also convergences and coalitions on certain issues."
Looking at it as a "decentralized movement with very loose coordination," Vitale nevertheless believes the mayor will not be able to sit idly by and wait for the protests to subside. He states that the trend of younger people coming out nationally under the a new generation of leaders of color started with the killing of Trayvon Martin and subsequent case. "But it didn't become a sustained movement," he said. And Vitale predicts over the next few days that there will be a return of significant protest activities which might carry momentum forward through spring.
A flurry of activity is indeed set to occur. On Saturday, This Stops Today, an activist coalition led by Communities United for Police Reform, will hold die-ins in Brooklyn, Manhattan, and the Bronx to mark six months since the day of Eric Garner's death.
Justice League NYC, another coalition of reform and advocacy groups is also leading action. They are massing protesters under the banner #DREAM4JUSTICE to march on Martin Luther King Day, beginning in Harlem. Representatives from the Justice League met with Mayor de Blasio on December 19.
Michael Skolnik, political director for Russell Simmons and president of GlobalGrind.com, is a board member of the Justice League. He said, "Dr. King in his legacy was someone who has been remembered as a peaceful warrior who came up against an incredible amount of opposition but never wavered. There are so many young people, also peaceful warriors, who are coming against opposition for a more just society on the whole and a just city."
Citing the release of the movie "Selma," Skolnik said the movement is connected to the historic struggle from the civil rights era, and is marked by an inspiring activism toward improving race relations in the city. "As individuals, we wake up everyday wanting to be better," he said. "Collectively as a city, that's the spirit in which we march."
This spirit and energy are reminiscent. "There's nothing new under the sun," said Bronx City Council Member Andy King, quoting the Book of Ecclesiastes from the Old Testament. He said a similar sentiment fueled by frustration and anger against institutionalized bigotry defined the civil rights struggle, and now, "We're reliving a play with different players."
King believes that the current climate shows that, in ways, society has taken steps backward and that the movement is necessary to advance the cause of racial equality. He said, "In the words of the great Frederick Douglass, 'If there is no struggle, there is no progress.'"
Honoring Dr. King's birthday on Wednesday, Council Member King presented a City Council proclamation to the Dr. Martin Luther King Jr. Health Center in the Bronx, at its first annual celebration of the activist's life.
"It's where it all started. Being the namesake of Dr. King, it's only right that we acknowledge and recognize their commitment to serving those who have and those who do not have," King said.
The march on Monday is expected to be largely led by a younger generation. "This time it's more than a routinized commemoration of the past and more about what we have to do right now as Dr. King's legacy of equality and human rights is in the forefront of people's minds," said writer-activist Marlon Peterson, a leader of Justice League NYC. But the march, he said, is simply one of many fronts. Actions will propel the movement and initiate the conversations necessary to bring about "not just incremental change in policy, but groundbreaking and precedent-setting in nature."
But Dante Barry, director of the Million Hoodies Movement for Justice, believes the movement is in its "infancy" and that people want to rush progress. The persistent tactics of die-ins and marches are the heart of the movement, he says, and meant to grab people's attention for what is to come. "(These methods) keep people active and engaged. And we're going to see more and more people getting agitated, mad and frustrated, and they'll want to do something about it."
What defines this current movement is again the aim of transforming a power structure. "We're challenging people to think about what the world looks like when black lives matter. That's a conversation we haven't had yet," Barry said.
In keeping with Dr. King's legacy, the movement is non-violent, it's leaders say. New Yorkers who have borne the brunt of policies such as Broken Windows and stop-and-frisk are not responding with aggressive action. "We've seen social movements across the country and the globe that have used nonviolence to uplift people from oppression," said Barry. "It's been a successful tactic and I think it will continue in this movement. The protests, the demonstrations, have been principled and non-violent."
The oft-repeated refrain is the criticism of a criminal justice system in desperate need of reform - not individuals in positions of power but the bastions of power themselves. There are those who support Mayor de Blasio and those who criticize him, but they all agree that the problem is systemic. Political leaders do, of course, have say over the system.
JustLeadershipUSA's Martin critiqued the Mayor for "waffling" on issues of police reform, but stressed that focusing on one person, either the Mayor, Police Commissioner or even the Staten Island District Attorney, for instance, detracts attention from a biased system that doesn't work. "People don't change institutions. Institutions change people first," he said. "Law enforcement has grown into a behemoth of a system with its own momentum and no one in the driver's seat. It's the system that gets away with murder, not individuals."
Vitale similarly said that what started as narrow anger towards a policing system eventually evolved into a broader issue of racial injustice revolving around the entire criminal injustice system. Stop-and-frisk, he said, was initially a policing issue which became a civil rights issue. "That's when it became politically untenable for the police."
As many plan to take to the streets over the next several days and beyond, activists and other interested parties will be watching Governor Andrew Cuomo's major speech on Wednesday in Albany. The governor has promised to take up criminal justice reform in 2015 and is likely to discuss at least his general plans and goals on the subject during his combined budget presentation and State of the State Address.
In New York City, many are eager to witness Mayor de Blasio commemorating the Martin Luther King Jr. holiday and what he might say about racial equity and criminal justice. De Blasio is set to give remarks at both the annual Brooklyn Tribute to Dr. King at BAM and at the annual National Action Network policy forum in King's name. The latter is especially fraught, of course, because it is Rev. Al Sharpton's organization and de Blasio's allegiance with Sharpton has been a major sticking point for police union leaders and others.
Along with aforementioned protest actions planned for Saturday and Monday, a series of civic events will be taking place around the city, including WNYC's annual commemoration at the Apollo Theater on Sunday and the annual BAM event on Monday. On Sunday, Brooklyn Borough President Eric Adams, a former police officer, is hosting a town hall on "improving police-community relations" and on Tuesday evening, the Manhattan Young Democrats is hosting a "non-partisan" panel event including Adams, Greer, Skolnik, Martin, and others "which seeks to address the administration of fair and equal justice."
With a Martin Luther King Jr.-like eye on ensuring that action accompanies talk, the event is said to be "an opportunity to learn about what we can do to tackle racial injustice."
Just after that on Tuesday evening will be President Barack Obama's 2015 State of the Union Address.
***
by Samar Khurshid, Gotham Gazette
@SamarKhurshid
Note: this article has been updated.