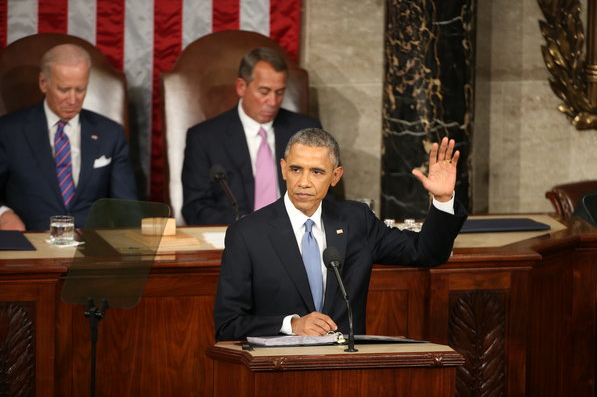 President Obama during his State of the Union Address (@nytvideo)
---
It is oft discussed in New York politics that New York City Mayor Bill de Blasio and New York Governor Andrew Cuomo represent different wings of the Democratic Party, with de Blasio flanking Cuomo on the left. Like Cuomo, United States President Barack Obama has at times been chided from the left on economic and education policies. All three Democrats agree on quite a bit, of course, not the least of which includes a progressive stance on social issues like marriage equality.
In delivering his sixth State of the Union Address on Tuesday night, Obama touched on a wide variety of domestic and foreign policy issues. In some instances, he sounded a bit like de Blasio; in others, he spoke to issues that Cuomo has taken up.
Cuomo will give his fifth State of the State address on Wednesday, and there is speculation that he may someday pursue the presidency. De Blasio will take the stage for his second State of the City speech soon - a date has not yet been announced, but it is expected to be as early as next week - and there have been murmurs about his larger ambitions as he has built a national and international profile in the past year.
De Blasio helped form and is Chair of "the Cities of Opportunity Task Force" which has him "bring[ing] together mayors from across the country to develop an action plan to challenge the growing inequality crisis in America."
As soon as Obama finished his speech, the mayor's press office emailed a statement with praise from de Blasio on the mayor's central issue. It began, "Tonight, President Obama laid out his clearest vision yet for how the United States must tackle the greatest challenge of our time—income inequality—and said what Americans across the country have known for some time: the time to act and to defeat this challenge is now." Obama's prepared remarks included the word "inequality" once, when he called for tax reforms to close loopholes he said are being taken advantage of by "the top one percent."
De Blasio recently unveiled a business tax reform plan aimed at helping small business owners and working and middle class New Yorkers that will need approval at the state level.
In his State of the Union remarks, Obama called for paid sick leave legislation, something that de Blasio has championed - one of his first acts as Mayor was to sign into law an expansion of the city's paid sick leave rules. On Twitter, the mayor's account showed support for Obama's statement in real time: "Gratified to see President @BarackObama come out in support of paid sick leave. New York City supports you, Mr. President."
The president also called for raising the minimum wage, something de Blasio has pushed for - he wants local control so that New York City can set its own regardless of the State's mark - and Cuomo recently announced he was planning to pursue. The governor's new proposal is for a gradual rise to a $10.50 statewide minimum wage, with $11.50 in New York City, but no local control.
And it's not exactly pre-K, which Obama called for an expansion of last year, but this year the president spoke about the need to help families better afford childcare. De Blasio was surely nodding in agreement when Obama said, "And that's why my plan will make quality childcare more available, and more affordable, for every middle-class and low-income family with young children in America — by creating more slots and a new tax cut of up to $3,000 per child, per year."
Obama also seemed to sling an arm around de Blasio's shoulders when he touched on race and policing in America. The president appeared to reference comments made by de Blasio on the night of the Staten Island grand jury decision not to indict Police Officer Daniel Pantaleo in the death of Eric Garner. That night, de Blasio spoke of teaching his son Dante, who, like Obama, has one black parent and one white parent, to take special care when interacting with the police. In his State of the Union, Obama said, "We may have different takes on the events of Ferguson and New York. But surely we can understand a father who fears his son can't walk home without being harassed."
Obama did not stop there, though, and in more Cuomo-ian fashion, he added, "Surely we can understand the wife who won't rest until the police officer she married walks through the front door at the end of his shift. Surely we can agree it's a good thing that for the first time in 40 years, the crime rate and the incarceration rate have come down together, and use that as a starting point for Democrats and Republicans, community leaders and law enforcement, to reform America's criminal justice system so that it protects and serves us all."
Also like Cuomo, Obama discussed passing legislation to ensure women are entitled to 'equal pay for equal work.' Cuomo continues to pursue his ten-point Women's Equality Agenda against tough Republican opposition in the State Senate.
The president and the governor both seem excited about the prospects of the U.S. normalizing relations with Cuba. The governor explained recently that he plans to break into the Cuban trade markets since the president has announced plans to lift the embargo with Cuba.
On education, Obama and Cuomo seem to see eye-to-eye in many ways, such as support for charter schools, but the president did not go into much K-12 education policy in his remarks. When the governor takes the stage on Wednesday in Albany, he is expected to focus heavily on education reform.
And Mayor de Blasio, who does not subscribe to the same education doctrine as his two fellow Democrats, will be sitting in the audience watching.
***
by Ben Max, editor, Gotham Gazette
@TweetBenMax