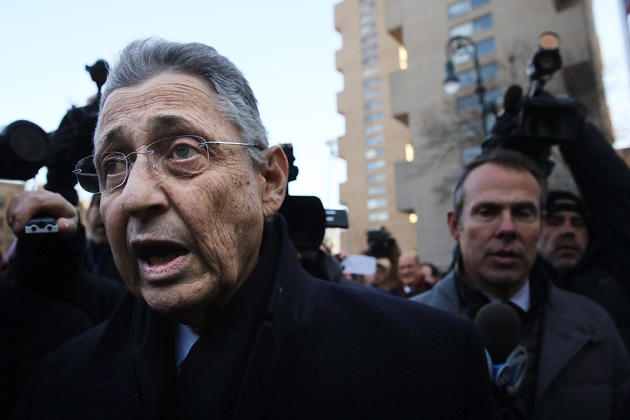 Sheldon Silver (photo: Spencer Platt/Getty Images)
---
On Monday, Feb. 2, New York State Assembly Speaker Sheldon Silver's 20-year reign as leader of the Assembly's Democratic majority is scheduled to come to an end. Albany, as many have come to define it, will be changed drastically without Silver's domineering grasp around the chamber's throat.
Silver has come to represent many things to many different people. He was vilified upstate as some sort golem of greed and corruption manifested to represent New York City; for others Silver was a champion of progressive causes who listened to the people. For still others Silver served as a symbol of all the corruption and detachment of the state capital, a hypocrite who stifled democratic conversation, smashed any inkling of opposition, and unceremoniously turned on members whose scandals were causing him too much trouble.
Now, he faces several federal corruption charges of bribery and kickbacks, which have finally led to his seemingly imminent ouster.
Rochester Assembly Member Joseph Morelle, who currently serves as majority leader, is scheduled to become interim speaker until a vote on Feb. 10, Democratic Assembly members determined on Tuesday. Good government groups have called for a "transparent" selection of a new leader. Some members insist they want to use the next two weeks to vet speaker candidates. The Assembly is already discussing a change to its rules so that the speaker serves at the leisure of the members, not a two-year term.
Silver told reporters on Tuesday that he will not resign his Assembly seat. "I will be a member of this house," Silver said. "I was elected by my constituents and I do not intend to resign my seat in this house. I believe very deeply in the institution. I hope they can have somebody here who can carry on the good work that has taken place." He also added, though, that he would not hinder a replacement process. In fact, he may very well vote on his replacement as an ordinary member of the Assembly.
Almost a full week into session the only "good work" the Assembly has officially done this year is to vote Silver in as speaker. That is something Assembly Republicans don't want anyone to forget. They paced back and forth on Monday waiting to see if session would happen. Republican Assembly Member Jim Tedisco carried around his "research" on how to remove a speaker. "This could really hurt budget negotiations," he said of the distraction and power shake-up.
Exactly who will succeed Silver in the long term is not clear, but jockeying for the position is intense with New York City-based Keith Wright of Manhattan, Carl Heastie of the Bronx, Cathy Nolan of Queens, and Joe Lentol from Brooklyn all appearing to be actively campaigning for the position. They, or whichever emerge as frontrunners before Feb. 10, will have to overcome Morelle.
Wright faces opposition from members who are annoyed by his ties to Gov. Andrew Cuomo - the governor named Wright a co-chair of the state Democratic Party in 2012. Carl Heastie is thought to be the leader at the moment and has hired two veteran aides to help his effort, though he is thought to carry baggage from his duty as Bronx County Democratic Chair and issues related to his campaign spending.
Other members have begun to focus on reforming the speakership with term limits and other changes that will allow individual members more control over what bills come to the floor. Under Silver, the Assembly has become notoriously autocratic.
Labor unions, lobbyists and elected officials from across the state are all weighing in on the process. New York City Mayor Bill de Blasio appears to be backing Heastie despite comments he made to the press on Tuesday.
"I'm not talking to Assembly members at all," de Blasio said. "We're trying to keep abreast of what's happening because we have a lot of things that really matter to us, like the budget and a lot of other things. We're trying to stay close to what's happening so that we are able to act on the substance of the situation."
De Blasio made it clear, though, that he sees it as essential that the next speaker is also from New York City. "I think it is crucially important to New York City to have leadership in the Assembly that wants to be fair to New York City - and let's be clear, we often don't get our fair share from state government," de Blasio said.
On Monday Bronx Borough President Ruben Diaz Jr. issued a statement insisting just that. Many city legislators from both houses agree with Diaz being that the Senate is controlled by Republicans who mostly hail from the suburbs and upstate and "Cuomo is Cuomo," as one legislator put it.
But Diaz has a specific city-based speaker in mind. He has long allied with Heastie who is also the Bronx County party chair. A number of lawmakers close to the pair say they have shared a dream of Heastie becoming speaker and Diaz becoming mayor.
Silver's colleagues met in closed door meetings on Monday and Tuesday rather than holding scheduled legislative session and debated what to do about their embattled speaker. Last week, when Silver was first arrested some members jumped to his defense claiming he faced "flimsy charges." Some went as far as to suggest there was a conspiracy against Silver.
Members emerged from their first conference last week having decided to back Silver - without having read the charges against him and with his chief of staff in the room. The unity began to crumble over the weekend as editorial pages slammed Silver and the members who were so willing to defend him. The only Assembly Democrat to call for his resignation was Charles Barron, who has long been outspoken had had no help from Silver in his election.
On Monday legislators met for five hours behind closed doors with Assembly staffers pushing reporters further and further back from the meeting. Members debated Silver's proposal that he temporarily cede power to five colleagues until he was cleared of his charges. Eventually that proposal was disregarded and members appeared to announce that they had agreed that Silver should step down as speaker.
"I and other members of the conference expressed the idea that the speaker can no longer serve as the speaker and he must resign," said Assembly Member Brian Kavanagh, who met with a breakaway faction of young legislators during the day and had been set to make an announcement that was nixed by Silver's arrival.
Silver left the capitol seemingly defiant, declaring "I am the speaker."
Members met again for hours behind closed doors on Tuesday without Silver. They finally emerged appearing to have Silver's agreement to resign the speakership - though his comments indicated otherwise. The Assembly members indicated that if he did not resign by Monday they would move to formally remove him.
Despite being known for protecting his members, in recent years Silver was forced to become more reactive to protect his own image. It was only May of 2013 when Silver led an effort to boot entrenched Bronx Assembly Member Vito Lopez from his seat. Lopez faced a number of sexual harassment charges from interns - some of the cases were settled in secret with state money at the behest of Silver. It wasn't until new victims came forward that the old cases were revealed and Silver began to feel the political blowback. Silver faced calls to resign from editorial boards, women's groups, and politicians, but he survived partly by focusing on punishing Lopez.
Silver stripped Lopez of his committee chair and staff and launched ethics probes. Lopez announced in May that year that he would resign from the Assembly at the end of the session and run for City Council (a race which he lost). Advocates were outraged - feeling the pressure, Silver drafted a resolution to vote Lopez out of the chamber and Lopez resigned before the vote. Silver went on to pressure Assembly members Micah Kellner and Dennis Gabryszak to resign after they faced sexual harassment accusations.
The Assembly has lagged behind most government organizations in transparency for years. The Senate, which has been notoriously opaque in its legislative practices, have a website that allows users to search for detailed legislative information and watch session live. The Assembly website has only recently come close to catching up.
A number of legislators said privately that they maintained public support for Silver because of the issues he represents and his negotiating power. He was expected to be the Democratic counterweight to Cuomo's education reform plans, push for a higher minimum wage, and ally himself closely with de Blasio's agenda. Silver, however, hasn't always delivered for the city. In 2008, without much explanation, he killed a push to enact congestion pricing in New York City.
In 2009, after Senate Democrats took control of that chamber after four decades in the minority the absurdly decadent infrastructure implemented by long-ruling Sen. Joseph Bruno was revealed. From a fully-staffed printing plant to a TV station used exclusively by Republican candidates to record campaign ads, the GMC van outfitted with captain's chairs and a meeting table known as the "Brunomobile," it was clear to everyone that it had been good to be the king. Sources indicate that Assembly Democrats are eager to keep their demons in the closet. Silver is reportedly negotiating to protect the jobs of his long-term staffers.
However, Assembly Democrats won't be able to control how much damage Silver's fall does to their reputations. Some insiders theorize that with Silver removed from power he might be more inclined to share the Assembly's dark secrets with the U.S. Attorney prosecuting him (U.S. Attorney Preet Bharara, whose office is also performing ongoing investigations of other Albany-related matters that are yet to be made clear).
On Monday as legislators began to gather to discuss Silver's future, Assembly Members Wright, Deborah Glick, and Barron waited for one of the Capitol's ornate elevator cars to arrive. A sign on one door read "Out of service." As the wait grew longer someone in the legislators' entourages joked, "Shelly's out and the elevators aren't working already."
***
by David King, Albany editor, Gotham Gazette
@DavidHowardKing