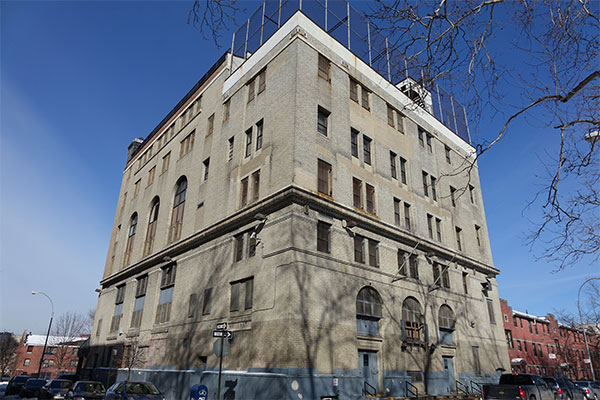 Fulton Correctional Facility (photo via the Osborne Association)
---
Earlier today New York State handed over the keys for the shuttered Fulton Correctional Facility in the Bronx to The Osborne Association - a group tasked with providing services to the formerly incarcerated, easy re-entry, and reduce recidivism.
For many politicians and advocates, from the Bronx and elsewhere, the handover is an example of how New York State is changing course from jailing as many small-time offenders as possible to focusing on how prison time can disrupt and damage communities.
With the shift, Osborne now has to focus on using the State's $6 million grant to convert the facility, and on finding partners to run the ambitious range of services it plans to provide, local businesses that would like to locate in the new facility, and a reliable funding stream to support them.
The seven-story structure has served many purposes over the years: church, synagogue, nursing home, drug rehab facility, YMCA, and work-release facility. The plan now, according to Elizabeth Gaynes, executive director of The Osborne Association, is to provide ex-cons a one-stop shop to help them return to society smoothly.
"While the crime rate has certainly decreased and the prison population has declined in New York State and New York City, there are still a great number of people across the state under correctional supervision," said Bronx Borough President Ruben Diaz Jr. "I believe that transforming this structure into a re-entry facility will provide individuals who are transitioning back into society from prison an amazing resource, one that provides them with the necessary tools and resources to succeed upon release and become proactive members of our community."
Over 60 percent of the state's prison population hails from the five boroughs and city data released in 2013 shows that the South Bronx is one of the top five communities where NYC-based inmates list their home address.
However, the state's prison population in general is in decline - it is currently lower than it has been in two decades. Gov. Andrew Cuomo has closed 13 prisons since taking office and famously declared in his 2011 State of the State address that "an incarceration program is not an employment program."
Many advocates hoped at the time that Cuomo would target upstate prisons because the majority of the state's prison population hails from New York City and housing them upstate separates them from the family and community advocates argue help in rehabilitation. But Cuomo didn't limit the closures to upstate. He closed both Fulton in the Bronx and Arthur Kill Correctional Facility on Staten Island. Advocates were particularly stung by Fulton's closure because it was a work release facility. Converting Fulton Correctional is intended to give ex-cons a one-stop shop for all their needs close to their home communities.
Gaynes says her group plans to use all seven floors of the facility to provide a myriad of services to ex-convicts including temporary housing, job training and health care. It will also provide job opportunities in a full-scale kitchen with catering service and a green businesses incubator. The roof is expected to host beehives. Two of the floors will focus on temporary housing and another floor will be dedicated to more long-term housing for elderly former inmates.
Gaynes had to convince state officials that they would be better off providing these services and reducing recidivism rates rather than selling the property to a developer. Her pitch worked.
The Empire State Development Corporation granted Osborne $6.5 million for the project. Diaz Jr.'s office helped Osborne secure a $650,000 grant from the New York City Department of Citywide Administrative Services; the Bronx Delegation of the City Council allocated $50,000, and Councilmember Vanessa Gibson delivered $10,000 in city funding. The entire renovation is expected to cost $9.5 million, fundraising is ongoing.
"The next step is to hire an architect," said Gaynes. "Unfortunately we can't wait to build until we know exactly what is going to be here, but because it was a church, a synagogue, and YMCA before it was a work release center, we think it will fit our needs. I think we will end up with really something that is beautiful."
State Sen. Gustavo Rivera is particularly proud of the plan as he took it up as one of his first projects after being elected in 2011. He said he was quickly impressed by Oborne's proposal and thought it would be important for his district. "It will be great to be there and know I was involved from the start," Rivera said prior to Thursday's handover.
However, Rivera notes that there is still a lot of work ahead. He attended one of the community meetings hosted by Osborne and got a taste of just how involved the group wants Bronx residents to be. "We discussed the needs of the community. Housing. OK. Well what kind of housing? Classes? Well, what kind?" he recounted.
Perhaps most impressive, Rivera said, was that Osborne provided layouts of the building with movable labels to indicate where services could be provided.
Gaynes said she is a little concerned that she might not be able to meet all of the community expectations which have grown to include a pool. Swimming facilities or not, it is an ambitious project to be sure.
Even with the handover accomplished and plans for the facility underway Osborne hopes to find partners to actually run the supportive housing and other services.
Rivera said he hopes the State will continue to stay involved and support the project. "We will need to get the message out, work on funding for all these programs they want to offer. We aren't walking away from this now."
***
by David King, Albany editor, Gotham Gazette
@DavidHowardKing