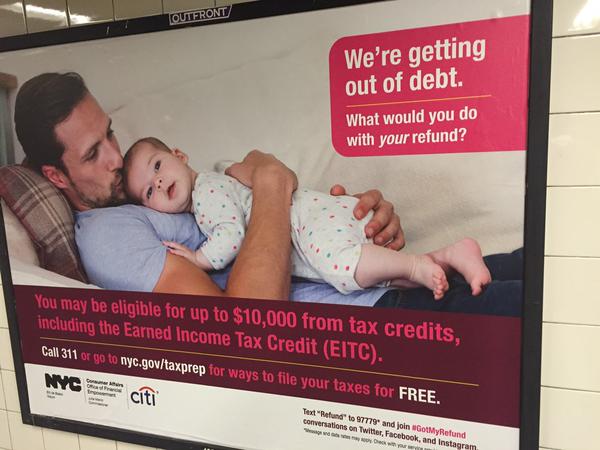 DCA EITC subway advertising (photo: @carmeneboon)
---
In life, they say, only two things are certain: death and taxes. Fortunately for low-income New Yorkers, the latter comes with federal refunds. And the de Blasio administration is making a major push to ensure that more of those eligible cash in.
In preparation for tax season, the City's Department of Consumer Affairs (DCA) will launch its annual campaign tomorrow to inform taxpayers about credits, including the Earned Income Tax Credit and the NYC Child Care Tax Credit. According to a press release from DCA, more than 2,000 volunteers will staff phone banks across the five boroughs for the first-ever tax credit awareness phone-a-thon organized by the City, reaching out to residents in English, Spanish, and Chinese.
The initiative, being run by de Blasio's DCA Commissioner Julie Menin, is part of the administration's aggressive efforts to help improve quality of life for those on the margins.
Since 2002, the City has organized a Tax Credit Campaign every year, handled by the DCA's Office of Financial Empowerment (OFE), to help residents not miss out on vital benefits in the tax system. In what is a new initiative, though, thousands of calls will be made on Saturday to refund-eligible New Yorkers.
One of the main credits that often goes unavailed is the EITC. For qualifying families, EITC can go a long way. One in five low-income New Yorkers are either unaware of this tax credit or unwilling to go through what they perceive as a tedious process. In effect, they are leaving money on the table, particularly since it is a refundable credit. It can lower taxes, and even be paid out if they owe no taxes, but only if it is filed. Last year, 1.8 million EITC claims were filed in New York State, totaling $4.1 billion in credits. The average credit amount was $2,309 - an amount that can make a major difference for individuals or families struggling to get by, especially in a high cost of living city like New York.
Commissioner Menin will lead the six-hour long phone-a-thon on Saturday at the Downtown Brooklyn location, with Brooklyn Borough President Eric Adams, Rep. Nydia Velazquez, State Assembly Member Jo Anne Simon, and City Council Member Rafael Espinal all set to participate. Mayor Bill de Blasio is also expected to visit, and make remarks and a few phone calls.
The phone-a-thon, just one day after Friday's Internal Revenue Service annual EITC Awareness Day, aims to increase filings in New York City by at least 50 percent. The value of refunds, according to official expectations, will be nearly $90 million and will put $135 million into the local economy. Families could receive as much as $10,000. New Yorkers will also be told of 200 tax preparation sites across the city which will help process tax filings free of cost.
In October last year, the IRS announced that the federal credit in 2015 would be adjusted for inflation, increasing the maximum amount by around $100 (to $6,242 from $6,143) for a joint family with three children or more.
Although the EITC is a federal credit, New York State and even New York City offer their own versions of EITC. So for those who qualify, the benefits can reach up to $8,293 for a family with three children earning under about $52,000 a year and $670 for a single person without children earning under about $20,000. What's more, the EITC does not take away from other benefits such as the SNAP program (food stamps), Medicaid, or public housing assistance.
The campaign is being promoted on Twitter with #GotMyRefund. Many city officials are promoting the event in their feeds and some, like Public Advocate Letitia James, have been sending e-mail blasts to their subscribers.
Fitting into the De Blasio Agenda
Promoting awareness about EITC is in line with the mayor's push toward reducing the inequality gap in the city. In the latest Mayor's Management Report (MMR), the bi-annual assessment of individual city agencies, released in September last year, there was a specific requirement for agencies to report their efforts on promoting equity.
One of DCA's stated goals in the report was to empower low-income New Yorkers and promote their financial stability. As part of that effort, DCA reported that its OFE partnered with community organizers, non-profit groups, and private volunteers to directly aid residents through free and discounted tax preparation and filing. According to the MMR, the network of volunteers at Volunteer Income Tax Assistance (VITA) sites helped 96,661 city residents file their tax returns in the 2014 fiscal year.
The City Council has also been attempting to increase EITC participation levels in the city. Speaker Melissa Mark-Viverito, advocating for a more affordable city, wrote in the Huffington Post last month, "The Federal Earned Income Tax Credit (EITC) is an under-utilized lifeline for many eligible individuals facing financial hardship. The program would enable qualifying New Yorkers to keep more of their income and better contend with the looming cuts to section 8 vouchers."
Council Member Dan Garodnick introduced a resolution on the issue in June of last year that has not been voted on yet. It calls on Congress to pass legislation expanding EITC, and for the state Legislature to allow the City to increase its own EITC from 5% to 10% of the federal credit.
***
by Samark Khurshid, Gotham Gazette
@SamarKhurshid
Note: this article has been updated.