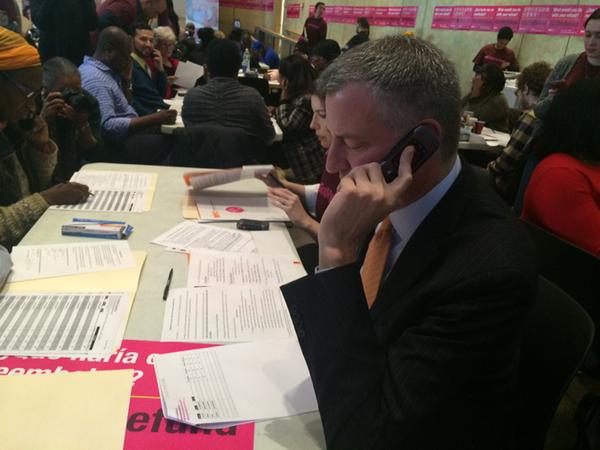 Mayor de Blasio makes calls during the EITC phone bank in BK (photo: @amyspitalnick)
---
BROOKLYN - 'Hi, this is Bill - Bill de Blasio - calling to see if you're planning to claim your Earned Income Tax Credit.'
On Saturday in Brooklyn, New York City Mayor Bill de Blasio, a Democrat, jumped into action at one of his administration's sites for its Earned Income Tax Credit (EITC) phone bank. De Blasio joined other elected officials, Department of Consumer Affairs Commissioner Julie Menin, and what the City says were 2,000 volunteers across the city in making calls to low-income New Yorkers to make sure they are aware of the EITC, which can provide a significant financial relief to those often struggling to make ends meet.
According to a release from the mayor's office, it is "the largest public education and outreach tax credit campaign in the City's history."
Saturday's "Earned Income Tax Credit (EITC) Awareness Day of Action" is the city's first, the administration said, putting the work into context as another part of the de Blasio attack on inequality. Not only are volunteers reminding low-income New Yorkers about the EITC, which has been claimed by far fewer than those eligible, but to also make sure people are aware of the free tax filing services that the City provides for those with income under $60,000 per year.
"The City will contact more than 270,000 New Yorkers through phone calls and automated calls," a press release reads. The City says that for the first time it is funding the free tax preparation services, available at about 200 locations, an increase of about 60 from last year. The City is investing $3.1 million for expanded services and also advertising, making a big push "to reach eligible New Yorkers, including the estimated one in five households who are eligible for EITC but don't claim it."
Like with pre-kindergarten, paid sick leave, and municipal identification cards, it is another example of the de Blasio administration's push to both increase support and services that aid low-income New Yorkers, but also ensure through aggressive marketing that those eligible are aware. The advertising component is being backed by $800,000 of city money, with notices being made on a variety of platforms and in a plethora of languages.
"The earned income tax credit is oftentimes the largest lump sum of money low-income New Yorkers will receive in the year, and it's a critical tool we can use to reduce inequality by directly putting back money in people's pockets," said Mayor de Blasio in a statement. "We can't afford to let tens of thousands of New Yorkers who are eligible for these valuable refunds not file."
Menin said that the money families get back can be the difference in being able to pay the bills or not. "We have committed a nearly 20-fold increase in funding to the tax credit campaign because we believe every working New Yorker deserves to get their hard-earned refund," she said.
Although the EITC is a federal credit, New York State and even New York City offer their own versions of EITC. So for those who qualify, the benefits can reach up to $8,293 for a family with three children earning under about $52,000 a year and $670 for a single person without children earning under about $20,000. What's more, the EITC does not take away from other benefits such as the SNAP program (food stamps), Medicaid, or public housing assistance.
The campaign is being promoted on Twitter with #GotMyRefund. There was a phone-banking site in each borough. De Blasio participated in Brooklyn, where Menin was headquartered and other participating elected officials included Borough President Eric Adams and Rep. Nydia Velazquez.
Fitting into the De Blasio Agenda
Promoting awareness about EITC is in line with the mayor's push toward reducing the inequality gap in the city. In the latest Mayor's Management Report (MMR), the bi-annual assessment of individual city agencies, released in September last year, there was a specific requirement for agencies to report their efforts on promoting equity.
One of DCA's stated goals in the report was to empower low-income New Yorkers and promote their financial stability. As part of that effort, DCA reported that its OFE partnered with community organizers, non-profit groups, and private volunteers to directly aid residents through free and discounted tax preparation and filing. According to the MMR, the network of volunteers at Volunteer Income Tax Assistance (VITA) sites helped 96,661 city residents file their tax returns in the 2014 fiscal year.
The City Council has also been attempting to increase EITC participation levels in the city. Speaker Melissa Mark-Viverito, advocating for a more affordable city, wrote in the Huffington Post last month, "The Federal Earned Income Tax Credit (EITC) is an under-utilized lifeline for many eligible individuals facing financial hardship. The program would enable qualifying New Yorkers to keep more of their income and better contend with the looming cuts to section 8 vouchers."
Council Member Dan Garodnick introduced a resolution on the issue in June of last year that has not been voted on yet. It calls on Congress to pass legislation expanding EITC, and for the state Legislature to allow the City to increase its own EITC from 5% to 10% of the federal credit.
***
by Samark Khurshid, Gotham Gazette
@SamarKhurshid