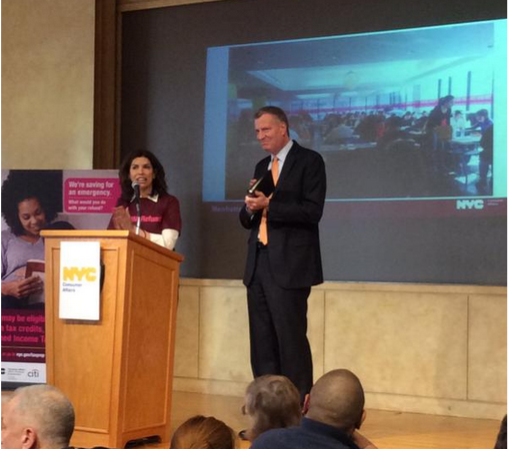 Mayor Bill de Blasio and DCA Commissioner Julie Menin (photo: DCA, via Twitter)
---
"Every phone call you make is potentially changing the life of a family," said Mayor Bill de Blasio, addressing the city's first phone-a-thon to raise awareness about significant but overlooked tax refunds aimed at bolstering low-income earners.
Pink posters lined the crowded hall at the Fire Department building in downtown Brooklyn. The posters framed a simple question in Spanish, Chinese, and English: "What would you do with your refund?" Department of Consumer Affairs employees, dressed in maroon shirts with a pink #GotMyRefund decal, zig-zagged the tables that filled the room where at least 150 volunteers made thousands of calls to low- and medium-income New Yorkers to inform them about the Earned Income Tax Credit, or EITC.
Saturday's phone bank, which occurred simultaneously at a site in each of the five boroughs, signaled the start of a tax credit awareness campaign that will continue for the next three months and include outreach to thousands of New Yorkers who can benefit from the credit.
The mayor reiterated his central objective of fighting income inequality and said, "We cannot see so many of our fellow New Yorkers suffering economically. We have to find a way to reach each and every one. This is a very tangible and immediate way to do it."
The campaign, run by the Department of Consumer Affairs under Commissioner Julie Menin, aims to increase the number of people filing for EITC and using the City's tax prep services.
"We know EITC is one of the best ways to fight poverty so we're aggressively tackling it here in New York City," Menin told Gotham Gazette on Saturday afternoon. The phone banks would reach out to 100,000 people Saturday, she said, with an additional 250,000 automated calls going out by Wednesday.
"We need to make sure that for the next couple of months we continue to push this message out to make sure that people file for their tax refunds and also that they avail themselves of the free tax services that exist," she said.
Brooklyn Borough President Eric Adams joined de Blasio and other elected officials, Menin, and many volunteers in making phone calls Saturday. Afterward, he issued a statement stressing the need for building awareness of EITC. "As the largest poverty reduction tax program in our country," he said, "and as a boost for our local economy, it is important that government educate every taxpayer about the EITC and make it possible for them to claim their benefits."
One of the volunteers, Bet Lopreste, 23, a writer and dancer, said the people she reached out to were surprised and curious about EITC, but even more so about the City's free-of-cost tax prep centers.
These services and refunds can be a boon for families. Sherwin Garcia, 31, an IT worker at Barclays filed his EITC last year through the City's Volunteer Income Tax Assistance (VITA) program and received nearly $4,000. "Obviously you're not making enough money if you qualify for it. It helps pay off rent, credit card bills, and even creates some savings."
Although the EITC is a federal credit, New York State and even New York City offer their own versions of EITC. So for those who qualify, the benefits can reach up to $8,293 for a family with three children earning under about $52,000 a year and $670 for a single person without children earning under about $20,000. What's more, the EITC does not take away from other benefits such as the SNAP program (food stamps), Medicaid, or public housing assistance.
The phone-a-thon, just one day after Friday's Internal Revenue Service annual EITC Awareness Day, aims to increase filings in New York City by at least 50 percent. The value of refunds, according to official expectations, will be nearly $90 million and will put $135 million into the local economy.
For 27-year-old Jennifer Roman, a concierge at a condominium building, the EITC helped her pay off her student loans. The mayor called Roman up on stage as he spoke to the crowd. She received financial counseling last year at Urban Upbound, a non-profit in Queens and one of the city's financial empowerment centers, which helped her file her EITC, restructure her student debt, and repair her credit. She smiled as she said, "It's extremely great to know that the mayor is supporting us."
***
by Samar Khurshid, Gotham Gazette
@samarkhurshid