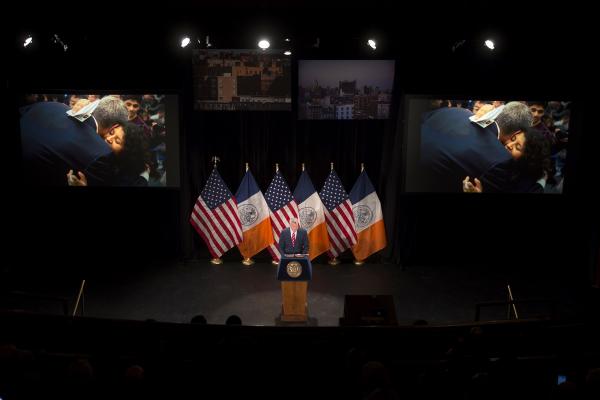 Mayor de Blasio delivering his State of the City address (photo: @BilldeBlasio)
---
Mayor Bill de Blasio is set to unveil his Fiscal Year 2016 Preliminary Budget this afternoon at 2 p.m. Through announcements by the mayor and stories in news publications, the administration has shared a few choice elements of new spending that will be included: added millions for new bulletproof vests for NYPD officers; more FDNY/EMS ambulance availability; outreach to homeless New Yorkers; and training for child welfare workers among them.
The city's current budget, for fiscal year 2015, runs through June 30. A deal between de Blasio and the City Council must come by that date so that the FY2016 budget can take effect July 1.
The current, FY2015 budget is about $77 billion, which includes several modifications made in November of 2014 that were approved by the Council in January. Those modifications - typical in the annual budget process - reflected shifted and additional spending after revenues coming in to city coffers were higher than originally budgeted. Beyond what was planned, additional spending over the next several months is going toward homeless shelters, environmental programs, and covering the costs of tax preparation for low-income New Yorkers.
As de Blasio readies to lay out his planned budget for the coming fiscal year, he begins anew the budget process that will include months of city council hearings at which council members will probe agency heads to scrutinize their spending. After one round of budget hearings in March, the Council will issue a formal budget response with changes it would like to see to the city budget before the mayor presents his Executive Budget in May. When the mayor produces that next iteration of the budget, the Council will hold further hearings and attempt to negotiate with the mayor until a deal is struck. Last year, the first with de Blasio as mayor and Melissa Mark-Viverito as Speaker of the City Council, the two agreed on a budget early, announcing a deal on June 19.

On Friday, de Blasio, Mark-Viverito, and others announced that the City would be investing more than $7 million for new bulletproof vests for the NYPD in the current fiscal year (2015), and that new investments would be made going forward as well. In making this announcement, de Blasio said that his preliminary budget would be outlined today. Prior to those statements, de Blasio had already given some prelude to his budget plans during his State of the City address, which he delivered on Tuesday of last week. In the speech, de Blasio focused heavily on his housing plan, and said that the City would be dedicating funds to provide legal services to tenants who face landlord harassment in the neighborhoods central to the rezoning and building efforts the City is undertaking. This number is reported to be about $36 million.
De Blasio also promised to end homelessness among the city's military veterans, money for which may be included in the budget for the Department of Homeless Services, that of the Mayor's Office of Veterans' Affairs, or both.
Through news outlets, the de Blasio administration has also outlined a few new spending highlights: the AP is reporting that de Blasio will be increasing funding to lower ambulance response times. He will be including "nearly $40 million through fiscal year 2019 for the new ambulance tours and nearly $30 million during that same period for the new dispatchers," AP writes.
According to the New York Times, the mayor is announcing today that he is devoting more than $26 million toward professional development for child welfare workers employed by or contracting with the Administration for Children's Services, or ACS.
The Times is also reporting that de Blasio is adding about $10 million toward outreach and services to homeless New Yorkers who are not part of the shelter system - pushing this part of the budget from about $35 million to about $45 million.
And, Capital New York writes today that there will be more than $5 million in de Blasio's budget related to new literacy and language services for city students. This includes "$2.4 million to create a separate intervention team within the Department of Education's special education office to support literacy in students with dyslexia," Capital writes, adding that there is also dedicated money toward advertising to ensure parents learn of available services.
This spending on public awareness and marketing will be a key feature of other de Blasio programs as well - there are major expenditures this fiscal year for ad campaigns around paid sick leave and pre-kindergarten. The City also launched a marketing blitz around the new municipal identification card program. These expenses are usually baked into the spending on the larger initiative itself. For example, the IDNYC program's $8.4 million program includes $1.8 million for advertising.
De Blasio is sure to highlight additional items at his 2 p.m. City Hall press conference, the budget is, as is oft-noted, the most clear outline of priorities. Look for more clear accounting of money the de Blasio administration plans to spend on the new housing plans, the coming five-borough ferry system the mayor announced during his State of the City, and what is being allocated toward pre-K as it expands toward the goal of 73,000-plus students, among other things. As always, Department of Education spending will be the largest piece in the city budget, coming in at about a third of the total (around $20-25 billion). The mayor is also sure to continue funding his Vision Zero traffic safety initiative and announced this morning that in 2015, 240 city trucks are being fitted with sideguards that can help protect pedestrians and cyclists in the event of a collision - the guards cost about $3,000 per truck to purchase and install, a statement from the mayor's office says.
Of note and in flux is what the City will be counting on from Albany. State budget negotiations have gotten off to a very slow start due to the replacement of the Assembly Speaker. Education aid is perhaps the most important element of this picture, and Governor Andrew Cuomo has said he is tying a significant bump in aid for municipalities to a series of education reforms - policies that are not to the liking of de Blasio and many others. The State is due to finalize a budget by April 1, but Cuomo has also promised to hold out on a budget deal if his new ethics reform package is not included. The City could be in limbo as the two budget processes play out simultaneously, though in all likelihood the State will finalize a budget well in advance of the City's June 30 deadline.
De Blasio and other city officials - including Comptroller Scott Stringer, who will give a response to de Blasio's budget in the coming weeks - will go to Albany on Feb. 25 to testify at a joint budget hearing of the state Legislature.
***
by Ben Max, editor, Gotham Gazette
@tweetBenMax
Note: this article has been updated to clarify that spending announced by the mayor for NYPD vests was in part being allocated to the current fiscal year.