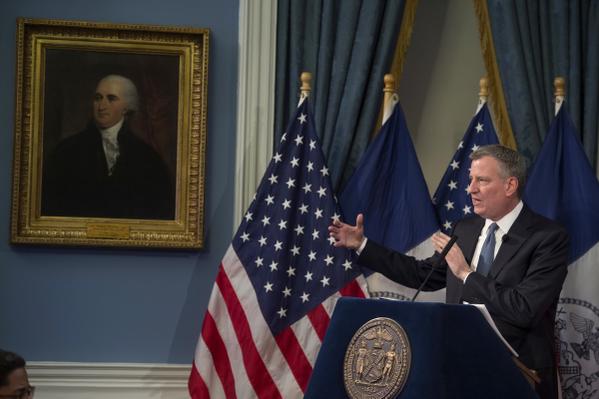 Mayor de Blasio during his preliminary budget presentation (photo: @BilldeBlasio)
---
NEW YORK - With a gravely throat and working through two cups of tea (herbal lemon, he said when asked), Mayor Bill de Blasio released his preliminary budget for fiscal year 2016 on Tuesday.
The $77.7 billion balanced budget includes targeted expenditures on issues near and dear to the mayor, including public safety, education, economic development, and the city's vulnerable populations like children, the homeless, and immigrants.
But one area the mayor has expressed particular care about but additional funding was missing from the preliminary budget is support for military veterans through the Mayor's Office of Veteran Affairs (MOVA). The mayor has spoken many times about his father's service in World War II, and his post-war struggles. While the issue is personal for the mayor, de Blasio has yet to add substantial funding for the tiny agency.
For the current fiscal year (FY2015) MOVA has a budget of $549,112, which pays for five staff members (including the commissioner) and $25,000 in non-personnel costs. The preliminary budget shows an increase of just under $30,000, which includes a $3,000 increase for supplies.
"We will be making some bigger decisions about how we approach the work we do around veterans and how we support veterans," de Blasio said on Tuesday at City Hall. He said the City is looking to April's Executive Budget where additional funding could be made.
"Clearly, as I said in the State of the City, we are going to end chronic homelessness among veterans and that is already baked into the efforts we have delineated into the preliminary budget," de Blasio added, referring, it seems, to money going to the Department of Homeless Services (DHS). "But that is just the beginning of the discussion. We are going to see if there are other things we need to do."
At his State of the City last week, the mayor announced the City's commitment to ending veteran homelessness by the end of the calendar year. This program is based on a federal mandate to end veteran homelessness by the end of 2015. Federal funding and resources have been pouring in since the program began in 2010 and greater coordination among federal, state and local agencies has also been helpful.
In 2010 there were 3,739 homeless veterans in New York City and in 2014 that total had dropped to 1,316, according to statistics provided by DHS.
De Blasio said funding for ending veteran homelessness was baked into the preliminary budget, but it is unclear how much and where. Preliminary budget documents for DHS do not show a line item for anything specifically related to addressing veteran homelessness, although there was more funding for programs to reduce homelessness in general.
In a briefing following de Blasio's press conference, officials said there was likely some city funding for the initiative, but could not provide exact numbers.
The mayor may be waiting until April as he continues to work with MOVA Commissioner Loree Sutton on a plan for enhancing services for veterans in the City. Upon her hire, Sutton was given 90 days to review her department and the veterans community here in New York City. The report Sutton produced has been submitted to the mayor, but as of January 27 he had not yet read it or met with Sutton about it.
De Blasio is much more likely to provide additional funding to a smaller office with a solid plan and vision to move forward. That plan will likely be hashed out before the Executive Budget is released in April.
The veterans community will be anxiously awaiting the April budget to see if MOVA gets more funding. If no additional funding is provided, the heat could be turned up even more on the bill to turn MOVA into its own department - legislation which has been introduced to the City Council and has seen increasing support.
The bill, which has 27 sponsors, could allow for additional and steady funding, budget hearings, and an easier process to provide veterans groups with discretionary funding.
The mayor said recently he was not convinced turning an office into a department is the best way to get things done, but deferred to his commissioner. On the other hand, many veterans advocates believe this is the best way to get MOVA properly funded. In the middle of the equation is the City Council, which will hold budget oversight hearings and issue its preliminary budget response, expected in April.
***
by Kristen Meriwether, Gotham Gazette
@MeriwetherK