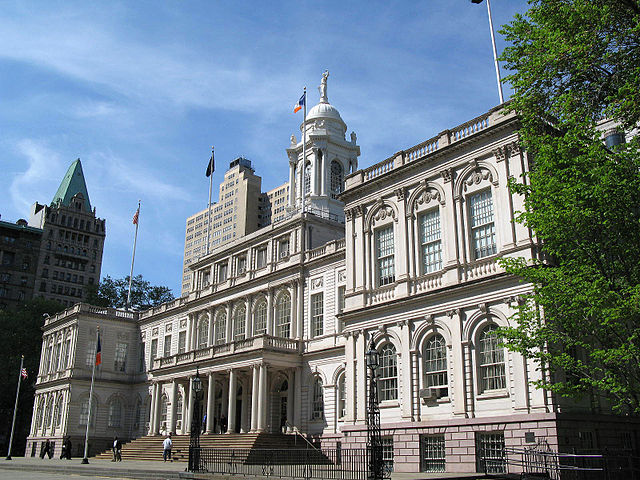 New York City Hall
---
What to watch for this week in New York politics:
As this holiday week begins we're watching the following top storylines:
Budget hearings and doings: we're expecting City Comptroller Scott Stringer to soon give his response to Mayor Bill de Blasio's preliminary fiscal year 2016 budget and we're awaiting further developments in Albany legislative budget hearings and negotiations. De Blasio and Stringer are set to testify in Albany the week after this one, on Feb. 25. We're watching for news from Albany as Gov. Andrew Cuomo, Republican Senate Majority Leader Dean Skelos, and new Democratic Assembly Speaker Carl Heastie negotiate the state budget and other legislation that may not be part of the budget.
Democratic movement in NY11: as we await word from Governor Andrew Cuomo on a special election in New York's 11th Congressional District (a Staten Island and Southern Brooklyn seat vacated by the disgraced Michael Grimm), the Democrats are still trying to decide on a candidate to take on Staten Island District Attorney Dan Donovan.
We're coming off a busy weekend in Albany, where it was the 44th annual caucus weekend held by the state Association of Black and Puerto Rican Legislators, according to State of Politics. Gov. Cuomo hosted a brunch at the executive mansion to celebrate the caucus and also honor Heastie – the first African American to hold the position. More and more, word is coming out about Heastie's approach to the position, which is appearing far more member-centric than his predecessor's.
This week there's nothing happening at the City Council as a large delegation led by Speaker Melissa Mark-Viverito is in Israel. Council members are at work in their districts, of course. Plenty of other events are happening around the city to be aware of...read on below...
***Do you have events or topics for us to include in an upcoming Week Ahead in New York Politics?
E-mail Gotham Gazette editor Ben Max: This email address is being protected from spambots. You need JavaScript enabled to view it.***
The run of this Presidents' Day week in detail:
Tuesday
On Tuesday morning, City & State NY hosts its annual State of Our City event, a series of remarks and panels assessing New York City on several key topics: "City & State will convene New York City's leaders in government, business, and advocacy to discuss some of the most important issues the City will face in 2015: Technology and Shared Economies; Education; and Affordable Housing and Development." Panelists may include: TECH & SHARING ECONOMIES: Carlo Scissura, Brooklyn Chamber of Commerce; Josh Gold, Hotel Trades Council; Meera Joshi, Commissioner, Taxi & Limousine Commission; Michael Woloz, Partner, Connelly McLaughlin & Woloz; David Hantman, Global Head of Public Policy, Airbnb. EDUCATION: Richard Buery, Deputy Mayor of Strategic Initiatives; Josh Wallack, Chief Strategy Officer, NYC Department of Education. AFFORDABLE HOUSING & DEVELOPMENT: Councilman Jumaane Williams; Ed Wallace, Co-Chairman, Greenberg Traurig New York; Kyle Kimball, President, NYC Economic Development Corporation.
State of Our City will be followed by City & State's "Power 100," 11:30 a.m. to 1:30 p.m. at NYU: "Each year, City & State highlights 100 of New York City's most powerful leaders across industry sectors in a special magazine.
Tuesday morning is also "Food Policy for Breakfast: Race, Racism and Food Justice: Advancing a More Equitable Food System in New York City," 9 a.m. at CUNY Graduate Center.
Mayor Bill de Blasio has no public events on his Monday schedule.
According to City & State, "10:30 a.m. State Sen. David Carlucci unveils his Investing in Our NY Seniors proposal, Nanuet Library."
Also via City & State: "11 a.m. - The New York Immigration Coalition holds a press conference to call on the Department of Education to improve translation and interpretation services for immigrant parents, 137-139 W. 25th St., 12th floor, Manhattan."
And: "1 p.m. - New York City Councilman Daniel Dromm, Manhattan Borough President Gale Brewer and activists reaffirm their boycott of the New York City St. Patrick's Day parade, City Hall steps, Manhattan."
On Tuesday evening, Comptroller Scott Stringer will deliver remarks at the general meeting of the Queens Civic Congress at the USTA Billie Jean King National Tennis Center in Flushing.
Also on Tuesday evening Mark Blyth will discuss, "Austerity: The History of a Dangerous Idea" - 6 p.m. at Roosevelt House Public Policy Institute at Hunter College. "Professor Blyth will discuss recent examples of a policy that he shows has failed for a century. While it makes sense for any one state to try and cut its way to growth, Blyth argues, it simply cannot work when all states try it simultaneously: all we do is shrink the economy."
There will be a "Lecture on Shirley Chisholm by Prof. Barbara Winslow" at the CUNY Graduate Center, Tuesday evening at 6:30 p.m.
Tuesday evening is also the monthly general meeting and happy hour of the Manhattan Young Democrats club - 7 p.m. at Gramercy Park Bar.
Wednesday
At There will be a meeting of the Assembly Standing Committee on Health to discuss "the use of antipsychotic medication in nursing homes," 10 a.m. on Wednesday in Manhattan.
Also Wednesday morning, the Newman Institute at Baruch College will hold a housing conference, "Implementing Affordable: New York's Affordable Housing Crisis," at which Commissioner of the New York Department of Housing Preservation and Development Vicki Been may keynote.
On Wednesday morning, there will be a "press conference demonstrating support for bold action to fix failing schools crisis," 11 a.m. at Girls Prep Bronx Elementary. It is being organized by Families for Excellent Schools and will feature state Senator Ruben Diaz Sr., Assembly Members Marcos Crespo, Mark Gjonaj and Latoya Joyner, "prominent members of clergy" and "dozens of parents."
Jeffrey Fagan presents "No Runs, Few Hits, and Many Errors: Street Stops, Bias, and Proactive Policing" - "Join us February 18, when Professor Jeffrey Fagan will discuss his research using equilibrium modeling to detect racial discrimination in pedestrian stops in the contentious Stop and Frisk (SQF) program of the New York City Police Department and the implications of his findings for law and policy," says the VERA Institute of Justice.
"The Inequality Forum" will be Wednesday at noon, Borough of Manhattan Community College: "The Inequality Forum, organized by the Social Science Department at BMCC, will discuss the problem of inequality today and its consequences for democracy and citizens' well-being and life chances. The event will feature a roundtable discussion involving members of the social science department at BMCC. This will be followed by a keynote address to be delivered by Rich Benjamin, a Senior Fellow at Demos."
Wednesday evening, "Please join People First PAC for a special event Wednesday, February 18, at the Women's National Republican Club from 6 to 8pm with our guests Mayor Rudy Giuliani, Governor George Pataki,Congressman Peter King and special invited guest Dan Donovan. People First PAC fights for the forgotten middle class in New York City and throughout New York State."
Wednesday evening, Queens Council Member Julissa Ferreras will give her State of the District address at the Langston Hughes Library.
The Digital NYC tour comes to Brooklyn Wednesday evening: Made in NY Media Center by IFP, "Come hear some of Brooklyn's leading entrepreneurs and investors discuss scaling a creative startup in Brooklyn/NYC. Panelists will discuss their experiences, highlighting the challenges and triumphs of creative startup business in the City."
The Brooklyn Young Democrats' 2015 Elections will be Wednesday evening: "The Brooklyn Young Democrats will hold elections for its Executive Board on Wednesday...This is a great opportunity for you to play a role in the future of Brooklyn politics."
Thursday
At "Bronx Borough President Ruben Diaz Jr. will deliver his annual "State of the Borough" address, his sixth since taking office in 2009. During the speech, Borough President Diaz will discuss the successes of the previous year while also offering new proposals on a variety of topics, including economic development, housing, legislation and more." 10 a.m., The Mall at Bay Plaza.
[Read from our series on this year's 'State of' speeches, including coverage of the President's State of the Union, Governor's State of the State, and more]
Thursday evening, "a coalition of neighborhood groups, merchants associations, and elected officials representing Downtown and Brownstone Brooklyn invite you to a town hall meeting to discuss how to address the challenge posed to all New Yorkers by crumbling transportation infrastructure, growing congestion, and rising tolls and transit fares. The focus of the town hall meeting will be a plan put forward by Move NY, a transportation policy group." The event will feature "Gridlock" Sam Schwartz.
Thursday evening, Council Member Costa Constantinides in collaboration with state Senator Michael Gianaris, Assembly Member Cathy Nolan, Rep. Carolyn Maloney, New York City Comptroller Scott Stringer, the Astoria Houses Residents Association, The Floating Hospital, H.A.N.A.C. Astoria Cornerstone, and Minor Miracles will host "I Have A Dream" Black History Month Community Celebration event, 7 p.m., Astoria Houses Residents Association.
Thursday evening is the New York City Young Republican Monthly Meetup.
Friday and the weekend
At Friday is the deadline to apply for discretionary funding application for fiscal year 2016 from the City Council.
Friday morning is another CityLaw Breakfast at New York Law School, this one with New York City Taxi and Limousine Commission (TLC) Commissioner Meera Joshi.
Also Friday morning: The Murphy Institute at CUNY School of Professional Studies presents: Is There a Future for Low Income Housing in New York City? - "The highlight of Mayor de Blasio's State of the City address on Tuesday was his affordable housing initiative, starting with East New York, one of the city's least well-served neighborhoods. His words were greeted with demands for more details, particularly with regard to balancing the needs of diverse stakeholders."
Friday is the 5th Annual NYU Social Innovation Symposium: "Join leaders in the NYC social enterprise community to explore the use of market-based mechanisms to create lasting solutions to the world's most pressing social problems. The 5th annual NYU Social Innovation Symposium, New Rules, Bold Ideas: Innovations for Sustainable Social Impact, will discuss innovations and collaborations that span the private, public, and civil sectors to create positive social impact. This year's symposium will welcome Jim Brett, President of West Elm, and Kees Kruythoff, President of Unilever North America, as the 2015 keynote speakers."
Friday evening is the CodeAcross NYC 2015 Kickoff & Town Hall with Dr. Mashariki, NYC's Chief Analytics Officer.
Saturday and Sunday is "CodeAcross NYC 2015 - NYC's #OpenData & #CivicTech Festival!" from BetaNYC: "#CodeAcross NYC is a two day festival of, or related to, liberating government data and civic technology. We are bringing together government, community based organizations, innovators, academics, and individuals to create effective uses of NYC's data. CodeAcross NYC is open to all ages and all who want to improve NYC's data! Join us on February 21 and 22 as we teach, make, and create tools relating to NYC's data...Problem we are addressing: With the signing of the City's transformative open data law, thousands of datasets have pouring out of NYC agencies. New York City is the number one "open data" city in America. Yet, this data can seem daunting. Through CodeAcross NYC, we reach across the city and demystify the City's data. For two days, will teach about existing datasets. Second, we will crack open PDFs and databases to make new data sets. Lastly, we challenge you to create tools and visualizations on top of the largest collection of municipal data!"
City Council Member Robert Cornegy Jr. will give his first State of the 36th District speech on Saturday at 11 a.m. at Uncommon Charter High School.
Saturday: #HackHarlem Hackathon - "Using Technology to Build a Better Harlem" - "Harlem Business Alliance's #HackHarlem is a day long hackathon dedicated to using technology to build a better Harlem, #HackHarlem will take place on February 21, 2015 in NYC at Creative Workspace @HBA. The goal of #HackHarlem is to encourage the development of solutions to the problems facing the Harlem and other New York enclaves by those who live, work, and learn in those communities."
Also Saturday, "Join the New York Urban League Young Professionals for its fifth annual State of Young Black New York (SOYBNY) symposium, taking place Saturday, February 21st, 10 AM to 4 PM at CUNY School of Law in Queens. This year, the theme is "Civil Rights 2.0" and we have partnered with the CUNY Black Male Initiative. It's 2015 and the Black community has made tremendous progress in the push for civil rights and equality of opportunity. However, with the recurring abuses of power by police, perplexing gradual repeal of voting rights, and the erection of barriers to affordable housing, home-ownership, living wage employment, and entrepreneurship, it feels like we are having to re-fight many of the battles of those that came before us, and on a very different terrain."
Free CUNY Citizenship Application Assistance event with Council Member Ydanis Rodriguez, Saturday, 11:00 a.m.
***
Have events or topics for us to include in an upcoming Week Ahead in New York Politics? E-mail Gotham Gazette executive editor Ben Max any time: This email address is being protected from spambots. You need JavaScript enabled to view it. (please use "For Week Ahead" as email subject).
***
by Rati Mukhuradze and Ben Max
@GothamGazette