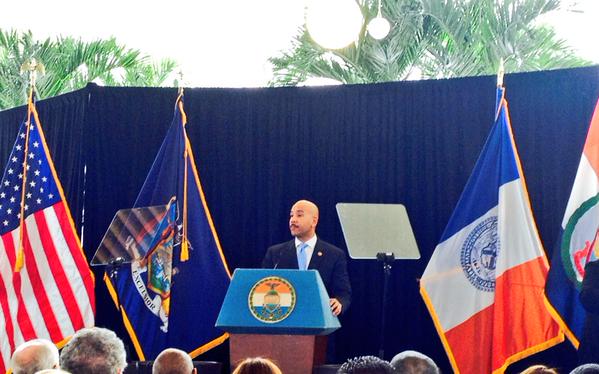 BX BP Diaz Jr. gives his 2015 SOTB (photo: @SarahHughesNY)
---
THE BRONX - In the top-floor pavilion of the sprawling Mall at Bay Plaza, an audience sat semicircled under floating lit globes and towering pillars as a jazz quartet performed. Far from a concert, it was Bronx Borough President Ruben Diaz Jr.'s sixth annual State of the Borough address, given Thursday in front of several hundred people.
As the largest indoor shopping center in the city, the mall was not just a venue, but a pertinent example of Diaz Jr.'s thrust for his speech: job creation and economic development.
Citing the mall, Diaz Jr. said it had created 2,000 new jobs and contributed toward keeping revenue in the borough by giving Bronxites a local venue to spend their money. "And we know that consumer spending equals job growth," he said. Since he became borough president, more than 15,000 jobs have been added to the local economy, he touted. The latest jobs program, NY Works, has found jobs for more than 4,000 Bronx residents since it was launched in August by the Bronx Overall Economic Development Corporation in partnership with Gov. Andrew Cuomo and the State Department of Labor.
Recalling his achievements, not only of the last year but of his cumulative tenure, Diaz Jr. spoke of falling unemployment, down nearly five percent since 2009. The borough saw more than $1 billion of investment in just the last year, he said, adding that the Bronx has seen "unprecedented, transformative growth," since he took office.
Much needed growth, of course, as the Bronx has consistently been home to the highest unemployment and largest swaths of poverty in the city.
The borough president reiterated a number of development projects, already underway, that would contribute to a robust Bronx economy while highlighting the importance of "impact investing" in ventures directed at measurable economic, social, and environmental benefits. These projects, he said, would rely on a revolving fund with private sector investments. "We are looking not only to do well," he said, "but to do good."
Other specific projects he mentioned included the Kingsbridge National Ice Center, the redevelopment of the former Bronx General Post Office, the building of the state's largest television and film studio in Soundview, and breaking ground on a new FreshDirect facility in Port Morris. "The time to build is now. We are moving forward," he said.
Diaz Jr. also said he was continuing his commitment to modernizing housing and touted a recently announced, first-ever development solely for LGBT Seniors that he is contributing funds toward. Last year, he allotted nearly $3 million in capital funding toward building 600 affordable units, adding to the total of more than 16,000 units since 2009, he said.
Under Diaz Jr., the Bronx is stronger and safer than its has been in decades. Tourism is up 14 percent and homicides below 100 for two years in a row for the first time since the 1960s. But the borough is not healthier, ranking last out of New York's 62 counties on health indices. In response, the Borough President announced a social media campaign to promote healthy living through the hashtag #NOT62.
Education was also an important cornerstone of the speech. Citing dismal admissions figures of Hispanic and black students in Stuyvesant High School's freshman class, Diaz Jr. said he would work with City Schools Chancellor Carmen Fariña to improve the situation. He echoed his 2012 report on equal access to test preparation for public school students, and a need to institute new specialized high schools. He said he will continue to fund "worthy projects," which included $26 million for new computers, smart classrooms, and science labs in 180 different schools.
Besides economic development and education, Diaz Jr. underscored his legislative agenda for the next year. He is pushing for a letter-grading system for cosmetology businesses, similar to city-issued restaurant grades, to tackle potential health threats. He also said he would work with state and city officials to advocate for a public felony gun offender registry.
He also mentioned the upcoming first comprehensive "Bronx Visitors Guide," aimed at further boosting tourism.
Finally, Diaz Jr. paid tribute to his predecessor Herman Badillo and to former Gov. Mario Cuomo, who both passed away recently. "We move forward," Diaz Jr. said, "understanding that we can design and enact a transformative agenda for our future while also respecting the hardships and the glories of the past."
[This article is part of our ongoing 'State Of's series in which we're reporting on early 2015 assessments and initiatives by a variety of elected officials, from the President to the Governor, Mayor, Council Speaker and Borough Presidents]
***
by Samar Khurshid, Gotham Gazette
@samarkhurshid