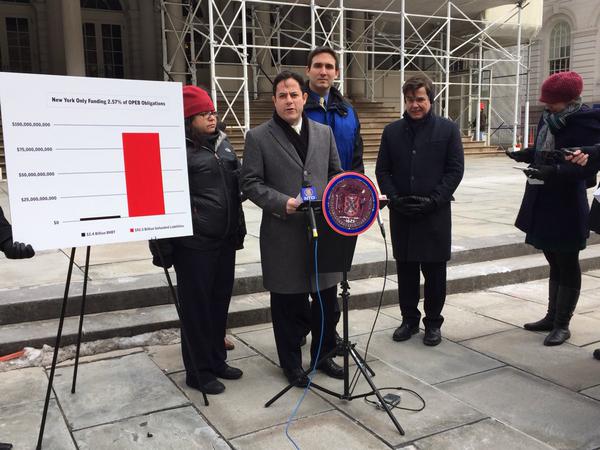 Council Member Garodnick at Monday's press conference (photo: @DanGarodnick)
---
New York City Council Member Dan Garodnick is proposing charter reforms of the City's budgeting process to fund health care obligations to retirees.
Accompanied on the steps of City Hall by city council colleagues and representatives from the Citizens Budget Commission and Citizens Union, Garodnick announced legislation that would assign funds from the annual City budget to the Retiree Health Benefits Trust, which was established in 2006 to meet long-term health care needs for City employees.
The Trust holds just $2.4 billion, 2.5 percent of the City's overall health care obligations, which stand at $92.5 billion. "It doesn't come due all at once for sure, but it does come due," said Garodnick of the massive sum.
Under the new proposal, the City would have an annual obligation to deposit 5 percent of the value of the year's estimated costs of health care for retirees. In 2014, the cost of retiree health care benefits was $2.1 billion. If in place, the proposal would therefore have required the City to place at least $105 million into the trust. "$105 million is a spit in the bucket relative to our obligations but it will grow over time and it is an important reminder to budget makers that this fund needs to go in one direction, up," Garodnick said at Monday's press conference. "And of course this is a floor, not a ceiling, we can always put in more."
In 2006 and 2007, a total of $2.5 billion was deposited in the Trust. Since then, funds were intermittently withdrawn to help with budget deficits over the years as the recession set in. Another $864 million was put in the fund last year, according to Garodnick's office. "This trust fund has since its creation been used essentially as a rainy day fund," Garodnick told Gotham Gazette. "You put some money in when you have it, you take it out when you need it. That's how it was used, that's how it was anticipated in past budgets."
That approach, Garodnick and others argue, is leaving the City and its retirees on shaky ground. Putting funds into the Trust each year could prevent tax increases, radical service cuts or layoffs in central services. Mayor Bill de Blasio's recently unveiled preliminary budget plan for fiscal year 2016 (which begins July 1, 2015) does not withdraw from the Trust, but it does not add any funds either.
"The thing with trust funds is, if you don't put in the funds there is no reason for any trust," Garodnick said.
Civic watchdogs approve of the proposal, formal legislation for which is currently being drafted and will eventually be put to a public ballot referendum if it passes through the City Council.
"This proposal allows the fund to grow in a steady, predictable way and limits any unnecessary withdrawals," said Maria Doulis, Director of City Studies at the Citizens Budget Commission. Doulis stressed that New York City's $92.5 billion health care liability is higher than those of all other state and local governments except California's.
Dick Dadey, Executive Director of good government group Citizens Union, said the proposal is an important step in honoring the City's commitment to employees and retirees. "Citizens Union sees this as good planning, responsible budgeting, and good government," he said.
Garodnick co-sponsored the bill that created the Trust in 2006. But the initial legislation did not establish firm rules to safeguard the funds. Now, health care costs have risen nearly 75 percent to $2.3 billion from $1.2 billion when the Trust was first created, according to Garodnick, and it's necessary to "put some guardrails up here to protect this money because our obligations are clearly growing and our liabilities are enormous - and that's why we're making this proposal today to ensure this fund is going in one direction."
The proposal does ensure that in times when City revenues are less robust, deposits to the fund could be reduced or eliminated. Specifically, if tax revenues only increase between zero and two percent, the required contribution to the fund would be halved, while no contribution would be required if revenues decrease.
The final protection the legislation will put in place would limit access to the fund, except in times of financial emergencies, to prevent layoffs and budget cuts, or when health care costs spike unexpectedly. The proposal would be designed to allow for "rigidity, but not complete inflexibility," Garodnick told reporters.
Council Members Rosie Mendez and Ben Kallos were on hand Monday to support Garodnick's proposal. "There's a reason we're out here in the cold today - because we don't want, in the future, New York City retirees to be left out in the cold," said Mendez.
"Fiscal responsibility means setting aside funding for our health benefits when they accrue," Kallos said. "We can't leave a $92 billion health obligation debt to the next generation."
Other Council members have also pledged their support, according to a press release from Garodnick's office. They include Costa Constantinides, Rafael Espinal, Karen Koslowitz, James Vacca, and Mark Weprin. As Garodnick's bill is written in full and introduced to the Council, he will surely be looking to add supporters and sponsors.
On Monday, Garodnick concluded his comments by emphasizing the importance of acting sooner rather than later: "President Roosevelt said, 'Too often in recent history, liberal governments have been wrecked on the rocks of loose fiscal policy.' I am part of this liberal government and while the rocks may be a little way before us, they grow closer and larger every year."
***
by Samar Khurshid, Gotham Gazette
@samarkhurshid
Note: Gotham Gazette is an independent publication of Citizens Union Foundation, sister organization of Citizens Union