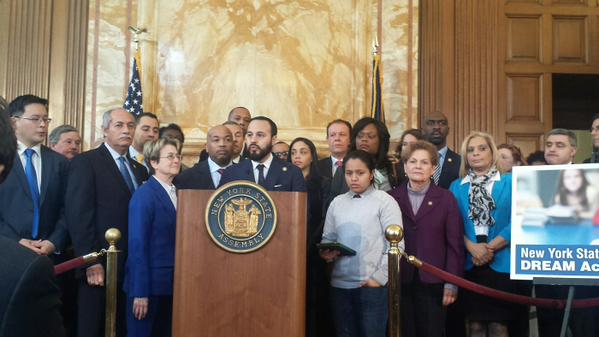 AM Moya, other electeds, & advocates rally for the DREAM Act (@FranciscoPMoya)
---
ALBANY - This week legislators returned to Albany after an extended break and began to feel the walls closing in on them. Gov. Andrew Cuomo has made it clear he will use his executive power to compel the Legislature to agree to his education and ethics policies. He is able to do this through his ability to issue emergency budget extenders that keep the state running and enact policy points if the Legislature does not agree on a budget by April 1.
Cuomo has legislators in a tight spot as he declared earlier this year that he has no problem having a late budget and has tied major policy proposals to the budget process. His 30-day budget amendments appear to tighten some of his policy proposals to basic funding mechanisms. The longer the Legislature waits to cut a deal with Cuomo the worse things will be for them, and Cuomo has made it clear he is not willing to budge on certain proposals. It would appear the Legislature does not have much wiggle room, though Cuomo has shown a penchant for compromise when he sees an opportunity to secure victories.
The governor is essentially flexing his executive power - power that was bolstered during the 2009 Senate coup. At the time the Legislature was paralyzed when two Senate Democrats jumped ship to give Republicans the majority, and a legal and political battle ensued.
Governor David Paterson, with the help of good government groups and lawyers, used an untried executive authority to push through a spending plan to keep state government funded without the Legislature's consent. Cuomo promised when announcing his ethics reforms that he is committed to doing the same thing if necessary. "I will not sign a budget that does not have an ethics plan as outlined in my proposal. Either pass my budget or shut down the government," Cuomo said.
Legislators are angry that Cuomo is trying to weaken the body as a whole by using the tactic - they are also upset that he is not letting certain policies stand on their own merits.
Meanwhile, watchdogs like New York City Comptroller Scott Stringer and State Comptroller Thomas DiNapoli have both said the strategy is fiscally irresponsible.
Thanks to court rulings, "These kinds of policy choices can be asserted into emergency appropriation bills," DiNapoli told Alan Chartock on The Capitol Connection on Thursday. "The Legislature holding up the budget is really not a smart strategy." DiNapoli went on to tell Chartock: "New York arguably has the strongest executive compared to any governor in any state in the union"
Raising great ire around the state, Cuomo has withheld projections of how much each school district would get in school aid under his budget plan. If the Legislature passes his reform plan he has promised $1.1 billion in increased education funding to be distributed around New York. If it doesn't, aid will only increase by $377 million. Cuomo's reform plan that is tied to the increased aid would make it easier to fire failing teachers, increase the value of state test scores in teacher evaluations, and allow more charter schools across the state - it has sent teachers unions on the war path.
Cuomo has made a similar move with a set of ethics reforms he announced in the wake of the arrest of former Assembly Speaker Sheldon Silver on three federal corruption charges. The reforms would increase disclosure of legislators' outside income and connections with employers that have business before the State, and restrict their use of campaign funds.
On Thursday, Assembly Minority Leader Brian Kolb held a press conference where he demanded Cuomo release school aid runs, which tell districts how much state funding to expect. Kolb called withholding the runs an "unprecedented and underhanded maneuver."
"The governor's tactics prevent school districts from being able to accurately plan for the future and his heavy-handed approach flies in the face of good fiscal practice," Kolb said.
Cuomo has responded to critics by telling them to simply plan for the smaller increase.
On the radio, DiNapoli echoed Kolbs concerns, saying that school runs are "not the final word, but an important piece of [school districts'] putting together their own budgets."
DiNapoli said he thinks putting policies that should provoke detailed discussion into the budget limits debate. "I do have concern with so much being jammed into the education discussion," said DiNapoli, adding: "Some of these issues should be debated in a thoughtful way, in a perspective of good policy not held hostage to a budget process."
Stringer expressed similar concerns, calling it "bad budgeting" in his Wednesday testimony in Albany, and also going into detail in a New York Daily News editorial titled "How Cuomo's Budget Stiffs New York City."
"Educating our children should never be held hostage to the outcome of policy differences. Students should not lose just because grown-ups cannot resolve their disputes," wrote Stringer. "Just three years ago, the state enacted a nearly identical conditional funding requirement that resulted in the city's loss of over $300 million in school aid when agreements on teacher evaluations could not be reached before the deadline. This year, more than $400 million could be at risk. This was a misguided approach three years ago, and we shouldn't make the same mistake again today."
Earlier this year some Democratic legislators pushed for Cuomo to add The DREAM Act to his budget proposal - he did so, but connected it to an education tax credit. The DREAM Act would provide tuition assistance to immigrant students who are in the country illegally or who have had their deportations deferred. Critics say the money should go to students whose immigration status is not in question.
The education tax credit appeals to more moderate and conservative lawmakers because it lets individuals write off donations to private or charter schools. Critics of that measure say the bill would essentially divert money to private and charter schools that would normally go into state coffers, and that large donors would likely eat up the credit allotment before middle class individuals could donate to their local public district schools.
Cuomo went one step further in his 30-day budget amendments by linking both the DREAM Act and the tax credit to the state's Tuition Assistance Program - further irking lawmakers and much of the education lobby.
Republican Majority Leader Dean Skelos has repeatedly called for the DREAM Act and the tax credit to be unlinked (he favors the latter, opposes the former).
On Thursday, new Assembly Speaker Carl Heastie echoed Skelos. "We don't believe that they should be linked either. That was the governor's choice," Heastie told reporters. "The governor did that. We're moving forward today with the Dream Act, and we hope that it will pass on its own merits in the State Senate. We're going to pass it as a standalone bill today, and we think it should be passed as a standalone bill." The Assembly passed the bill by a vote of 81-42. It is extremely unlikely the Senate will act on the legislation.
Cuomo previously treasured his ability to collegially negotiate on-time budgets with the Legislature and refused to make major policy points part of his budget. Cuomo's signature legislation has come this way - things like marriage equality, the SAFE Act, and his property tax cap were voted on separately from the budget.
Cuomo's predecessors relied heavily on including contentious issues in budget bills. In 2009, Paterson negotiated major reform of the state's Rockefeller Drug Laws as part of the budget. Last year, however, Cuomo bargained away the Moreland Commission on Public Corruption as part of his budget deal to win a package of ethics reforms that many called too limited and a "pilot" public financing system that only applied to the office of Comptroller and never took off.
Heastie told reporters on Thursday that Cuomo's inclusion of ethics reform in the budget "Kind of ties the Legislature's hands." Heastie and other legislators have recently called for major ethics reforms following the scandal that felled Silver. It appears Cuomo's tactics have them balking, but it might not matter.
***
by David King, Albany editor, Gotham Gazette
@DavidHowardKing