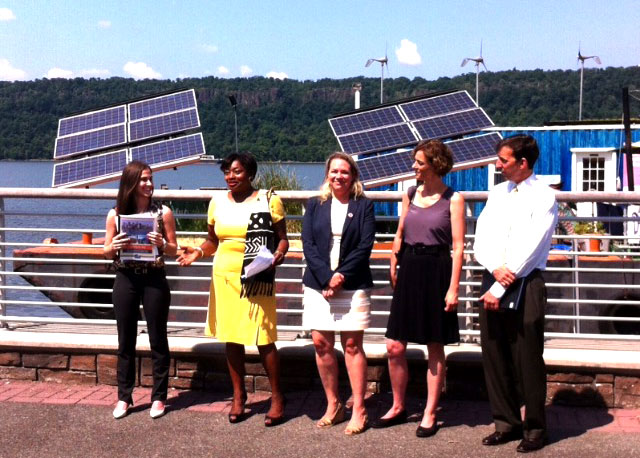 Commissioner Bratton addresses Manhattan Chamber of Commerce members (Ben Max)
---
NEW YORK - NYPD Commissioner Bill Bratton's job requires him to appear in front of audiences of all sorts. To his credit, Bratton is remarkably consistent no matter who he's speaking with, whether it is NYPD officers at a promotion ceremony, city council members at an oversight hearing, or, as was the case on Monday morning, representatives of the business community. He's been at this a long time, after all: not only is Bratton in his second stint heading the NYPD, but he's on the verge of 50 years in law enforcement. Still, a skilled politician in his own right, Bratton knows how to appeal to an audience without betraying his principles or coming across as disingenuous.
So it was on Monday in Midtown, where Bratton addressed a room of about 75 guests of the Manhattan Chamber of Commerce, assuring representatives of the business community that his NYPD is the best it's ever been and only getting better, crediting them for the role of their tax dollars in creating the safest big city in the country, and attempting to allay any fears that there would be disruption to business while he's in charge.
In remarks and question-and-answer sessions with new Manhattan Chamber Board Chair Ken Biberaj and audience members, Bratton displayed his typical calm intensity. He's exactly what you want in a top cop: sharp, serious, confident, and even a little compassionate. He has Clint Eastwood-esque crow's feet and pitch, and he exudes you-can-rest-easy-on-my-watch competence and dedication. On Monday, he went into great detail making sure that Manhattan business people know the city is safer than it's ever been, and that he is not standing pat nor patting himself on the back, but that he is leading the NYPD forward.
Introducing Bratton, Biberaj framed the commissioner's appearance just right, saying, "Everyone in this room recognizes that the success of your business is directly tied to the success of our police commissioner and the brave men and women of the NYPD."
Bratton took to the podium to promise that his police force would continue to protect quality of life, attributing the city's record safety to preventing major crimes by paying attention to smaller ones. "We will continue to address broken windows policing in this city," he said. But, Bratton followed that by adding that the NYPD would do so even more carefully than it has, saying that "like a doctor...we want to police in a way that we do no harm."
In his remarks, Bratton explained that officers are being retrained, and that professional development will be constant. He said that the trainings and other efforts were being made, in part, to improve trust between the NYPD and the communities it serves. "We have to regain trust where we've lost it, we have to make new relationships where we never had it, and we have to work in all of our various communities in the world's most diverse city," he said.
"[W]e will get it right. We will regain that trust. We will improve on that trust," Bratton continued, in perhaps the most impassioned portion of his speech. "And particularly in the area of race relations - particularly with our black residents and our growing Latino and Asian populations - there is a need for the police department to be seen as legitimate, to be seen as collaborative in their relationships with the communities they serve, to be seen as responsive. And we will be all those things."
Bratton's point was two-fold: one, the work of building trust in all communities is important to doing good, fair police work; and two, the flaring up of racial tensions is a form of disorder, and disorder is not good for business and we won't let things happen that hurt business.
Bratton said it was the obligation of police to do their jobs "constitutionally," "compassionately," and "consistently." But along with all of the lofty rhetoric, the commissioner told his audience that he is especially focused on terrorism and cyber crime, that he has new polling capabilities that give him "the ability to access very quickly 17,000 people, 200 per precinct, down to a block, down to a street level." This way, he said, he's able to "keep my thumb on the pulse of every precinct in the city, how are we doing." He told the crowd that he's in constant contact with the mayor and leaders in Washington, D.C. with regard to robust anti-terrorism efforts and that he's meeting with the city's five district attorneys next week.
In what is a typical refrain for Bratton, he returned time and again to broken windows policing, his trademark. "I under no circumstances intend to retreat on the importance of quality of life policing," he said. "[I]t was essential in taking back this city to get rid of the squeegee pests, get rid of the aggressive beggars, to stop people from evading the fare on the subway, to stop people from urinating and drinking in public parks. All these things that deteriorated the quality of life."
But as is also usual for Bratton, he quickly moderated: "I will commit that we will in fact be sensitive, we will be well-trained, we will be well-focused, we will not be abusive, we will not be excessive...we are not driving a department focused on quantity, we're focusing on quality. And so effective, quality-of-life-type policing is absolutely essential."
The public safety data is indeed almost all rosy, supporting Bratton's theories and his leadership - as well as his mayor's. But, Bratton was asked by an attendee about the fact that shootings are up. He responded, "We have an increase this year in shootings and we have an increase in homicides. Shootings are principally located in Brooklyn, the Bronx." Bratton went on to list specific precincts where "the disease," as he put it, has been isolated, but festers. "[T]he shootings and the murders, while they're concentrated in...relatively small areas of the city, they have a citywide impact and they have the potential to have an impact on perceptions of safety in the city," he acknowledged.
But, he promised that he and his force are on the case, and intently reminded the audience that "The city is a very safe city. We are truly the safest large city in America."
***
by Ben Max, editor, Gotham Gazette
@tweetBenMax