Donovan, left (photo: Staten Island Advance/Rachel Shapiro) and Gentile (@VGentile43)
---
The May 5 special election for NY's 11th Congressional District approaches, and two seasoned New York politicians face off for the privilege of filling the seat vacated in January by Michael Grimm. The candidates to represent the district, which includes Staten Island and a small portion of Southern Brooklyn, are Democrat Vincent Gentile and Republican Daniel Donovan.
A sitting New York City Council Member representing Bay Ridge, Gentile was first elected as a New York State Senator in the 1990s, representing a district that included part of Staten Island. Gentile was defeated by City Council Member Marty Golden for the Senate seat in 2002 and then won Golden's vacant Council seat in the special election held in early 2003. Gentile was re-elected to the Council in 2005, 2009, and 2013. He will be term-limited out at the end of 2017, unless he vacates the seat beforehand.
Daniel Donovan, the Republican of Staten Island, has been District Attorney for Richmond County, New York, since 2004, after winning the open seat in 2003. He was re-elected in 2007 and 2011, with an unsuccessful 2010 run for Attorney General in between.
The geography of this congressional district is already known to be unfriendly to any Brooklyn contender, and also to Democrats; Staten Island contains the lion's share of the district, and Democrats tend to find it tough going in this well-known Republican enclave of New York City even though there are actually more registered Democrats on the island. Golden has held onto his state Senate seat against numerous spirited challengers after taking it away from Gentile, so Bay Ridge, in Brooklyn, has similar political qualities.
With Election Day just two months off, each is surely scrambling to raise the funds needed to run an effective campaign. With that in mind, an examination of their past fundraising is instructive.
Both Gentile and Donovan are new to federal fundraising, but they have thick campaign finance files with New York State. Analyzing their New York campaign finance data, the biggest contrast that can be drawn between Donovan and Gentile, is that Donovan is a county-wide official, who received spirited support for a state-wide run in 2010.
Vincent Gentile's campaign finance operation, on the other hand, has not required the same kind of "portability." He's been asking for support in Bay Ridge and surrounding communities in his council district, mostly.
To produce the charts below, Gotham Gazette examined donorship transactions filed by the following committees: DONOVAN FOR NEW YORK, DONOVAN FOR ATTORNEY GENERAL, DONOVAN FOR D. A., DONOVAN 2010, GENTILE FOR NEW YORK, GENTILE FOR THE FUTURE, GENTILE NYC.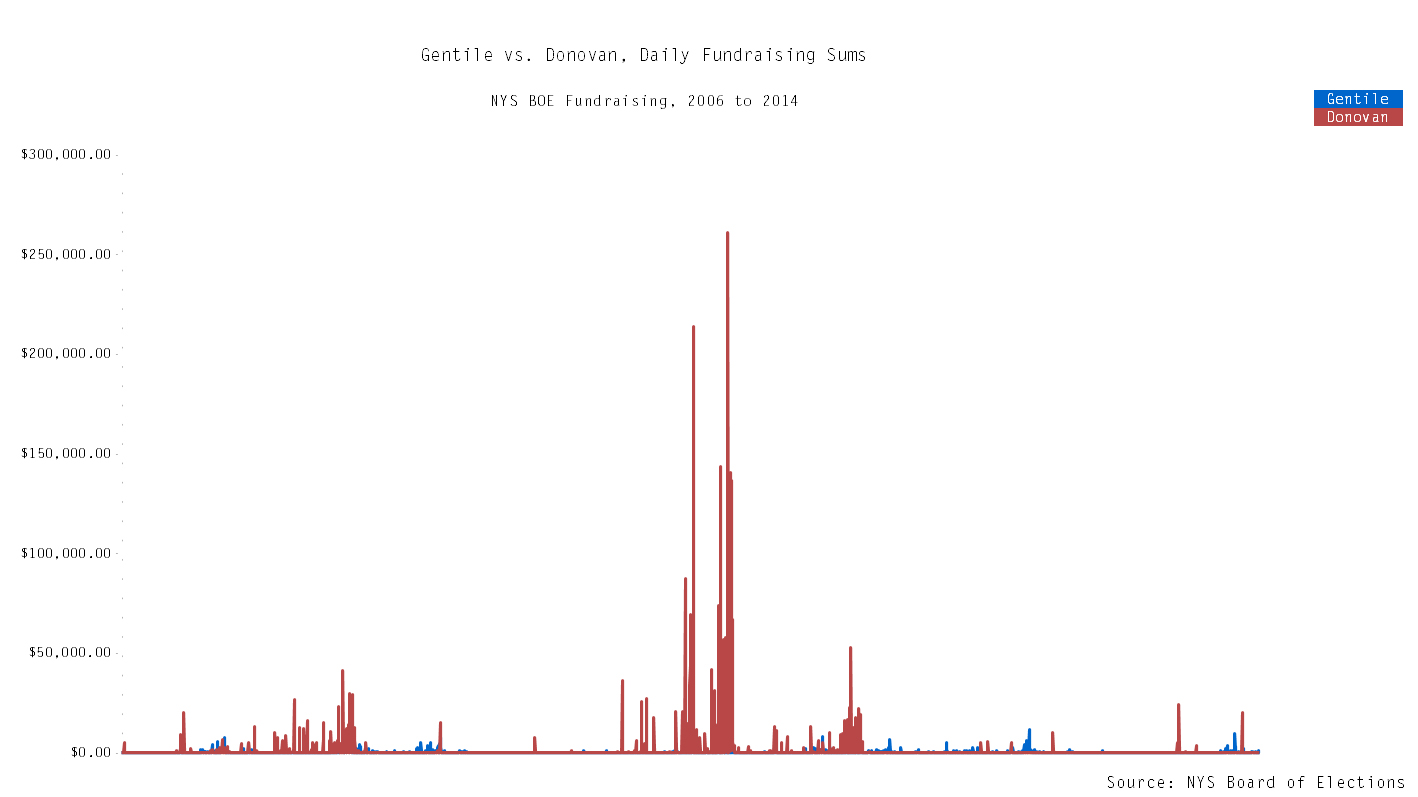 The chart above includes 3,287 days, from January 1, 2006 to December 31, 2014. With the graph scaled for Donovan's Attorney General campaign in 2010, Gentile's activity becomes nearly invisible. Because he did have this statewide run, Donovan's fundraising history skews any direct overall comparison.
Gentile, whose expenditures were capped during this time period by city campaign finance law, was able to rely on public matching funds for his races. Those matching disbursements are not counted here, just what the candidate received from donors. The council member has been fundraising on an ongoing basis, his most recent activity peeking out near the very end of the chart, a year after his election to a third and final full council term. In the past, the NYC Campaign Finance Board has issued penalties to Gentile's campaigns for a variety of filing issues.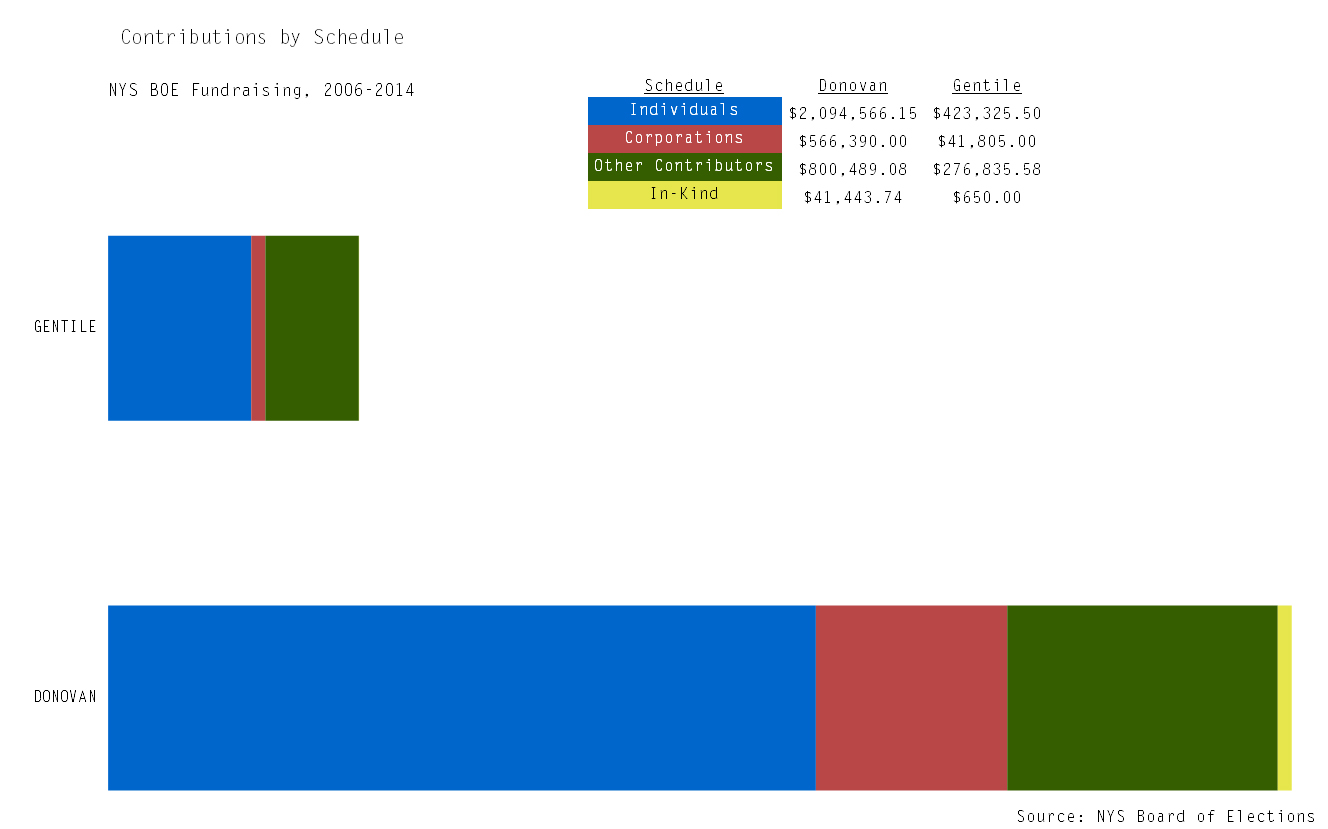 The bar chart above demonstrates the comparative difference in scale of Donovan's and Gentile's fundraising, while also segmenting the cumulative sum by donor type.
Other Contributors (Schedule C) is where contributions from labor organizations tend to be recorded. While filers do not all behave the same way in discerning Schedule C from Schedule B (Corporations), Gentile's reliance on Schedule C is 37.28% of his haul, while Donovan's is 22.85%.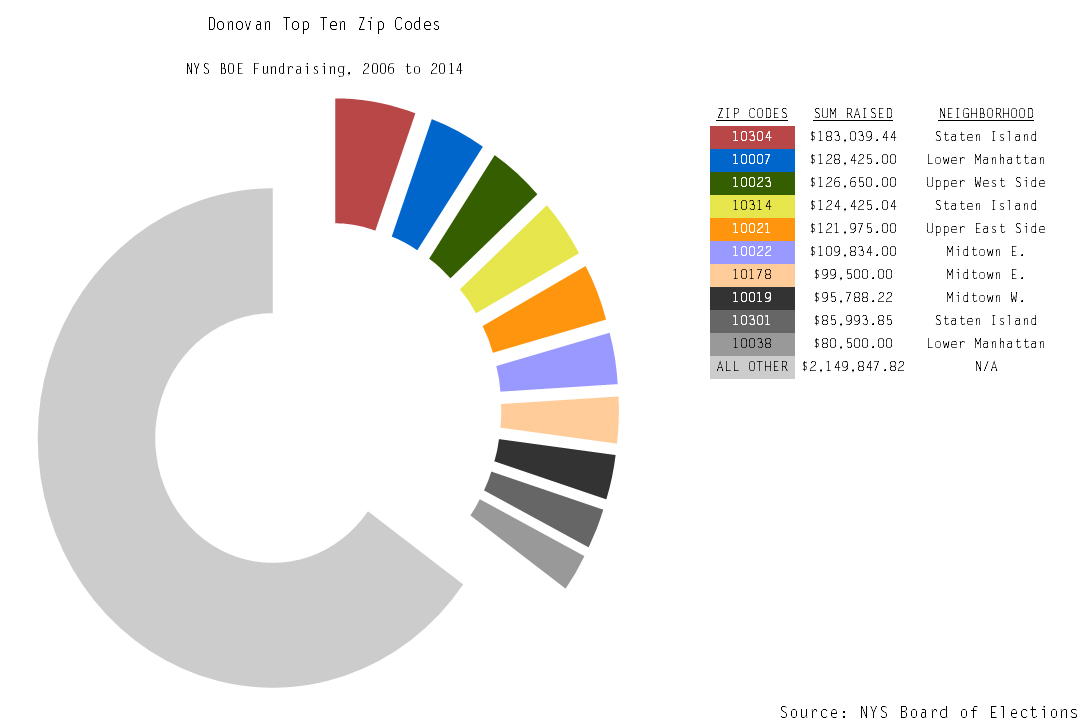 With the chart above, Donovan's top ten zip codes from which he receives funds, representing 34.97% of his overall haul, are shown. In addition to including three Staten Island ZIP codes in his top ten, he has tapped Manhattan extensively.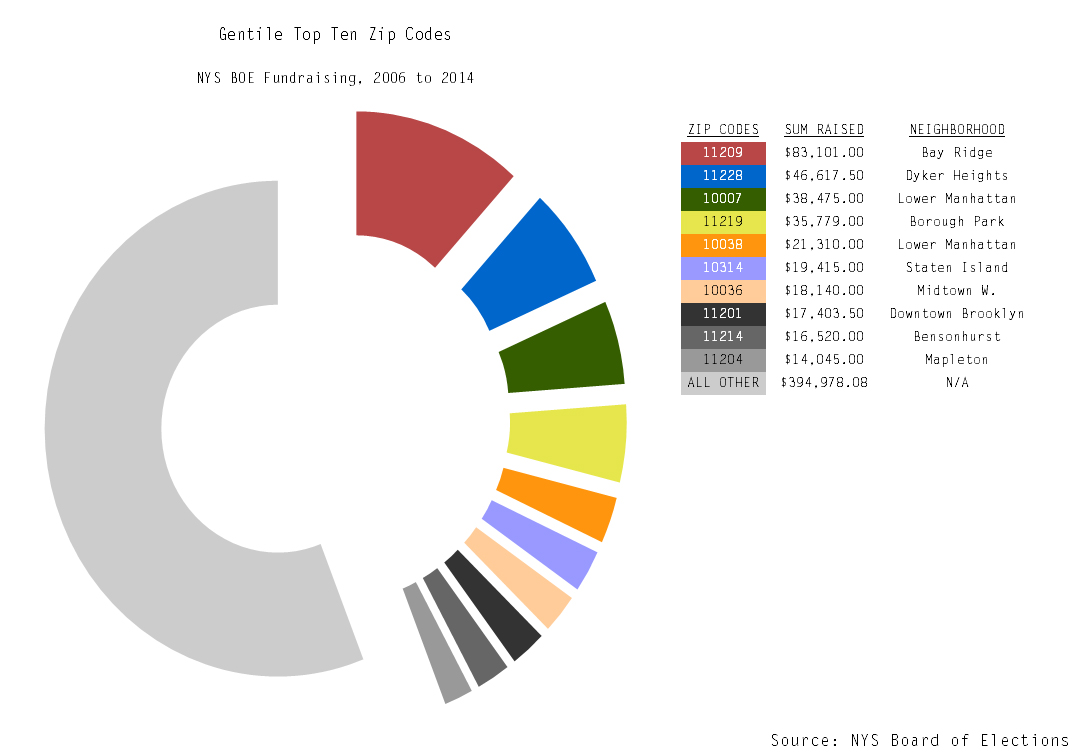 Gentile's top ten ZIP codes (above), meanwhile, reflect much more locality - again, likely a function of Donovan's run for a statewide seat. Gentile has also relied more on his own top ten to make up the whole than Donovan.
While seven of Donovan's top ten ZIPs are actually in Manhattan and three are on Staten Island, six of Gentile's top ten are in Brooklyn. Five are local to his council district while one is in Downtown Brooklyn. Three of Gentile's top ten ZIPs are in Manhattan and one is on Staten Island.
When looking at the top 20 donors to each candidate (seen in the two charts below), both individual and institutional, the fact that Donovan has campaigned under a different set of rules further emerges. For this reason, these charts are not meant to be compared side-by-side. They are simply meant to show who these two candidates have relied on to fund their campaigns. Gentile has been able to make substantial personal contributions to his own campaign, and he has done so. Gentile's top 20 individual and institutional donors, 2006-2014: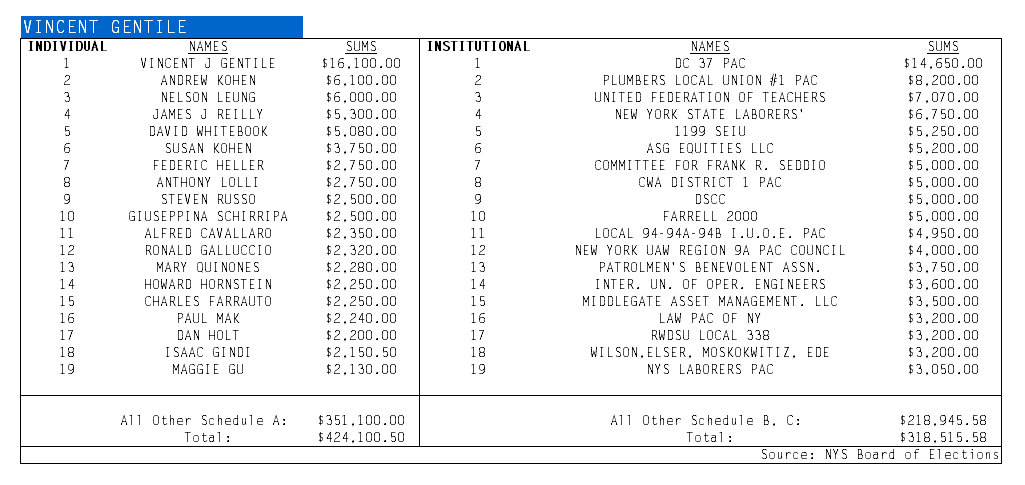 Something to look for when the federal fundraising picture begins to emerge is whether Gentile is reaching outside of his neighborhood, into more of the NY-11 turf, as well as whether he is beginning to tap major capital sources. Put another way, to what extent has the city campaign finance system limited Gentile's measurable fundraising prowess? In what ways does a Congressional race open up new fundraising opportunities? We might also ask how much of Bay Ridge is coming along with him and donating. Do his labor backers take the same level of interest in the U.S. Congress as they have in his local bids? Is he out-performing his city record? (Gentile's lists go to 19 rather than 20 because there are multi-way ties for individual donations at $2,000 and institutional donations at $3,000.)
Donovan's top 20 individual and institutional donors, 2006-2014: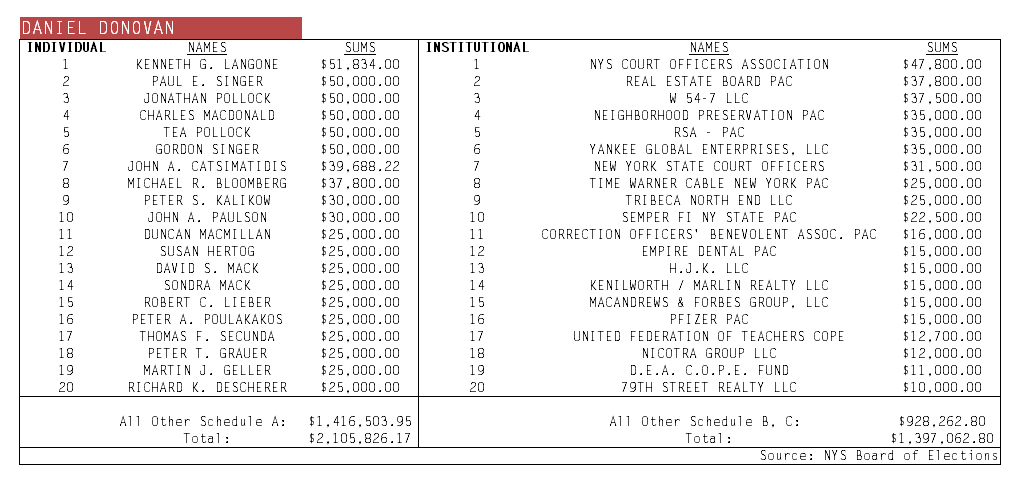 Similarly to with Gentile, there's a long list of major players and institutions who may reflect growing or shrinking enthusiasm for Donovan as this race develops. For many of those who have given to Donovan in the past, the stakes are very different with a district attorney or an attorney general than with a member of Congress. Are the usual stakeholders still interested in Donovan? Do they invest in Congressional races? Stay tuned!
***
by Jon Reznick for Gotham Gazette
Data analysis performed using FTMSQL2 by Competitive Advantage Research, LLC
Note: this article has been updated - a previous version mentioned that Gentile's fundraising was capped by the CFB, but it is in fact his expenditures that were capped.