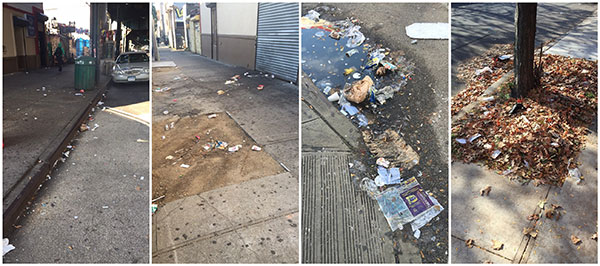 Bushwick photos by local students
---
Walk down a typical street in Greenwich Village or SoHo. It's likely to be clean of debris and garbage — in fact, there's a 93 percent chance the sidewalk is "acceptably clean," according to city records.
Now walk down a typical street in Bushwick. According to the City, it's not all that different — there's an 89 percent chance that the sidewalk is clean.
To some young Bushwick residents, that's a finding that doesn't match reality.
Fed up with having to walk around discarded soda bottles, plastic bags, and dog droppings on their way to and from school, a class of seniors at Bushwick's Academy of Urban Planning, a high school, decided to get to the bottom of how the City assesses street cleanliness. They found what they say is outdated policy that masks a 'Tale of Two Cities'-esque reality.
And they are pushing city officials to take notice.
It's called the scorecard system. Each month, employees from the Mayor's Office of Operations observe a sample of streets in every city neighborhood and rate them on cleanliness, assigning scores to both the sidewalk and the street surface. A 1.0 means perfectly clean, and a 3.0 means a lot of litter. "Acceptably clean" is anything below a 1.5. Percentages of acceptably clean streets are released by community board district and can help the Sanitation Department decide its street-cleaning policies.
The rubric for making the determination of clean or unclean, based on example photos, hasn't changed since the scorecard program began in 1974, a city spokesperson confirmed to Gotham Gazette. What was acceptably clean in the New York of the 70s, of graffitied subway cars and financial crisis, might not be all that acceptable in today's Big Apple. City officials argue, though, that the consistent standards means ratings reflect cleaner streets.
These days, a vast majority of city streets and sidewalks are rated acceptably clean, which critics say prevents sanitation department crews from prioritizing neighborhoods that actually have a lot of litter.
In November 2014, the most recent month available, 93.1 percent of city streets and 94.7 percent of city sidewalks were rated acceptably clean. 56 of the city's 59 community board districts had 85 percent or higher ratings of acceptably clean sidewalks, and 52 out of 59 had 85 percent or higher ratings of acceptably clean streets.
November 2014 scorecard ratings, by community board district
source: Mayor's Office of Operations data
In Brooklyn Community Board 4, which covers Bushwick, 88.5 percent of sidewalks and 89.5 percent of streets were scored acceptably clean in November.
"We live here, and we saw that it's not true," said Jorge Santamaria, an Academy of Urban Planning student. "There's a lot of garbage on the street."
Santamaria and his classmates in Jose Ortiz's third-period "Participation in Democracy" class decided to do something about it. Tasked with solving a problem in their neighborhood, students researched how the scorecard system worked.
They requested the specific scores for their district through a Freedom of Information Law Request and took photos of litter-covered streets that the city claimed were clean.
In one report, "Manhattan was scored with a 2, us with a 1.5," Santamaria said of ratings suggesting Bushwick had cleaner streets. "Whenever I go to Manhattan, it's not dirty at all. We think we should get more resources."
"Of course, people there want their community to be clean, but I think our community should be as clean as Manhattan," added student Maritza Zeron.
NYU junior Ryan Castellano, a "democracy coach" who helped students with their activism as part of the Generation Citizen program, which brings together college students and high school classes to identify and solve community problems, said the divide in street cleanliness was obvious.
"I live in Greenwich Village. If you walk around there, and go to Bushwick and walk around, you can see an enormous difference," Castellano said. "Those [scorecard] numbers don't match up at all."
Over the years, New York "definitely has gotten cleaner, and our class' position is not that the city as a whole isn't better," Castellano said. "But there still is a diversity in how dirty neighborhoods are...there are still some that are much worse than others, and it's being misrepresented."
City officials say the program provides valuable data on street and sidewalk cleanliness. The fact that the rubric hasn't changed shows how dramatically average cleanliness has improved, they say, from roughly 70 percent acceptably clean in the 1970s to over 90 percent clean now.
"With a program's history as long as ours, we understand the importance of providing our City stakeholders and the public with useful information that impacts the cleanliness of our neighborhoods," said Mindy Tarlow, the director of the Mayor's Office of Operations, in a statement to Gotham Gazette.
But the students are hoping to see action on the part of the City to raise standards of what is considered acceptably clean. That might mean a City Council hearing or a change in policy at the Office of Operations.
City Council Member Antonio Reynoso, who chairs the council's Sanitation Committee and represents part of Bushwick, met with Castellano earlier this month to discuss the students' research.
"[Council Member] Reynoso is concerned and looking into it," Reynoso spokesperson Lacey Tauber said in an email.
In addition to advocating for change at the city government level, the Academy of Urban Planning students are hoping to help fight litter themselves, through social media and by giving out t-shirts or stickers urging people not to litter.
"In order to make our community cleaner, we need our whole community involved, not just our class," said student Kimberly Goris. "Our community is our home, it represents us — it's our identity."
***
by Casey Tolan for Gotham Gazette
@GothamGazette