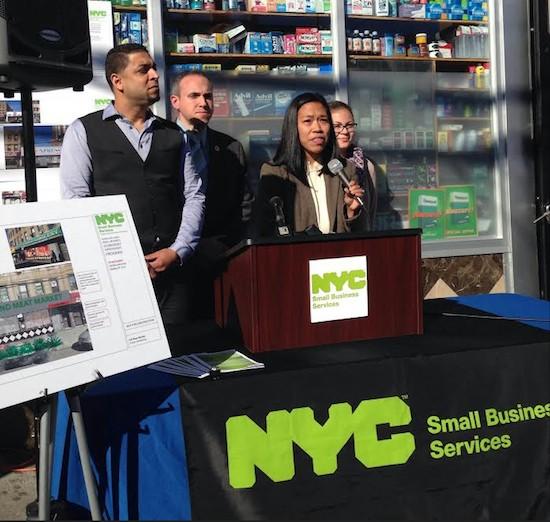 SBS Commissioner Torres-Springer (photo: @NYCBusSolutions)
---
Small business assistance is a perennial political promise. Few can argue with the goal of stimulating the city's economy and almost everyone has some connection to the issue.
After all, the Department of Small Business Services (SBS) reports that 98 percent of the city's 220,000 businesses are considered small (fewer than 100 employees). The number has increased in recent years due to an entrepreneurial boom in the city. According to the Center for an Urban Future, nearly twice as many businesses were incorporated in the city in 2011 than in 1991. Every day, many New Yorkers go to work or shop at these businesses, often doing both.
Mayor Bill de Blasio sees owners and employees of these businesses as squarely in the crosshairs of his mission to reduce inequality and create opportunity. The needs of individual business owners vary some because the category is so large, but, there are many commonalities among those looking to start, maintain, or grow a small business.
After a first year in which the de Blasio administration drastically reduced fines levied on small business, the City has just launched a new, multifaceted approach to reduce regulatory burdens. While these moves are certainly welcome, many in the small business community say that access to capital and ever-rising rents remain their largest challenges.
According to the Federal Reserve Bank of New York's 2014 Small Business Credit Survey, 40 percent of local business owners say they're struggling with common problems of finding customers and managing cash flow. Many businesses also said that securing loans was a major issue.
"Twenty percent [of businesses] cited credit availability as a top concern. Most small firms reported needing micro loans of $100,000 or less," said Claire Kramer Mills, an assistant vice president in the Federal Reserve Bank of New York's Community Affairs Office.
The survey was conducted over a two-month period during the fall of 2014. More than 2,000 businesses with fewer than 500 employees were surveyed from 10 states. Responses were weighted to reflect the full population of small businesses in each state. Specific New York City figures were then highlighted for Gotham Gazette.
Most businesses need some kind of loan in order to launch or stay alive, especially in New York City. "Very small" businesses with fewer than 20 employees make up the majority of the city's small businesses and are growing at the fastest rate. These are local restaurants, tech start-ups, boutique retail stores, neighborhood coffee shops, and more.
Many of these business owners have little or no additional support outside of family or friends, and navigating the banking system can be difficult. According to the Federal Reserve survey, more than 20 percent of local business owners applied for funding from online lenders last year despite often higher interest rates.
Aissatou Bah, a loan officer at the Brooklyn Cooperative Federal Credit Union, cautioned against using online lenders for their expediency, because interest rates can be double or triple the standard.
The Brooklyn Cooperative's mission is to help community businesses, but that doesn't mean it can give money to just anyone. Bah said that a strong business plan and a little patience is essential.
"Every lender wants to lend money, that's what business owners tend to forget sometimes," said Bah.
She said that the average loan decision can take two weeks. In cases where people aren't fully prepared, she'll refer them to SBS or local business development centers for more guidance before giving them financing.
The Brooklyn Small Business Development Center (SBDC) is one of those places where owners can get advice at any stage of a very complicated process. Operated by the State University of New York and funded by federal money, the Brooklyn SBDC helps people with business plans, networking, research, and other services from the start-up phase onward.
"It's a very daunting situation to open a business," said Director Robert Piechota. "You better make sure you know what the heck you're doing."
The Brooklyn SBDC also helps people, particularly those who don't speak English, understand the City's complex bureaucracy, "It's not very easy to open a business or maintain it given the constantly changing landscape of regulations," said Piechota.
The city offers similar services as well. The Department of Consumer Affairs, which investigates many businesses, not only scaled back the fines it levies, but launched expansive new initiatives in order to communicate with businesses in a variety of languages. SBS operates seven "NYC Business Solutions" centers where people can get pro-bono legal services, help reviewing leases, business courses, and access to capital. According to an SBS spokesperson, the department helped connect businesses with approximately $58.5 million in capital last year through various methods.
The City Economic Development Corporation (EDC) also helps small business get lines of credit and loans of up to $250,000 through its Capital Access Loan Guaranty Program. The EDC helps facilitate financing through various lenders and provides up to a 40 percent guarantee for qualified applicants.
Many of these systems were already in place under the Bloomberg administration. As a council member and the public advocate during that time, Mayor de Blasio often talked about the need to reduce the regulatory burden on small businesses. Since taking office he's made efforts to reach that goal.
Last year, he lowered revenue targets for fines given out by the Department of Consumer Affairs and the Department of Health and Mental Hygiene. Keeping with this tack, his administration recently announced its Small Business First program to further improve the climate for small businesses.
Led by SBS, the $27 million initiative seeks to streamline the regulatory process across more than 15 different city agencies over the next four years. Opening any business - particularly one involving food - requires permits and inspections from more agencies than many people may realize. While the initiative won't change that, it includes 30 ways in which the City is making the process easier - including an online portal to find and file forms, translating materials into multiple languages, and more.
Local business groups have reacted positively to the plan, but say that regulations will still pose a challenge for owners.
"Small Business First won't eliminate all of the regulatory barriers small business owners face, but anything the City does to make it easier for small business owners to understand and comply with local regulations is a step in the right direction," said Victor Wong, director of business outreach and GoBizNYC at the Partnership for New York City.
SBS will be creating a Small Business Advisory Board - made up of city personnel, elected officials, and small business owners - to monitor the program's success and offer future recommendations.
City Comptroller Scott Stringer has also announced a "Red Tape Commission," made up of various business and community leaders, that will spend a year producing recommendations for streamlining the regulatory process. How this will differ from Small Business First remains to be seen, but representatives from SBS and the comptroller's office both said they plan to work together on the issue.
"I am confident that the Red Tape Commission's work will provide valuable new insight, reform proposals, and audit topics that will help make city government more responsive to the needs of the small business community," Stringer said in a statement.
City Council members have been getting in on the action as well. Speaker Melissa Mark-Viverito proposed the idea of a "small business advocate" position in her February State of the City address and other ideas have been floated by various members.
Robert Cornegy, Jr., chair of the Council's Committee on Small Business, said that he supports increasing access to capital and finding ways to reduce regulatory burdens by providing industry-specific advice. Cornegy told Gotham Gazette that one of the most pressing issues is the ability for businesses to afford space.
"So many small businesses have been devastated by enormous and unmanageable rent increases and it's heartbreaking. Too often, businesses that have been part of a neighborhood's renaissance are unable to remain and reap the rewards of the changes they have helped to create," Cornegy said by email.
Cornegy said he often hears stories of commercial tenants being harassed by landlords in his Brooklyn district, but they have less protection than residential tenants.
The council member has introduced a resolution calling on the State to pass legislation that would establish a property tax credit for commercial landlords who limit rent increases to small business owner tenants upon lease renewal. Council Member Jimmy Van Bramer, of Queens, has introduced a similar resolution, focusing on small businesses that own property.
Council Member Helen Rosenthal said that she's also seen this happening in her district on the Upper West Side, particularly when landlords get an opportunity to bring in larger corporate tenants for more money. She hopes to change this when designing new construction.
"In new buildings I'd love to have an opportunity to negotiate for physical spaces that would imply a small business," Rosenthal told Gotham Gazette.
Some advocates worry that rent increases will have an irrevocable effect on the small business community. Steven Barrison, executive vice president of the Small Business Congress, estimates that thousands of "mom and pop" businesses are closing shop every year.
"Businesses are in a crisis, they're on life support now," he said.
City and state officials are often wary, of course, of alienating the real estate industry - and there is a limit to what the City can do without receiving more support from Albany for commercial rent regulations.
Good news includes that as the economy continues to grow, small businesses are seeing better success rates. According to the U.S. Small Business Administration, 80.7 percent of the establishments that opened in New York State during 2013 survived through 2014, and bankruptcies have declined since 2010.
Despite positive trends, entrepreneurs still face tough odds when running one of the city's many thousands of small businesses. Even with the possibility of additional federal and state funding, and the city's efforts to reduce regulatory hurdles, starting a business in New York will always be a risky proposition.
"Just having an idea is not enough in this country to have a sustainable business," said Cornegy. "You can open one, but sustainability is based on a good solid plan."
***
by Cole Rosengren, Gotham Gazette
@ColeRosengrenNY