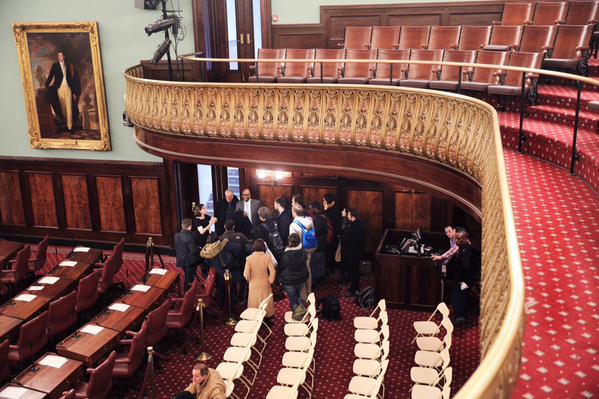 City Council Chambers (photo: William Alatriste)
---
"If you have a question about whether your conduct is allowed under the City's ethics law, press two," says one part of the automated response a caller hears after dialing the Conflicts of Interest Board.
As preliminary budget hearings continue this week at the City Council, the Conflicts of Interest Board (COIB) will be examined to ensure that it is fulfilling its role in preventing corruption and properly funded to do so. The Council's Standards and Ethics Committee, chaired by Council Member Alan Maisel and with oversight of the COIB and ethical protocols among city officials, is holding its preliminary budget hearing on Thursday.
The hearing comes at a time when corruption and ethics have been all over the news as state-level lawmakers continue to wind up in handcuffs, accused of both legal and illegal wrongdoing, and engage in negotiations over reforms. Officials at the city level have not been without scandal, of course, and there has been increased scrutiny of late on the City's Department of Investigations (DOI).
The Council's Standards and Ethics Committee does not oversee the DOI, but with oversight over the COIB, similar issues come up - namely that of independence.
The Standards and Ethics Committee has punitive powers, but has rarely needed to exercise them in the past few years save for two recent cases, those pertaining to Council Member Ruben Wills, a Democrat, and former Council Member Dan Halloran, a Republican, both of Queens.
Wills was recently arrested for the second time in as many years. He has been indicted this time around for filing false documents with the COIB. Dan Halloran was sentenced last week for corruption and bribery in trying to aid former State Senator Malcolm Smith, a Democrat, in bribing his way onto the 2013 ballot for Mayor as a Republican. Halloran was sentenced to ten years in prison.
Last month, the Standards and Ethics Committee held an oversight hearing to discuss the two cases. Requests for comment made to Maisel's office were referred to the committee's general counsel, who did not respond to calls or messages.
Thursday's budget hearing of the committee will be, for the most part, an opportunity for the COIB to present its annual report. The COIB implements and enforces New York City conflict of interest laws. It also educates city employees on ethical requirements, acts in an advisory capacity to current and former employees, and oversees financial disclosure for elected officials.
A spokesperson for the COIB declined to comment ahead of the hearing.
In recent years, the COIB's workload has increased but staff numbers and budget have barely changed. According to the COIB's annual report, the board conducted 599 training sessions last year, up 11 percent from 506 in 2013. In 2001, only 190 sessions were conducted. COIB received 488 new complaints in 2014, marginally lower than the 506 in 2013, but almost four times the number from 2001 (124 complaints). There were 4,950 total requests for legal advice from current or former city officials, compared to 4,088 the previous year and 2,189 in 2001.
Despite this increased burden, the budget for the COIB has increased from $1.69 million in 2002 to a proposed $2.11 million for this year as outlined in Mayor Bill de Blasio's fiscal year 2016 preliminary budget. (It was $2.03 million in fiscal 2014). The staff strength stands at 22, actually one less than in 2001.
At last year's executive budget hearing, COIB Executive Director Mark Davies said in his testimony that the Board was "just about at where we should be" in terms of manpower and resources. But, he ceded that maintaining the quality of the staff depended on ensuring a steady budget and possible future budget cuts would be draconian and dangerous.
Herein lies the most COIB's most important concern. Although it is a non-mayoral agency in function, it has an almost contradictory structure. The board has five members, approved by the City Council and appointed by the Mayor, who serve staggered six-year terms and can be reappointed for a second term. With the Mayor's involvement and the Council's consent key to these appointments, the contradiction in the board's mandate is apparent. COIB members are not only charged with enforcing rules on the very people, mayoral staff and council members, who make their appointments, but who decide the board's budget. Therefore, each year, the COIB advocates for a charter amendment to provide it with independent budgeting.
"Our mission is to guide honest officials thereby promoting both the reality and the perception of integrity in government by preventing conflicts of interest violations from ever occurring," said Davies in his 2014 testimony. "In other words we are in the prevention business, not in the punishment business, thus perhaps most importantly the board reiterates a concern that it has expressed for many, many years: the lack of an independent budget."
Such a charter amendment would need widespread support since it can only be passed by referendum or through state legislation.
Good government groups are on board with COIB's proposal. "Independent budgeting is an important fail safe for agencies that conduct oversight, like the COIB," said Rachael Fauss, director of public policy for Citizens Union. "Codifying this in law will ensure that it continues to receive sufficient resources, regardless of the administration that is in office."
Susan Lerner, executive director of Common Cause New York, said COIB has a strong reputation for objectivity. "Could it be strengthened by being more independent? Possibly," she said. But a significant measure, she said, would be "a full outside evaluation of how things are being handled by the board. From an anecdotal point of view, not from any systematic review, there seems to be a bias towards the executive."
Considering the focus on ethics reforms over the last year, at both city and state levels, and the Council's recent critique of the Department of Investigation's apparent performance decline, the COIB may do well to take this opportunity to ask for a larger budget and push for complete independence. Not only would that help protect against future uncertainty but also ensure it is not beholden to the whims of political forces. As its annual report states, "Ethics lights the way to good government."
***
by Samar Khurshid, Gotham Gazette
@samarkhurshid
Note: Gotham Gazette is an independent publication of Citizens Union Foundation, sister organization of Citizens Union