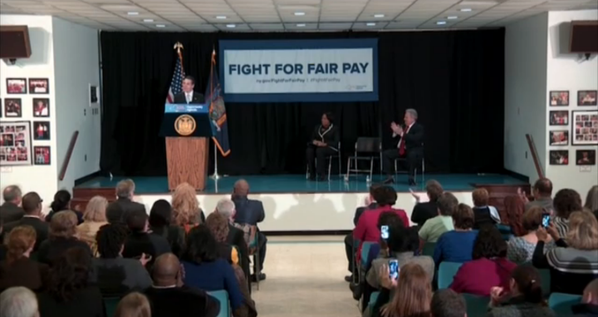 Gov. Cuomo pushing his minimum wage hike (photo: @NYGovCuomo)
---
The middle ground is a particularly familiar place for Governor Andrew Cuomo - and it is where he has put himself in the debate over increasing the state's minimum wage. Cuomo has come under fire this week from electeds and advocates on the left who support a significantly larger increase to the wage than the one Cuomo has proposed and from conservative officials and business groups that oppose any increase whatsoever.
Cuomo and his proxies have toured the state this month promoting a proposal that would increase the state minimum wage to $10.50 an hour and New York City's to $11.50, even touting the support of a variety of labor unions and some city business reps. Cuomo and the Legislature enacted a staggered wage increase in 2013 that is set to culminate with a $9 statewide minimum at the end of this year. But, Cuomo now sees that as insufficient.
"I want to increase the minimum wage in this state, because the truth is the minimum wage is at $9, that's $18,000 a year, and you cannot live in this state and raise a family on $18,000 a year. You can't pay the rent, you can't pay for food, you can't pay for insurance, and you can't buy clothes on $18,000 a year," Cuomo said at a rally in Rochester focused on his upstate agenda.
He continued: "The Assembly wants to raise it to $15 an hour. God bless them—shoot for the stars - that's what they did in the Assembly. The Senate is totally against raising the minimum wage. I think the truth is somewhere in the middle, I proposed raising $9 to $10.50 statewide. Often, the political truth is in the middle."
There may be no better, simpler summation of Cuomo's governing philosophy than that.
The State Senate's one-house budget proposal contains no minimum wage increase while the Assembly's would set New York City's minimum wage independently of the state's and tie it to inflation. Per the Assembly outline, the state's minimum wage would be $10.50 by 2017, $12.60 by 2019 and the city's and surrounding suburbs would reach $12.50, then $15 at those times.
In a statement, new Assembly Speaker Carl Heastie said, "Raising the minimum wage is about the moral obligation we have to help families across the state who are struggling to get by. The current wage floor is not enough to allow full-time workers who put in a 40- hour work week to afford life's basic necessities, let alone achieve financial independence."
Cuomo's proposal shirks promises he made to the Working Families Party last spring in exchange for its endorsement that he would back a plan to allow the city to increase its minimum wage in connection to the rate of inflation. Mayor Bill de Blaiso, who helped broker the deal between Cuomo and the WFP, is still a major supporter of giving the city control of its own minimum wage and linking it to inflation, as are many Democrats in the state Legislature. The mayor has even asked city businesses to start voluntarily paying a $13 hourly minimum.
Despite his public campaigning on the issue, Cuomo has given signals that he is wavering.
"I hope to get it done this legislative session either in the budget, which is April, or at the end of the legislative session in June," Cuomo reportedly said during an appearance in Buffalo. Putting anything out of the budget and into policy negotiations thereafter gives it less weight, but could lead to expanded time for negotiation.
Advocates like Michael Kink of Strong Economy for All say that if Cuomo is serious about the wage increase he will not abandon it in budget negotiations. "I think obviously he has the most leverage in the budget. It is the only time where all three sides have to agree on something so there will always be something in the budget each of the three leaders view as main," Kink said. "They can stomach something they oppose to get a big win. Obviously Cuomo's priority is the privatization of education and charter schools. I'm glad he is working on it (the minimum wage), but the fact that he is going in signaling he is willing let it go is disturbing."
State Sen. Liz Krueger said it was "troubling" to hear Cuomo indicate he could deal with the minimum wage outside of the budget. "This is the place to get this done and this is the one economic proposal that will help everyone across the state."
Kink doesn't feel Cuomo's wage proposal goes far enough. "We want a wage hike that will a make difference in workers' lives," said Kink. "Fastfood workers didn't start fighting for $9.50, they wanted something that would help people pay bills and lead their lives. That's why they started 'The Fight for 15.'"
Meanwhile, a group of business interests, upstate chambers of commerce, and conservative advocacy groups joined together this week to oppose even Cuomo's smaller wage proposal.
"Any attempt to increase the minimum wage before full implementation [of the plan in place] should be rejected," the groups said in a statement. "We strongly urge Albany to continue the progress made in improving New York's economic competitiveness while focusing on pro-growth initiatives as budget negotiations enter this final stretch." Members of the coalition include The Business Council, Unshackle Upstate, The Farm Bureau of NY, and The National Federation of Independent Business.
The groups say that the full impact of the state's last minimum wage hike on businesses is not yet apparent as the $9 wage won't go into effect until the end of the year.
Business groups took offense earlier this month because Cuomo unveiled his "Fight for Fair Pay" campaign while they held their small business lobby day at the capitol.
"Gov. Cuomo's campaign to increase the minimum wage could push struggling small businesses over the edge," Greg Biryla, Executive Director of Unshackle Upstate, said in a statement on March 3. "For employers who are trying to create new jobs and expand their business, another minimum wage increase and an added $69 million in new health care taxes would be a brutal combination. Albany needs to focus on improving the state's business climate – not make it more toxic."
Senate Republicans have not included a minimum wage increase in their budget proposal but some members indicate it is an issue they are willing to negotiate. However, they note that not only is the state's last wage wage increase not fully implemented, but that the Labor Department also just increased the minimum wage for tipped workers in February.
Kink said that Cuomo's public support of a minimum wage increase is "valuable" but also just makes political sense. "This is a tremendously popular issue for voters in both parties," Kink said. "I'd love to see increased aggression from the governor on the minimum wage. I'd like to see him throw the kind of ferocity into the faces of minimum wage opponents that he shows to the groups opposed to his education agenda."
Cuomo's public support of a wage increase isn't exactly typical of the governor. He has been criticized by advocates in the past for not stumping on specific policies.This time Cuomo has been on the road and his office is issuing press releases in support of the increase.
"The sweetest and healthiest success is one that enables everyone to do well together – that is what community is all about," Cuomo said announcing his "Fight For Fair Pay."
"As our economy recovers and our businesses add new jobs, we need to ensure our entire workforce has the opportunity to be part of the economic recovery and new momentum we are seeing in all corners of the State," the governor said. "New York has always been a leader in protecting our workers and building strong communities, and this year we must continue to move forward by fighting for fair pay and raising the minimum wage statewide."
***
by David King, Albany editor, Gotham Gazette
@DavidHowardKing