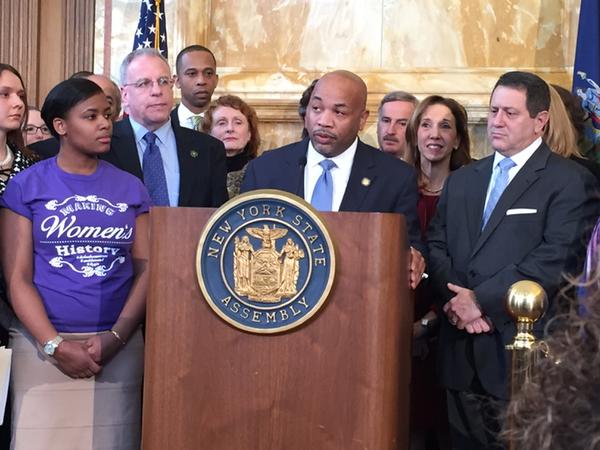 Assembly Speaker Heastie (photo: Karen DeWitt)
---
Legislative leaders from both houses appear set to test Gov. Andrew Cuomo's promise that he will sacrifice an on-time budget to get a set of ethics reforms he laid out in February, not long after the arrest of former Assembly Speaker Sheldon Silver on corruption charges.
Last week, the State Senate and State Assembly each passed its one-house budget, marking stark differences from the governor and from each other on a number of aspects of the spending plan for fiscal year 2016, which is set to begin April 1, the deadline for reaching a deal.
With renewed focus on corruption in the Legislature thanks to Silver's indictment, Cuomo has taken hardline stances on both ethics and education in his budget, weaving major policy proposals into spending bills. Besides his ethics promise Cuomo insists he will only increase state education spending by $327 million if the Legislature does not accept his sweeping education reforms, which include a new teacher evaluation system and an increase of the charter school cap. If the Legislature agrees to the changes Cuomo has promised to up education spending by $1.1 billion. Cuomo's budget comes in at over $140 billion in total.
The Legislature is faced with either approving the bills or risking the late budget. Legislative leaders and some good government groups see the move as a stretch of gubernatorial power. And while there was some discussion that the Legislature might sue Cuomo over including policy in the budget they appear to have written off the idea and moved to negotiations.
Many legislators are skeptical that Cuomo will really push things that far - after all, he has rarely missed an opportunity to tout that he is four for four in passing on-time budgets, something predecessors struggled to accomplish. With negotiations puttering along and the end-of-the-month deadline rapidly approaching, a number of legislators expect Cuomo will do what he is known to do: cut a deal - and with it avoid the public backlash a late budget would bring. Curiously, legislators have begun suggesting they could have a budget deal early, setting March 26 as a goal.
As is the annual tradition, each house countered Cuomo's budget with its own proposal. Both the Democratically-controlled Assembly and the Republican-controlled Senate put forth one-house budgets that delink policy and spending.
The Democratic Assembly Majority is pushing its favorite items in a different form than the governor has included - a minimum wage increase larger than Cuomo's, a DREAM act resolution that isn't tied to an education tax credit, and a seven- rather than three-year extension of mayoral control of schools. Making little mention of ethics reform and offering none of Cuomo's education reforms, the Assembly budget increases education spending by $1.8 billion.
The Senate budget, meanwhile, backs the education tax credit but leaves out The DREAM Act, and it also omits a minimum wage increase and an extension of mayoral control of schools. The budget plan increases funding for charter schools and ups the cap. It also includes new requirements for disclosure of outside income by legislators and members of the executive branch.
Interestingly, each house has included semblance of paid family leave, which Cuomo recently said the Legislature had "no appetite" for, but the plans are drastically different and could lead nowhere. The plan in the Senate budget is there at the behest of the Independent Democratic Conference, or IDC.
Both houses came together last week to begin the process of reconciling their budget proposals in conference committees. Negotiations with Cuomo continue behind closed doors.
A side-by-side look at key policy differences as outlined in the three different budget proposals:
Budget Comparison
Gov. Cuomo

Assembly (Democratic Majority)

Senate (Republican Majority)

DREAM Act

Yes, but tied to education tax credit

Yes

No

Edu tax credit

Yes

No

Yes

Minimum wage increase

Yes. Setting min wage for city at $11.50, and $10.50 for the rest of the state, effective at the end of 2016. No proposed cost-of-living index.

Yes. Allowing city and suburbs to index minimum wage separate from state.

Raise wage over the next 3 years to $12.60, and $15 in places where cost of living is higher -NYC, and Westchester, Nassau and Suffolk counties- (goal: 12/31/18).




Tipped workers would see an increase from $5 to $9 or $11.40, depending on location. By 12/31/19 the minimum wage would be indexed to inflation.

No

Mayoral control of city schools

3 year renewal

7 year renewal

n/a

Education funding

$327 million increase without his reforms. $1.1 billion increase with.

$1.8 billion not connected to Cuomo's reforms.

$1.9 billion increase. Budget includes a number of Cuomo's education priorities.

Charter school cap

Increase cap by 100, while removing regional barriers to expansion, and remove caps specific to particular chartering authorities.

n/a

Increase the per-pupil aid to $225 instead of $75, and increase cap by 100.

Ethics reforms

Wants lawmakers to submits receipts on travel reimbursements.

n/a

Supports new disclosure requirements for outside income, plans to modify Gov's ethic proposals and education reform initiative.

Raise the Age of criminal responsibility from 16 to 18

Yes

Yes

No
***
by David King, with Shannon Ho
@GothamGazette