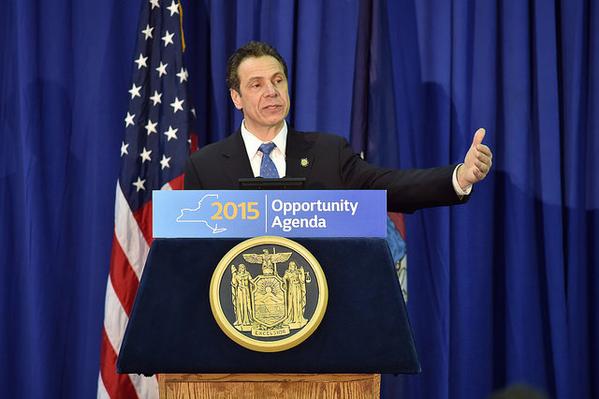 Gov. Cuomo discussing his agenda (photo: @NYGovCuomo)
---
In further indication of the growing hunger in New York and across the nation for paid family leave, the State Assembly again passed the Paid Family Leave Act on Tuesday in Albany.
Meanwhile, Senate Republicans introduced their one-house budget resolution last week and also put the spotlight on the issue that Governor Andrew Cuomo is quickly having to figure out a plan on - though the Senate's version is different from the Assembly's in terms of funding mechanisms. The governor recently said that the "appetite" did not exist in the Legislature for paid family leave, but in the face of a paid family leave proposal making its way into each house's budget, his office has since said Cuomo supports the policy and his administration is studying the issue.
Upon passing the legislation, which the Democratically-controlled Assembly has passed several times, Speaker Carl Heastie said, "New Yorkers should not have to choose between keeping their jobs and taking care of a sick family member or spending time with a new one."
As budget negotiations heat up before the April 1 deadline, paid family leave has taken many by surprise as a hot-button issue for these budget and legislative sessions. It now finds itself alongside an increase in the minimum wage, the DREAM Act, education reforms and funding, ethics reforms, and other keys to intense spending and policy talks.
The U.S. falls behind other nations in its lack of a federal paid family leave law. The federal Family and Medical Leave Act (FMLA) provides for 12-weeks of job-protected leave for family and medical emergencies with continued health insurance coverage. It covers childbirth (maternity and paternity leave), caring for an adopted or foster child, caring for loved ones and personal illness. The catch: it does not mandate any pay.
New York has its own infrastructure for off-the-job disability in the form of Temporary Disability Insurance (TDI). All private employers are required to provide TDI. Through TDI, a deduction of 60 cents a week from an employee's paycheck covers between five and seven weeks for recovery from childbirth, and injuries and sickness. Only four other states provide TDI benefits -- California, Rhode Island, New Jersey and Hawaii.
But in recent years, besides Hawaii, the other three have modernized TDI to include a paid family leave plan. Hawaii is considering doing the same. "New York is really the next logical state to do it," said Nancy Rankin from the Community Service Society. "It would be an easy and affordable way to make it possible."
When the New York State Assembly passed the Paid Family Leave Act last year, the bill died in the Republican-controlled Senate. While Cuomo may be scrambling a bit to imagine his own policy specifics - he, like many lawmakers, is likely wary of the effects such a bill could have on businesses - the Senate included its family leave bill at the behest of the Independent Democratic Conference, which it caucuses with.
In an emailed statement, Heastie, who represents part of the Bronx, said, "No one should have to risk financial hardship or fear losing their job because they need to care for a sick family member. Assembly Democrats do not believe in penalizing the hardworking men and women of this state. We believe in giving them the support they need because when we invest in the health and safety of our families we invest in the future of New York. It is time to pass Paid Family Leave here in New York."
The Assembly proposal, according to a Tuesday press release, calls for expansion of TDI to ensure paid family leave, in part through employee contributions: "Under this measure, employers would be required to offer a paid family leave benefit and could have workers contribute up to 45 cents per week to the policy. This employee contribution would ensure up to 12 weeks of paid family leave, cover two-thirds of the worker's salary and guarantee job security during the absence."
The Senate's proposal came through the IDC, led by Senator Jeff Klein, also of the Bronx. The fundamental difference between the two proposals is that while the Assembly is pushing for expansion of the TDI, Klein's proposal calls for state funding of the benefit. It is projected to cost $125 million in the first year, with funding in subsequent years being bolstered by employee contributions. Senate Majority Leader Dean Skelos' office refused comment citing ongoing budget negotiations. The governor has already rejected the plan for overly relying on state funds.
"It's hard to sustain a private sector benefit if it needs to be renewed each year by the state Legislature," said Donna Dolan, executive director of the New York Paid Family Leave Coalition. "You're calling for funding a private sector benefit from public funding."
The Coalition last week responded to the Governor's 'no appetite' comment with a letter signed by 56 women lawmakers and leaders. The letter stated, in part, "Paid family leave would ensure that no New Yorker has to choose between the health and economic stability of her family. It would mean that the major life moments we all share – the arrival of a new child, or a close relative needing care – do not have to mean debt or bankruptcy."
The expansion of New York's TDI cash benefit has been long in the offing, family leave extension or not. The current benefit level has been frozen since 1989 at $170 a week despite a mandate for it to be at least 50 percent of the average statewide weekly wage. (In 2013, the average weekly wage in New York was $1,200, which would mean a $600 benefit if there was no cap). In comparison, the benefits are $1,104 per week in California, $772 in Rhode Island and $604 in neighboring New Jersey. "To make it meaningful, we need to raise TDI," said CSS's Rankin.
It is unclear where any middle ground for the Senate and Assembly proposals might be. It is hard for anyone to argue with the underlying premise of paid family leave, but the devil is in the funding details - and concerns over impacts on businesses.
"It's good for families and it has been good for business in the states that passed it," said Dolan. She suggests bringing business representatives from New Jersey to give the Senate reports on paid family leave.
But business leaders don't necessarily agree. President and CEO of Partnership for New York City Kathryn Wylde said, "Every time there's a new requirement that takes people out of the workplace, that removes people off a job, that requires even a temporary replacement, you can't say there's no impact." She added, "It's important that the state Legislature and the City Council recognize that there's a cumulative impact of their actions on employers and on New York's attractiveness as a place to build a business."
As New York lawmakers struggle to find a solution to this long-standing demand, the movement for paid family leave is gaining momentum. In its annual survey, the Unheard Third, CSS found 84 percent approval for paid family leave last year, up from 76 percent in 2005. Even President Obama mentioned it in his State of the Union address this year and is attempting to pass the Healthy Families Act which would create a $2 billion fund to help states with paid family leave.
"It goes beyond policy to a basic value," said Rankin. "Why wouldn't we do this and why wouldn't we do it now?"
***
by Samar Khurshid, Gotham Gazette
@samarkhurshid