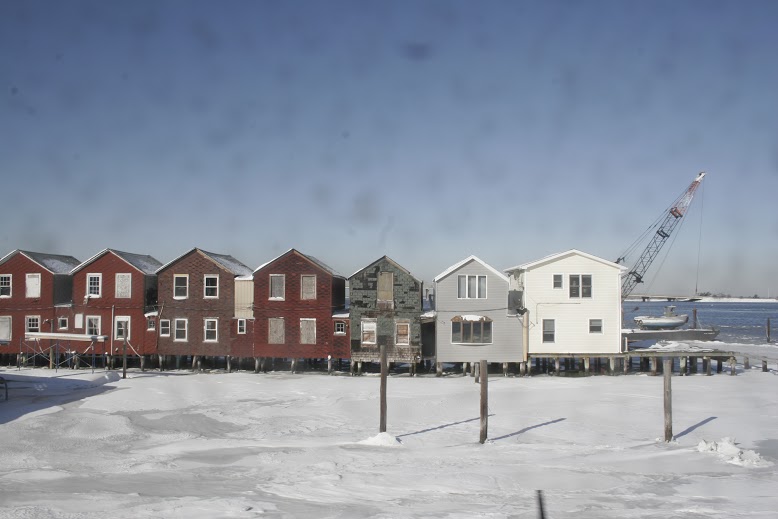 Homes in the Rockaways (photo: Samar Khurshid)
---
New Yorkers were exposed to the harsh realities of climate change when Superstorm Sandy hit more than two years ago. Those living in coastal neighborhoods like Coney Island and the Rockaways are struggling to deal with the mounting impacts of climate change. But now it's not just the storms they fear, it's the rising cost of flood insurance that threatens to drown them.
Come next year, revised flood zone maps issued by the Federal Emergency Management Agency (FEMA) go into effect, expanding the amount of land considered at high-risk of flooding. The new maps will include roughly 60,000 more buildings, according to an analysis by the City Comptroller's office. The city's high-risk flood zones will soon be home to 400,457 New Yorkers, an increase of 84% from the current 218,088.
The projected increase in flood insurance premiums is significant. For a typical home in the high-risk zones, insurance premiums could increase from around $1,000 in 2014 to nearly $14,500 by 2030.
Flood zones have expanded in every borough. The increase is particularly dramatic along the eastern and western edges of Staten Island, and in South Brooklyn and South Queens.
Looming affordability crisis
The central concern, shared by City and federal officials, community representatives and most importantly, residents, is the looming insurance affordability crisis. The future of low and middle-income communities in coastal areas throughout the city is now in question.
The effect of the projected insurance rate increases on homeowners will be "devastating," said Jonathan Gaska, district manager of Queens Community Board 14, which covers the Rockaways. "People are forced to make a decision to either raise their homes at an exorbitant price or paying a phenomenal amount of money for insurance," he said. While he believes the City is trying to help the locals stuck, he added, "The proof will be in the pudding."
Over one-third of homeowners in the City's high-risk zones have an annual household income of less than $75,000, reports the Center for New York City Neighborhoods, a non-profit working for affordable housing for New Yorkers.
The owners of multi-family buildings in the zones are also vulnerable. Two-thirds of tenants have a household annual income of less than $75,000.
"I'm really worried we're going to destroy the fabric of these communities," said City Council member Donovan Richards, a Democrat who represents the Rockaways. The Rockaways already have the third highest notice of foreclosure rate of any community in New York City's high-risk flood zones.
Calling housing foreclosures a "silent killer" of the community, Richards said, "It's a mixed community. As someone who lived there, in Ocean Village, paying $860 for a two-bedroom that overlooked the beach, I'm fighting to ensure that these people are protected. I want everyday people to be able to have a beautiful view without being billionaires," he said.
Rising waters, rising insurance
Homeowners in the city's greatly expanded high-risk zones will be required to purchase flood insurance (either through the National Flood Insurance Program administered by FEMA or through private insurance providers) if they meet certain federal criteria. For instance, if they have received FEMA assistance in the past, if they have a federally-backed mortgage, if they received a Small Business Administration Disaster Loan or if they are registered with the City's Build It Back Sandy-recovery program.
For those already on insurance plans, their rates are set to increase owing to legislative changes in the last three years.
Almost two-thirds of the owner-occupied housing units in the high-risk zones have mortgages, says the CNYCN. Homeowners with mortgages who refuse to purchase insurance are usually subject to force-placed insurance where their lender purchases a policy and passes the cost on to them. Those who cannot pay have little choice but to sell their homes.
Why are insurance rates going up? Federal legislation, the Biggert-Waters Flood Insurance Reform Act of 2012, has reduced government subsidies on insurance in order to make the NFIP financially viable.
"I've lived here a little over fifteen years but if the rates went up, I'd move out of state," said Rockaway Park homeowner Paul Fitzgerald, 56, a retired Fire Department Captain who lives in a single-family home with his wife. "The taxes are already killing me. I'd move to a Red state. Costs are going higher and higher here and it's very difficult to get by." Fitzgerald has heard rumors of the insurance rate premiums increasing, but so far he has no clarity on how much he may have to pay. He currently pays around $2,000 a year.
The Rockaways are home to many retirees like Fitzgerald and his wife. Living on a fixed income, they'd be among the hardest hit. According to the City, 22 percent of housing units on the Rockaway Peninsula are occupied by senior citizens, aged 65 and older. Almost forty percent of the peninsula's population receives some form of government "income support" such as cash assistance, Supplemental Security Income, or Medicaid.
There's a lot more to this story:
To read the rest of this article, visit New York Environment Report
***
by Samar Khurshid for Gotham Gazette and New York Environment Report
@samarkhurshid
@NYEnvironment
@GothamGazette