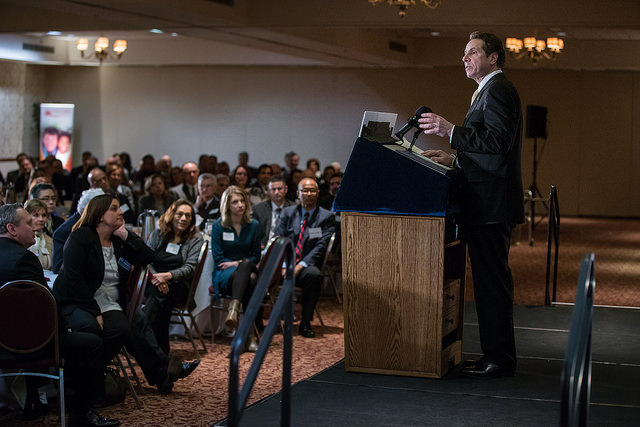 Governor Cuomo (photo: Governor's Office via flickr)
---
A room full of high school students was answering questions on an excerpt from Stephen Hawking's "The (Elusive) Theory of Everything." The result of the exam could significantly affect their academic future. Also hanging in the balance: the evaluation their English teacher would receive - as well as those to be received by their art, Spanish and music teachers.
"The test is designed to fail both us and the students," said English teacher Jennifer Onopa. In January, her 10th graders were among students across New York who took a Common Core-aligned English Regents exam consisting mostly of science-based reading passages. And, because of a twist in the law, teachers of subjects not tested by the State would also see a portion of their fates decided by the students' scores.
New York's teachers and students are caught in the middle of a political battle. As the April 1 deadline for the state budget approaches, Governor Andrew Cuomo does not seem ready to compromise on his education reform demands, which include shifts to teacher evaluations and tenure rules. On the other side, teachers unions and their political allies are also holding their ground, rebuking the governor's agenda.
The ongoing and contentious debate around overhauling the system of teacher evaluations is likely to extend beyond budget negotiations and into the legislative session to follow.
Changes to the evaluation system would affect how New York's public school teachers are measured, when they earn tenure, and whether they are fired. To pressure state legislators to accept the changes he wants, Cuomo is using education funding as a bargaining chip. The governor is making a $1.1 billion increase in education spending in the state budget contingent on his reforms, which include raising the significance of test scores in teacher evaluations and extending the probationary period before tenure is granted. If the state Legislature rejects his changes, funding for schools would increase by markedly less: $337 million. If an evaluation system overhaul is pushed post-budget, it is unclear what the funding level might be.
In his January State of the State Address, Cuomo called the current evaluation system "baloney." He highlighted the discrepancy between only 38 percent of New York high school students being college ready while 96 percent of teachers were rated "effective" or "highly effective."
Under the current system, 60 percent of teachers' evaluations are based on classroom observations by internal evaluators. These observations are usually done by the school's principal, taking into account the many qualitative aspects of teaching. Based on the Danielson Framework, evaluators look at factors such as a teacher's knowledge of their subject, effective communication with students, and creating a classroom environment of respect.
State standardized tests currently count for 20 percent of the evaluation. The remaining 20 percent is based on local measures, such as school or district-based exams. Under the revisions Cuomo proposed in January, 50 percent of a teacher's evaluation would be based on state standardized tests. The weight of internal observations would decrease to 15 percent and 35 percent would depend on external observers, though it is not clear who those observers would be. Use of local measures would be eliminated.
On tenure reform, Cuomo is calling for a system whereby a teacher would have to be rated "qualified" for five consecutive years, instead of three, to obtain tenure status. An "unqualified" rating for two consecutive years could get a teacher fired.
Teachers' unions oppose the governor's proposed reforms. New York Mayor Bill de Blasio, New York City Schools Chancellor Carmen Fariña, and Democrats in the state Legislature, especially the Democratically-dominated Assembly, are also against the changes. During a February budget hearing in Albany, Fariña explained her opposition, saying, "I was a teacher for more than 20 years and if I was only measured in test scores, that would have only been a little bit of my work."
As Fariña pointed out, Cuomo's reforms risk making teachers' evaluations even less representative of the actual quality of the teaching. With 50 percent of their evaluation on the line, teachers may increasingly focus their teaching on students' performance on standardized tests. An added emphasis on teaching to the test would, many argue, greatly compromise the qualitative aspects of teaching.
Teachers like Onopo, as well as parents, are also questioning the content and difficulty level of the state exams, particularly under the new Common Core standards. These factors are leading more and more parents to have their children "opt out" of standardized tests. Cuomo's proposal seems inconsistent with the public mood of increasing opposition to Common Core standardized tests. This is reflected in the latest Quinnipiac University poll, which shows that only 28 percent of voters approve of the governor's handling of education. The poll also showed that voters trust the teachers unions more than Cuomo to improve education.
The new evaluation criteria could potentially put the most pressure on teachers of English Language Learners. Around 14 percent of students in New York City are categorized as ELLs. As non-native English speakers routinely score lower on English standardized tests, the evaluations of those teaching ELLs across the state would suffer for reasons unconnected to their teaching. This would be a huge disincentive for those considering teaching in schools with high proportions of ELLs.
A further complication is that state standardized tests are not administered for all subjects and grades. While there are exams for English, Science, Mathematics, and Social Studies, there are no standardized tests for art, music, drama, physical education or foreign languages. Presently, 20 percent of the evaluation of teachers of these classes is based on exams for subjects that they do not teach. With the weight for standardized tests increasing to 50 percent, their job could largely depend on someone else's work. "If this were any other profession, there would be rebellion," says English and Drama teacher Jason Zanitsch. "If you took the word 'education' out of the equation and proposed this in any business in the country, people would dismiss it out of hand."
Along the lines of what Zanitsch envisions, teachers and their allies have been repeatedly protesting Cuomo's policies in Albany and elsewhere.
The governor's plan is not clear on how teachers of non-tested subjects would be evaluated. Teachers fear a situation where half of an art teacher's evaluation would hinge on student performance on a science exam. "This thing that I know, that I've dedicated my career to, can make a huge difference in people's lives...They're saying that what matters is the math score," says music teacher Eric Dalio.
The current evaluation system certainly has flaws. Principals are often overburdened and unable to properly conduct classroom observations. And few objective observers would believe that only 1 percent of the state's teachers are "ineffective." Teachers unions have become extremely powerful, making it difficult to remove even the least competent teachers. Instead of acknowledging flaws in the system, unions are adopting a largely combative approach.
Cuomo has called public education "the great discriminator," with separate systems for the rich and poor. However, the governor's financial ultimatum is putting already disadvantaged students in a lose-lose situation. If school funding is not increased in the budget, these students would be the most affected. While some schools can draw on donations from parents, schools with students from lower income families often rely entirely on public funding.
Zanitsch says his school, where most students are from low-income families, is owed $1.3 million in funding from federal Race to the Top programming and the New York Campaign for Fiscal Equity court ruling. "$1.3 million would mean five teachers, all our after-school funding, iPads for every student. That much money is transformational," he explains. On the other hand, if the evaluation reforms are passed, struggling schools could lose good teachers who would be reluctant to teach where students do not perform well on standardized tests.
With negotiations ongoing, there is uncertainty and unease among educators. It already appears to be taking a toll. As Dalio explains, "It makes it frustrating to come to work and do what I love."
***
Zehra Rehman is pursuing a graduate degree in Journalism and International Relations at NYU.
@GothamGazette