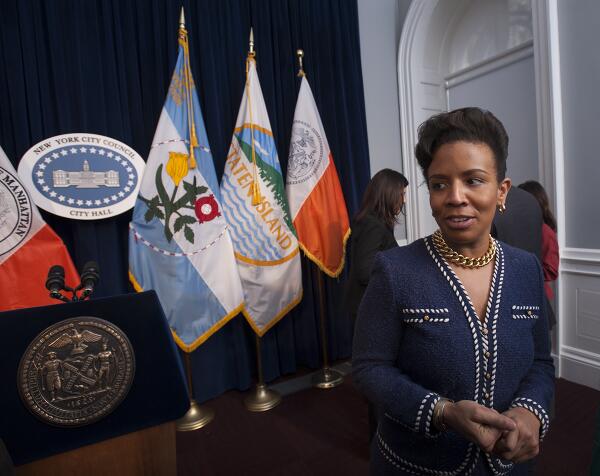 Council Member Laurie Cumbo (photo: William Alatriste)
---
In one of Brooklyn's most rapidly changing districts, where brownstones sell for millions of dollars around the corner from deteriorating public housing complexes, Council Member Laurie Cumbo believes that arts and culture can be a unifying factor.
"The whole purpose of humanity is to create culture and to advance culture. So it can't be separated from all of the other priorities," Cumbo said during an interview in her legislative office. "If you're not creating culture there's very little purpose to life in a way."
This idea has motivated Cumbo for decades, but during her first year in the City Council she's had a bigger platform than ever before to help put it into action. Since taking office in January, 2014, Cumbo quickly established herself as a vocal member, in part as chair of the Women's Issues Committee. Having founded the Museum of Contemporary African Diasporan Arts (MoCADA) and worked at several other city cultural institutions, Cumbo, 40, is now seen as one of the strongest arts supporters on the Council.
Last year, Cumbo contributed more than half of her capital budget to a larger $22 million investment in her district's cultural institutions by the de Blasio administration and other elected officials. Out of the more than $4 million that Cumbo spent, $1.4 million was for MoCADA. This move drew some charges of favoritism, though Cumbo said it was all part of a broader mission for her 35th Council District.
The district - comprised of Fort Greene, Clinton Hill and Prospect Heights, as well as parts of Crown Heights and Bedford-Stuyvesant - has seen some of the most rapid gentrification in the city.
"Brooklyn is a victim of its own success in the sense that we've become the hottest place on Earth and so as a result some 60,000 people want to move here every year," said Cumbo.
Dealing with these influxes has become one of Cumbo's toughest challenges. While excited about the new possibilities, she is also concerned about helping Brooklyn's longtime residents too. Recent comments at a Council hearing about the perception that "blocs" of new Asian residents were getting preference for NYCHA housing over local residents caused some controversy. Cumbo later apologized - not the first time she's had to so for similar racially-charged statements - and said that she "embraces" all new residents.
"She's really concerned about people not getting shut out in the prosperity that's happening in Brooklyn," said Aaron Zimmerman, a longtime colleague and executive director of the New York Writers Coalition.
With her district among those at the center of the city's changing landscape, and Mayor de Blasio's affordable housing plan set to create even more density, Cumbo has a formidable task. She has tried to strike a balance by helping fund new projects to encourage cultural tourism - such as the Brooklyn Academy of Music's expansion - while also moving money toward auditorium renovations and new technology for local schools.
Growing up in East Flatbush, Cumbo got an early appreciation of how the arts can give people a connection to life outside their neighborhoods. Her mother was an opera singer and worked at Lincoln Center, her father created mixed media art pieces, and her brother was a photographer who once had his own gallery in Tribeca. Interning at the Metropolitan Museum of Art when she was 15 further inspired Cumbo to pursue her own artistic interests.
Later, Cumbo saw black artists underrepresented in Brooklyn and decided to change that by starting a new museum to feature their work and help educate the surrounding community. She wrote a proposal to found the museum for her master's thesis in Visual Arts Administration at NYU's Steinhardt School. In 1999, with limited funding from friends and family, MoCADA was born.
It started as a small operation in a Bedford-Stuyvesant brownstone and eventually moved into a larger, more visible Fort Greene location in 2006. Over more than 12 years, with funding from elected officials and private foundations, Cumbo expanded MoCADA beyond its gallery space. The organization holds film festivals in parks, teaches art in schools, hosts cultural events at local community centers and more. She also displayed controversial pieces about subjects such as gentrification and police brutality, which sparked debate due to the museum receiving some city funding.
In 2008, the piece "The Blue Wall of Violence" by an artist who calls himself Dread Scott drew particular outrage. Target practice silhouettes and corresponding dates were posted on a wall to represent the specific deaths of unarmed men at the hands of police officers. Each silhouette held items - a set of keys, a candy bar, a squeegee - that police said they mistook for weapons in each incident. Underneath all of this lay a coffin with mechanized batons banging on it.
Some newspapers and police union officials denounced the piece, but Cumbo refused to take it down.
When asked by a reporter from community paper The Local in 2010 whether she intentionally chose provocative exhibits, Cumbo said she was responding to real life events.
"You can't have a man in the Bronx shot by police with 41 bullets and have an exhibition on quilt making," she said, in reference to the 1999 shooting of Amadou Diallo.
[Related: The City Council Definition of Women's Issues]
In 2012, Cumbo stepped down from her duties at MoCADA to run for now-Public Advocate Letitia James' council seat. Cumbo wouldn't elaborate on the specifics of her decision to run, but it's clear that she wanted a larger forum than MoCADA's gallery to share her ideas about Brooklyn's future.
She beat four challengers in the 2013 Democratic primary - winning 36 percent of the vote by a margin of almost 10 points - and ran unopposed in the general election to become the 35th District's newest representative.
There were questions about whether Cumbo would be ready to handle issues outside of the art world, but she said that wasn't a problem because of the connections she'd made from more than a decade of networking in Brooklyn.
"If you're in the art world, they feel like you're in this bubble that's disconnected from the rest of the world," said Cumbo. "But if you're doing your job right you're integrated in every aspect of society."
Some areas of her new job have come easier than others. Participating in a Council "die-in" inspired by a non-indictment in the Eric Garner case and co-sponsoring the "Right to Know Act" fall in line with Cumbo's past comments on policing. Her former and frequent comments against gentrification have made contentious discussions about upzoning in Crown Heights even more challenging.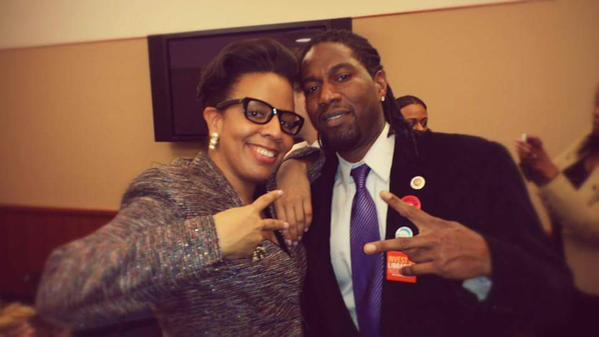 CMs Cumbo & Williams (photo: @JumaaneWilliams)
Overall, Cumbo claims to have had a successful first year. She passed her first bill, which will require annual reports on graduation rates of foster children to help track their success after high school. Cumbo also worked with other council members to allocate funds to anti-domestic violence programs and restore money for 57 NYCHA community centers during budget negotiations, she said.
Cumbo points to these community centers, and their extended summer hours, as a key part of reducing violence in NYCHA complexes. In what she said is an example of culture helping in unconventional ways, Cumbo and her staff spent multiple nights last year playing games, showing movies, and doing other activities at the Ingersoll Community Center. In December, Mayor de Blasio announced that crime at the Ingersoll Houses had dropped by 18 percent.
While Cumbo attributes some of that success to her efforts, she agrees that more funding is needed to continue improving her district's NYCHA buildings.
"You know, you have to make choices," she said. "You have to see things holistically in the sense that last year I had a strong focus on art and culture. This year I'm going to have a stronger focus on NYCHA developments."
Even with these new plans, Cumbo can't help but gravitate back to the art world. At the beginning of March, she hosted her first State of the District event at the Brooklyn Museum. Nearly 20 years ago she was an intern at the museum. Now she has the power to allocate hundreds of thousands of dollar to it.
On a snowy Sunday afternoon, nearly 100 people came to hear about Cumbo's first-year accomplishments and plans for the year ahead. Among the guests were Senator Charles Schumer, Public Advocate Letitia James, Speaker Melissa Mark-Viverito, and other council members.
Amid jokes about her colorful fashion sense and attention to detail, Cumbo also received plenty of praise from her colleagues.
"Everyone said Laurie had some big shoes to fill. That's not true. Laurie had her own shoes," said Public Advocate James, Cumbo's predecessor. "Her shoes have been much higher and much fiercer than mine. So she has blazed her own trail."
Her cultural focus was also emphasized by a longtime colleague and mentor.
"The arts are so critical to our city, to our country, to our society," said Ella Weiss, president of the Brooklyn Arts Council. "We have to feed people, we have to house people, but we also have to nurture the soul."
Cumbo couldn't confirm future plans until her discretionary and capital funds are finalized in the city's Fiscal Year 2016 budget, but she gave a preview of what's on the agenda. MoCADA will be moving into the new "BAM South" tower, which is currently under construction, ensuring a permanent home for her creation. Other ideas range from a large-scale renovation of the Bedford Union Armory in Crown Heights to reopening the Walt Whitman Community Center to allowing women temporary leave after they give birth in prison.
Many of these ideas are ambitious, and will take plenty of time and money, but Cumbo is undeterred.
"All we can do is keep working in the right direction," she said. "If we can do it here in New York then it can happen anywhere."
[Related: The City Council Definition of Women's Issues]
***
by Cole Rosengren, Gotham Gazette
@ColeRosengrenNY