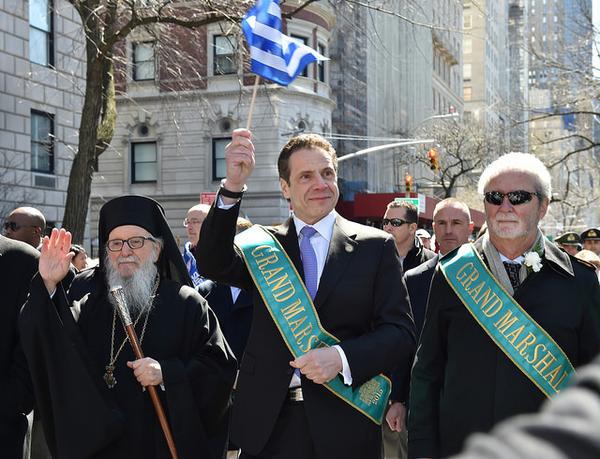 Gov. Cuomo during Sunday's Greek Independence parade (photo: @NYGovCuomo)
---
Voting on a murky budget "framework" began in Albany on Monday evening under a cloud of confusion and anger. Debate in both houses of the state Legislature stretched from afternoon into evening, with the Assembly adjourning around 9 and the Senate around 10 p.m. Both will be back to finish voting on budget bills Tuesday morning - legslation that members mostly have not had a chance to read.
As Gov. Andrew Cuomo and legislators sprint to an on-time budget, frustration at the Capitol is clear. Budget agreements were things to be grandly celebrated during the first three years of Cuomo's tenure, now in its fifth year. But the past two deals have oozed out with little fanfare and plenty of criticism.
Last year Cuomo went over a deal with reporters on a Saturday conference call, quietly revealing he had agreed to shutter The Moreland Commission on Public Corruption. This year, a Sunday announcement of the "framework" of a deal by Cuomo's office appeared premature on Monday when no formal press conference was held and legislators involved in discussions said that a number of areas were still under negotiation.
In the rush to ensure a fifth straight on-time budget before the April 1 deadline, Cuomo even issued messages of necessity to expedite the passage of the bills and allow them to be voted on without the required three-day review window - something he had tried to avoid previously in an effort to escape criticism.
On Monday evening rank-and-file legislators were unclear on exactly what they were being asked to vote on. State Senator John DeFranciso. who helped author a much-touted ethics agreement, admitted it would only be available for review for a few hours before legislators from both chambers would vote on it.
The ethics package isn't alone. A little past 8:30 p.m. on Monday, Sen. Kemp Hannon said that the capital projects portion of the budget was still being negotiated. As of 9 p.m. legislators still hadn't been provided with education runs that show how state cash will be distributed to school districts. It is unclear if key education policies have fully been agreed upon.
"This budget is shaping up to being nothing more than a glorified extender," Sen. Michael Gianaris said on the floor on Monday. Senate Democrats voted against the budget bills because their leader, Sen. Andrea Stewart-Cousins, has been left out of budget negotiations and because the budget was bereft of so many pertinent issues Democrats had been fighting for, such as the DREAM Act.
Blair Horner, of New York Public Interest Research Group, said that it wasn't exactly surprising the budget was so thin on details, even this late in the game. He noted that Assembly Speaker Carl Heastie is negotiating his first budget, Cuomo has a new second term staff, and Senate Republicans are trying to maintain a "razor-thin majority."
After the arrest of Assembly Speaker Sheldon Silver on federal corruption charges earlier this year Cuomo said he was so set on getting a new set of ethics reforms that he would even sacrifice an on-time budget. But with public opinion turning against him, especially around his handling of education reform, Cuomo and legislators appeared to abandon some of the other policy pieces he had touted. Gone from a final budget deal are an increase to the minimum wage, grand jury reform, the 'raise the age' initiative, an extension of mayoral control of schools, raising the charter school cap, an education donation tax credit, the DREAM Act, and paid family leave. The two minorities - Senate Democrats and Assembly Republicans - attempted a number of hostile amendments to derail the deal, or at least poke holes in it.
What is in the budget agreement appears to be a $1.6 billion increase in education spending, a new plan for revamping the teacher evaluation system through the state education department, $1.5 million in funds for upstate economic development, infrastructure expenditures, and state operational spending capped at an increase of 2 percent.
Mayor Bill de Blasio praised the education funding included in the budget on Monday, but noted he would like to have seen more action on progressive issues. "I think I made my views known on mayoral control of education, I made my views known on the Dream Act. I was hoping both of those issues would be addressed here and now, but they have been postponed," de Blasio said during a press conference on Monday. "We'll obviously continue our efforts to get the Dream Act passed and mayoral control of schools renewed for a substantial period of time."
A Capital New York report that the budget all of a sudden included a sales-tax exemption for boats that cost over $230,000 (and private planes) became the talk of the capital as legislators prepared to vote on the budget bills that had been settled. Many legislators hammered away at the "yacht exemption" as they noted the budget does not include a DREAM Act or minimum wage. Many still voted for it.
Grievances about what is or is not in the mysterious ethics bill were also aired. The deal appeared to involve a mandate that lawyer-legislators disclose clients who pay them more than $5,000, but they would be allowed to appeal to state agencies to not make certain disclosures. Legislators will also be forced to check in to the Capitol with a swipe card to earn their per diem travel reimbursements.
The irony of an ethics reform bill being among the last to be seen as the budget is being passed through was not lost on many. Meanwhile, during a floor vote on budget bills in the Senate, Sen. Daniel Squadron questioned DeFranciso about whether the missing ethics bill would close the LLC "loophole" that allows one person to donate unlimited campaign funds by using multiple LLCs. DeFranciso admitted the provision would not be part of the bill but took exception to the "loophole" label.
"The LLC loophole is unconscionable to leave out of this year's budget at a time when ethics reform has been put forward as necessity," Squadron told legislators. Later, Sen. Brad Hoylman wryly suggested, "Maybe we should call this the New York State Senate LLC exception." Both the Democratic-controlled Assembly and Cuomo had advocated for ending the loophole. Sources told Gotham Gazette the provision was removed at the behest of Senate Republicans.
Attorney General Eric Schneiderman slammed the ethics package earlier Monday. Schneiderman is advocating major reform of the Legislature - including making it a full-time body. "I have not seen the final copy of this, but, from what I understand, it does sound as though this is more tinkering around the edges, accompanied by some fairly strong and recycled language about how this really solves all the problems."
Floor debate in the Senate also revealed that Senators, even from the majority involved in negotiations had no knowledge of major policy details. Democratic Sen. Liz Krueger asked DeFrancisco, a Republican, about the state's brownfields program and DeFrancisco admitted he had no knowledge of the final details and said he would get an "analyst" to answer Krueger's inquiry. "I can't intelligently give you an answer on that question," DeFrancisco said. Krueger said she "sympathized" with DeFrancisco because so much was unfinished in the budget. "We are voting on a budget that isn't a budget; budget bills that aren't budget bills," said Krueger.
Horner said that it was "mind-boggling" even by Albany standards that "an agreement to open up Albany would be delivered under darkness with so much secrecy."
Senate Democrats, who have been increasingly critical of Cuomo in public in the last few months, simultaneously congratulated Schneiderman for his work securing settlements with major banks on mortgage fraud and contributing to the state windfall while decrying the budget deal Cuomo negotiated for not using those funds to help neighborhoods hit hard by the foreclosure crisis.
Democratic Senators Adriano Espaillat and Leroy Comrie both lamented a lack of help for those in mortgage crisis in their districts.
In the days leading up to the budget vote - including Monday - Cuomo faced blistering, unrelenting attacks from teachers unions and some parent groups on his plan to change teacher evaluations to rely more on students' state test scores and to boost charter schools. New Assembly Speaker Carl Heastie won accolades from education lobbyists for standing up to Cuomo on education issues, while Senate Republicans appear to have come out the biggest winners as they stymied any effort to move major progressive issues. Meanwhile, Cuomo's mystique as a man who can move mountains and votes to achieve his policy goals has been all but exterminated. "Mario Cuomo said that in politics friends are scarce and enemies accumulate," said Horner.
Cuomo admitted this year's budget was the toughest for him to negotiate, pointing to his push for major ethics and education reforms.
"It isn't surprising Andrew had so much success in his first term - first-term governors tend to get what they want and he had allies spending money to defend him," Horner said. This year, Horner said Cuomo was operating with a new team of aides, with his list of enemies growing, and without organizations like the controversial Committee to Save New York that raised funds at his behest to run advertisements to support his policies.
Cuomo also lost much credibility with reform groups when he decided to negotiate the end of Moreland with legislators. This year he is seeing the impact - good government groups have thrown their backing behind Schneiderman's ethics plan and are dismissing an ethics framework Cuomo says will "address intractable problems that have vexed our state for generations," because they have seen him tout previous deals that ended up fragmented and loaded with loopholes.
"We are waiting to see the plan to cast official judgement," Horner said of NYPIRG and other good government groups. "We've seen in the past that we will be told one thing only to see the language in the bill is the exact opposite."
****
by David King, Albany editor, Gotham Gazette
@DavidHowardKing