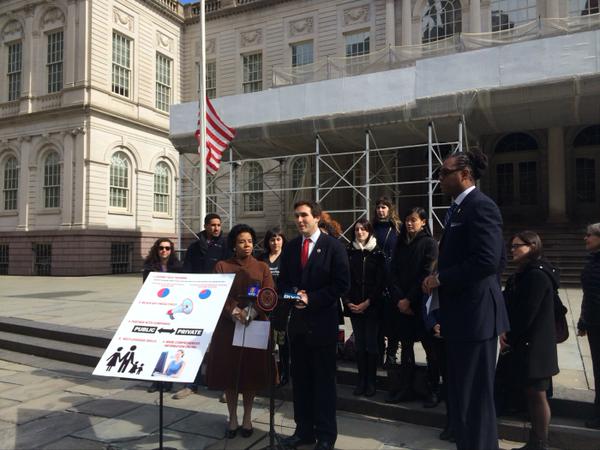 Council Members Kallos (middle), Cumbo (left), & Cornegy (photo: @BenKallos)
---
NEW YORK - City Council Members Ben Kallos, Laurie Cumbo, and Robert Cornegy today introduced a bill and five-point plan to help working parents re-enter the workforce after temporary disruptions in employment.
The proposed legislation, of which Kallos is the lead sponsor and he introduced at the Council's Stated Meeting, would expand the city's "Workforce1" job training program and provide additional online resources for parents returning to work.
The five-point plan calls for training in technology, partnerships between public agencies and private companies, resume assistance, a proactive outreach campaign to spread the word about job training, and more online information for parents.
The council members announced the legislation earlier Tuesday at a press conference in front of City Hall, backed by supporters from women's rights groups. On the last day of Women's "Her-story" Month, said Council Member Cumbo, "We must recommit to the struggle that women face daily." Cumbo chairs the council's women's issues committee. She called attention to issues of gender pay equity, the lack of a paid family leave law at the state and federal levels, and the limited resources to help new parents transition back to work, all of which contribute to the loss of a "critical braintrust."
"Parent's should have our city's full support when they choose to return [to work]," Cumbo said.
The council members appear to be responding to a critical issue. Nearly 40 percent of women took significant time off for family-related reasons, as did 24 percent of men, according to the Pew Center for Research. Only 10 percent of men quit their jobs while 27 percent of women quit for those reasons. For 31 percent of mothers, time off hurt their careers; 18 percent of men felt the same.
"The fight for gender equity cannot be confined to just one month," said Council Member Kallos, echoing Cumbo's sentiment. "We must fight for gender equity every day of the year."
Kallos stressed the diversity of stay-at-home parents, who span all socio-economic classes and races, and the potential impact on the local economy from facilitating the transition back to the workforce. "We envision a city where any parent is confident that he or she has the support necessary to reenter the workforce and does not need to struggle to do so," he said.
The Workforce1 program's 18 career centers helped 40,000 people get jobs in 2013, according to Center for an Urban Future. Kallos hopes to increase the number next year by expanding the program with more technological training and making it a "one-stop shop for information and training, not just a way to connect to in-person resources."
Erica Cohen, a young parent and graduate student, worked with Kallos on this campaign. She has been unemployed for five years and has found it tough to find a job while being the primary caregiver for her daughter. "There are some skills that I don't have or I'm rusty at and I think any re-entry program that can help me with those skills and help me with the unique obstacles of returning to work," she said. "Whether you're a stay-at-home mother or father, there are unique challenges, I think this plan would help parents with these unique obstacles."
Council Member Robert Cornegy Jr. has been a strong supporter of women's equity and gender issues, and he is also chair of the Council's small business committee. Last year, Cornegy created the first community lactation station in his office in Bedford-Stuyvesant for mothers to breastfeed their infants in private. Today's bill, he said "acknowledges that the barriers that (women) face are real and have real consequence for their present economic security and their futures."
Representatives from advocacy groups including the Women's City Club of New York, The Lower Eastside Girls Club, Planned Parenthood, NARAL Pro Choice, and New York Communities for Change also showed their support for the proposals.
***
by Samar Khurshid, Gotham Gazette
@samarkhurshid