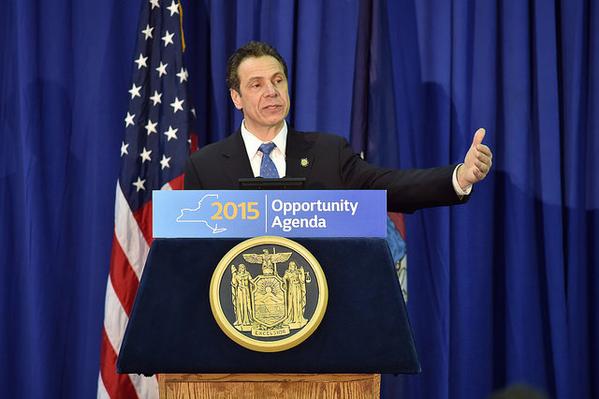 Governor Cuomo (photo: @NYGovCuomo)
---
As state budget negotiations delivered a new deal, Gov. Andrew Cuomo was willing to drop many priorities from his spending plan, several of which are of great importance to New York City officials, including his sometime friend Mayor Bill de Blasio.
With adoption of the state's fiscal year 2016 budget, a host of progressive issues de Blasio and his allies touted were abandoned. Both Cuomo and the Democratic Assembly Majority headed by new Speaker Carl Heastie listed a host of major progressive touchstones in their budget proposals this year, such as paid family leave, a minimum wage increase, the DREAM Act, and more. Cuomo draped himself in several of these issues while campaigning in the city in 2014 and they were key parts to the budget plan he labeled the "2015 Opportunity Agenda."
And yet the 2016 budget lacks most of the progressive punch that Cuomo cloaked his budget proposal in. Insiders say that his budget negotiating powers were hampered by the fact that Cuomo's influence has been significantly damaged by a rough election and recent ethics scandals, and that the governor focused what political capital he had on education reforms and an ethics deal that has been dismissed by good government groups as "window dressing."
Meanwhile, Heastie, who enjoys de Blasio's backing, was new to negotiations and was focused on fighting Cuomo's education agenda. Senate Republicans dug in against progressive issues, bolstered by the success they had during the last election where many of their candidates ran against the DREAM Act. They were also motivated by spite of de Blasio, who publicly vowed to defeat them and tip the chamber into Democratic hands. Also pushed into legislative session beyond the budget is mayoral control of schools, which de Blasio asked be made permanent and Cuomo suggested a three-year extension of - during his closing remarks to the chamber on Tuesday night, Republican Majority Leader Dean Skelos ominously remarked that Senate Republicans would consider "how and if" to renew mayoral control.
In the end, contentious debates were mostly abandoned for the sake of an on-time budget. Without the leverage of budget negotiations it is questionable whether many of the larger issues will be addressed later in legislative session, which runs until mid-June.
Legislators from the city were hopeful that 2015 would be a major year for their issues, like the DREAM Act, despite the fact that Senate Republicans managed to win a clear, although narrow majority.
Assembly Members defended the budget deal, publicly supporting Heastie, but many of them acknowledged they were voting for it while holding their noses. Senate Democrats unleashed a host of hostile amendments trying to attach legislation including The DREAM Act, a minimum wage increase, and paid family leave. All of the measures were ruled non-germane.
A look at the major issues important to de Blasio and other city officials that were not addressed in the budget despite being pushed previously by Cuomo and Assembly Democrats:
Paid Family Leave
Perhaps no other issue this year better represents the odd political dynamics at play during budget negotiations. On paid family leave, it's unclear who really wants what and what they are actually willing to do to get it. The issue became a surprise budget touchpoint when Senate Republicans included it in their one-house budget as a hat tip to their partners in the Independent Democratic Conference. The Assembly has been pushing it for years. Republicans are keen to keep the IDC happy as they only enjoy a one-member Senate majority and have members who are under federal investigation, who are considering retirement, who are dealing with health issues, and who may be vulnerable in 2016.
Paid family leave calls for new parents and those taking care of sick relatives to have several weeks of paid leave from their work. Different plans outlined different parameters, including where funding would come from - Cuomo did not include the measure in his budget and seemed caught off guard when it was included in the one-house spending plans of each chamber of the Legislature.
Cuomo claimed the Legislature had "no appetite" for the measure in February. Later he said his office would have to study the issue. Most legislators agree that it was never really at play in budget negotiations. Needless to say, it is favored by de Blasio and most New York City Democrats.
On Tuesday Queens Senator Joseph Addabbo tried to introduce a hostile amendment in his chamber mirroring the Assembly's plan, which is more generous than the Senate's. The amendment was struck down.
Mayoral Control of Schools
With Cuomo supporting a three-year extension and the Assembly supporting seven, even a number of Republican lawmakers told Gotham Gazette earlier in the year that the renewal of mayoral control of schools would not be much of a fight. Diane Savino of the IDC old Gotham Gazette that the renewal should be fairly simple because Senate Republicans had renewed mayoral control before. However, at that time they were dealing with a Mayor (Bloomberg) who donated millions to their campaign accounts.
Senate Republicans feel de Blasio makes a great foil for them and they appear to at least want to make him sweat on mayoral control. Insiders say his push against Cuomo's education reform plan also put him in an even more vulnerable position in budget negotiations. It reasons that Cuomo himself doesn't mind pushing the mayoral control conversation down the line - he himself has called it still an "experiment."
"On something like mayoral control of education, where there's an extraordinary consensus that this is the only effective way to reform education, and the alternative is to go back to a system that was rife with corruption, we're going to win the day on that issue, I believe in my heart, regardless of things that happened last year," de Blasio told reporters on Monday.
DREAM Act
Proponents of the DREAM Act, including de Blasio and his close ally City Council Speaker Melissa Mark-Viverito, went into 2015 more hopeful than they had been in years. They had assurances Cuomo would make the DREAM Act part of his budget - and he did - but he tied it to the equally controversial education tax credit.
During his re-election campaign, Cuomo finally gave full-throated support to the DREAM proposal and would allocate $27 million to give undocumented immigrants access to tuition assistance. He used the issue on the campaign trail as though it was a major priority, and legislators and advocates had seen what Cuomo could do when he made something a priority (see marriage equality and the SAFE Act). Cuomo had successfully changed Republican minds to ensure passage of progressive legislation before, he could do it again. But as negotiations started, Republican Majority Leader Dean Skelos was adamant that he would not support the legislation despite it being linked to the education tax credit he supports. Skelos and his spokesperson repeatedly said he did not believe the State should pay for college for "illegal immigrants."
"We're nowhere close to an agreement," Cuomo said on March 24. "So it was pointless in the budget." And like that DREAM Act momentum was dead.
Activists are conducting a hunger strike and the measure will surely garner much attention in the coming weeks and months. And, Democrats plan to run on the issue in Republican districts where there are large Hispanic populations. But for this year, most Democrats agree the DREAM Act is dead because of opposition from Senate Republicans.
"Today is the birthday of the great labor leader Cesar Chavez," Sen. Jose Peralta, Senate sponsor of the DREAM Act, said on the floor of the Senate on Tuesday. "And we are still talking about a lack of respect for immigrants who come to this country, who work hard and live the American dream...here we go again another year and another budget without the DREAM Act, another year of intolerant propaganda."
Minimum Wage Hike
De Blasio, the Assembly and progressive advocates want a staggered minimum wage hike for the city that would reach $15 an hour by 2019. Cuomo favored $11.50 by 2017, with $10.50 for the rest of the state, and it looked to many like there would be room for negotiation. And yet, no raise has made it into the budget as Skelos again shut it down. The budget is likely the only place there would have been leverage sufficient enough to convince Senate Republicans to support it. Advocates for raising the wage have seized on the fact that the budget includes tax breaks for yachts and airplanes and no wage increase.
Criminal Justice Reforms
Changing the grand jury system and repairing police/community relations was at the top of the legislative to-do list at the start of the year. Protests over the chokehold death of Eric Garner at the hands of an NYPD officer and the murder of two NYPD officers dominated the headlines. Cuomo promised he would tackle the issue head-on and legislators from all over the state proposed solutions, including having more information released about how grand juries arrive at their decisions and bringing in special prosecutors for police-involved shootings. None of those proposals made it into the budget.
Cuomo's complex "Raise the Age" proposal that would have stopped New York from charging 16- and 17-year-olds as adults and would have made a number of changes to how young people accused of serious crimes are treated had been carefully interwoven into the budget. Resistance from Senate Republicans who want to prove tough on crime and Democrats who say Cuomo's proposal is ill-considered and would actually lead to juvenile offenders spending more time in jail appears to have derailed the measure in the budget. Funds for the initiative have been included, though, so the details of the plan could be worked out later in the year more easily than starting from scratch.
What The City Celebrates
On Monday, De Blasio celebrated the fact that the budget would allow the city the first crack to fix "failing" schools, a change to Cuomo's plan that would have let the state put those schools in receivership. "Per this budget agreement, the city will continue to play the primary role in determining the ways to best address those struggling schools," said de Blasio.
The mayor also expressed his pleasure with the large increase in education funding it will include, which again allows for $300 million toward pre-kindergarten in New York City. "We are certainly pleased with the additional funding for our school system, the additional funding for pre-K and for public housing, those are all steps in the right direction and will certainly help people in New York City," de Blasio said on Monday.
The New York City Housing Authority (NYCHA) will get $100 million in added funding - a major boost compared to previous years - and City Comptroller Scott Stringer will be required to more regularly audit the agency.
While the Legislature is on recess following the budget deal, expect a refreshed Albany agenda from de Blasio when legislative session begins in late April. Now, the mayor must adjust his city budget to reflect decisions the State has made.
***
by David King, Albany editor, Gotham Gazette
@DavidHowardKing