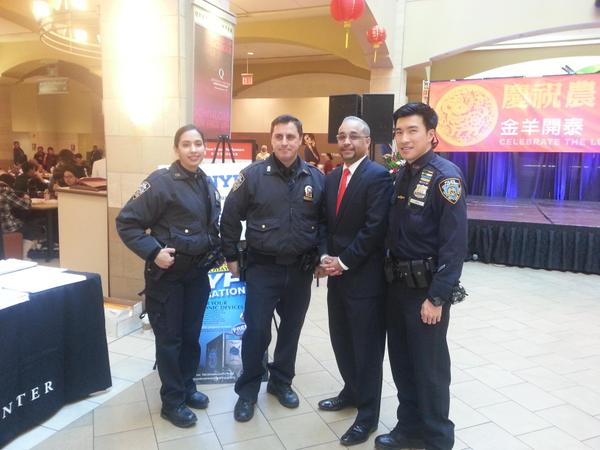 Sen. Jose Peralta with NYPD officers (photo: @SenatorPeralta)
---
A video of South Carolina Police Officer Michael Slager fatally shooting Walter Scott as he ran away appears to have relit the debate over criminal justice reform in New York.
The graphic video has reminded many advocates and legislators of the video that brought attention to the death of Eric Garner while he was being arrested by members of the NYPD on Staten Island in July. Police Officer Daniel Pantaleo, who could be seen in the video placing Garner in a chokehold, was not indicted by a grand jury.
Legislators say they expect reforms proposed earlier this year to be front and center when the Legislature returns from spring vacation later in April. Sen. Jose Peralta, a Democrat from Queens who has championed a number of criminal justice reforms, said that he was struck by how quickly South Carolina officials reacted to the video of the shooting.
"It makes me wonder why it took New York so long to act," Peralta told Gotham Gazette. "The South Carolina system acted immediately - they fired the officer and filed charges. Here it took a while for anyone to do anything. It took outcry. What better case to show the discrepancy between the criminal justice system of a supposedly progressive state like New York and a more conservative state."
Video of Garner's July 17 death circulated widely as many officials resisted passing judgement on whether Garner was murdered. His death was ruled a homicide by the city's medical examiner August 1. On August 19, Staten Island District Attorney Daniel Donovan announced a grand jury would hear charges against Pantaleo. The grand jury began hearing evidence September 29 and decided not to charge Pantaleo December 3.
In South Carolina, Slager shot walker on April 4; he was arrested and charged with murder April 7; and he was fired April 8.
After the grand jury decision in the Pantaleo case, protesters took to the streets across the country, especially in New York City, and an anti-police brutality, criminal justice reform movement continued to build in the aftermath of the deaths of Garner and Michael Brown, who was killed in Ferguson, MO.
New York politicians took notice.
Gov. Andrew Cuomo promised a "soup-to-nuts" review of the justice system and met with prominent leaders of the criminal justice reform movement, including Jay-Z and Russell Simmons. Simmons said Cuomo had promised to issue an executive order putting a special prosecutor in charge of cases where police kill unarmed civilians, Cuomo's office insisted the governor had simply promised to push for legislation to that effect. (On April 9, Simmons wrote an open letter to Cuomo expressing frustration over a lack of action.)
In the weeks that followed Cuomo's December promise of a review, hearings were held, some led by Democrats, others by Republicans; bills were proposed, and lines were drawn. And then a sort-of vortex opened up and swallowed the issue: Christmas, then former Gov. Mario Cuomo passed away on January 1 and Cuomo postponed his State of the State Address until later in January; the indictment of Assembly Speaker Sheldon Silver soon followed and Albany was thrown into chaos. Budget negotiations were on hold, set to heat up when the Assembly replaced Silver with Carl Heastie in February. Some of the proposed criminal justice reforms were included in ensuing budget negotiations but eventually dropped for expediency's sake.
"I was hopeful because of the dialogue we were having that New York would be a national leader on criminal justice reform," said Justine Luongo of The Legal Aid Society. "But I can't say I was surprised it didn't happen [in the budget] because so many critical reforms are needed."
Exactly why criminal justice reforms were dropped appears up for interpretation. Sen. Diane Savino, who has championed a bill that would create more transparency in grand jury deliberations, told Gotham Gazette that items were dropped from the budget where consensus already existed to save time. "I think there is a future for all of them," Savino said when asked what criminal justice reforms she thought would be in play when legislators return to session. "It will all be dealt with along with mayoral control and the minimum wage and everything else." Savino's bill was referred to the Senate's codes committee on January 15 and has seen no action since.
Luongo said she expects the debate over raising the age teens can be tried as adults in New York to be settled fairly quickly. Cuomo included the policy in the budget but it was dropped after concerns were raised about how it would be implemented. While policy must be negotiated, funding for the program did remain in the budget.
"Clearly we can't wait any longer," said Luongo. "The time must be right to make sure the system treats everyone fairly." Luongo noted that New York and North Carolina are the only two states that try 16- and 17-year-olds as adults.
"The promise of equal justice is a New York promise and it is an American promise. We are currently in the midst of a national problem where people are questioning our justice system," Cuomo said during his State of the State speech in January. "And they're questioning whether the justice system really is fairness for all. And whether the justice system really is colorblind. And that's not just New York, it's a problem all across the country."
In the speech, Cuomo proposed a fairly balanced set of policies, with some intended to please those concerned with police safety following the murder of two NYPD officers and with public safety in general. Those policies include creating a statewide commission on police and community relations, helping police departments hire more people of color, providing funding for bullet-proof glass and vests, allowing district attorneys to issue reports on what happened in closed-door grand juries involving police killings and allowing the governor to appoint an independent monitor to oversee the findings in such cases and then be able to appoint a special prosecutor.
Appointing a special prosecutors to such cases may be the most contentious issue regarding criminal justice reform. Advocates including The Legal Aid Society and a number of Democratic legislators have asked Cuomo to name Attorney General Eric Schneiderman as an independent monitor. That appears unlikely as Cuomo and Schneiderman are rivals, with Cuomo actually working to weaken the AG's reach since becoming governor. On December 8, Schneiderman asked Cuomo to issue an interim executive order allowing the AG's office to investigate and, if necessary, appoint a special prosecutor in cases where police kill unarmed civilians. "While several worthy legislative reforms have been proposed, the Governor has the power to act today to solve this problem," Schneiderman wrote. "I strongly encourage him to take action now."
Sen. Gustavo Rivera has said he plans to use parliamentary procedure in the Senate to force a vote on his bill that would put the AG in charge of cases where police kill unarmed civilians. Rivera requested committee consideration of the bill on March 20. Even if the bill comes to a vote it isn't clear Senate Republicans would go for it as many of them favor keeping local DAs in charge of the cases. The bill is much more likely to pass in teh Assmebly, where it has major support. Assembly Member Keith Wright is the bill's sponsor in that house.
A number of Democratic legislators said that they expect some form of special prosecutor legislation to get done but they aren't quite sure what it will look like in the end. Senate Republicans are looking to deliver on tax breaks and are facing major pressure on the education tax credit from religious groups who have even threatened to primary legislators if the bill doesn't get done. That could give Democrats some leverage when it comes time to negotiate criminal justice reforms - but, there are so many other major issues at stake for Democrats including a minimum wage increase, renewing mayoral control of schools, the sunset of rent laws, and The DREAM Act, that there is a chance that the debate could be overshadowed yet again.
"We really had a perfect storm that kept a lot of these issues in at bay," said Peralta "We had an overly ambitious executive budget and a lot of important things fell out, but now we have three months to get it all done. Its time to get to work."
***
by David King, Albany editor, Gotham Gazette
@DavidHowardKing