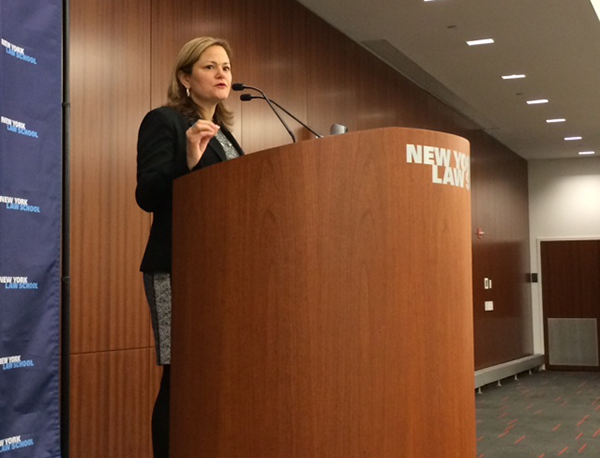 Speaker Mark-Viverito (photo: Ben Max)
---
NEW YORK - Lamenting a "simply unsustainable" status quo, City Council Speaker Melissa Mark-Viverito outlined changes she's pursuing to the city's criminal and civil justice systems in a speech Friday morning at New York Law School.
Attended by about 125 lawyers, law students, community activists, and civic leaders, the breakfast event provided Mark-Viverito an opportunity to reiterate some of the key proposals she and many of her council colleagues believe will create "justice for New York City," as her talk was titled.
"Other cities should take note of what we've done here in New York," Mark-Viverito said, touting work she and her colleagues have done to expand rights and protections for immigrants. Looking forward, she highlighted recently-introduced legislation to create an Office of the Civil Justice Coordinator, which, if created, will be charged with "ensuring adequate legal representation for every New Yorker." "When New York leads, others follow," she said.
The speaker framed her speech by referencing recent police killings of unarmed black men by white police officers in Ferguson, MO; New York City; and North Charelston, South Carolina.
Having spent a large portion of her February State of the City address on the same topic, Mark-Viverito did not offer any new proposals Friday, but spoke about the central tenents of her plan: expanded legal representation for New Yorkers in civil court; increased use of desk tickets and summonses over arrests for smaller infractions; a citywide fund to help those who can't afford bail; and an expanded NYPD headcount in order to enact "true community policing."
There was little dissent evident in the room Friday morning: a fairly lengthy question-and-answer session that followed Mark-Viverito's prepared remarks yielded only two instances of challenges to the speaker's reform agenda. One questioner asked why a city council "right to counsel" bill that has over 30 sponsors and would require a public defender for tenants in housing court who cannot afford an attorney is stalled. Another audience member asked Mark-Viverito how she can justify calling for an expansion of the NYPD force when aggressive broken-windows style policing is the norm.
On the former, Mark-Viverito said that the bill is still under consideration and is not "off the table." The speaker has expressed strong support for expanding funding to provide such legal representation to tenants facing eviction, but she has not moved the bill that would codify the practice. There remain questions over funding and about whether the City actually can legally extend such a right.
On the latter issue of expanding the NYPD, Mark-Viverito said "to demand reform and to demand more resources, [are] not mutually exclusive" and touted City Council efforts to create an inspector general of the NYPD and push other reforms, such as changes to stop-and-frisk practices. "Reform is needed," she added, saying that the NYPD is "not perfect," but that she is encouraged by greater collaboration among the Council, the NYPD, and communities. She added that "effective community policing needs more resources, not less."
***
by Ben Max, editor, Gotham Gazette
@tweetBenMax