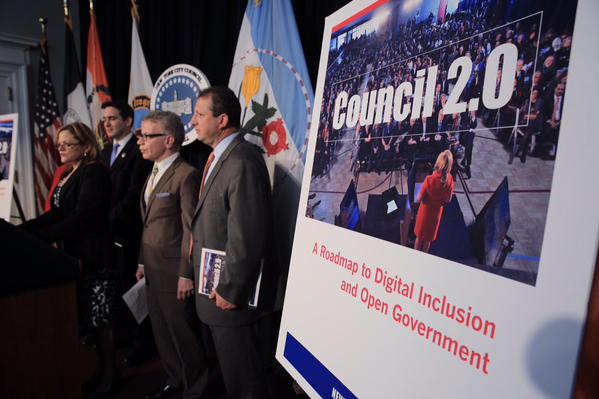 Council members unveil Council 2.0 (photo: William Alatriste)
---
NEW YORK - City Council Speaker Melissa Mark-Viverito and several council colleagues released today a civic technology plan aimed at making the legislative body more transparent while facilitating direct engagement with constituents.
The "public technology plan," dubbed Council 2.0, is being touted as a new "roadmap to digital inclusion and open government" and has origins as part of the Council's rules reform package enacted in May of 2014. "We want to meet people where they are digitally active and we want to expand the conversation around civic tech so that it reflects the diversity of this city," said Mark-Viverito at a City Hall press conference on Monday.
"The council must grow into a digitally agile institution that can easily adapt to emerging technology while remaining grounded in our communities," she later added.
The Council 2.0 framework will employ social media and mobile communication to engage New Yorkers, crowdsourcing feedback on hearings, programs, and proposals. As part of the project, which will be implemented in phases, a public tech team will analyze open data, redesign the Council's website, use social media, and create easy-to-use interactive digital tools. The Council's legislative database will also be revamped and made more accessible, and reports provided to the Council by city agencies will be publicly displayed in user-friendly formats. It has been widely agreed that the Council website is in need of significant upgrades.
In updating its website and other digital platforms, the Council will also be mindful of accessibility. "We have to recognize that not everyone is a tech guru," said Council Member James Vacca, chair of the Council's technology committee, stressing the need to make civic technology user-friendly. "There's more to come," he promised.
Council Members Vanessa Gibson, Brad Lander, and Ben Kallos were also at the press conference, as were advocates Andrew Rasiej of Civic Hall, Jukay Hsu of Coalition for Queens, and Gene Russianoff of NYPIRG.
"We're the kind of government that's closest to the ground," said Lander of the City Council. "We want to hear what people have to say and we want to make sure that they understand what we're doing, and that's gotta be not just a two-way street but a real fundamental set of bridges."
The Council has partnered with Civic Hall, a new civic tech business, and others for expertise on digital solutions. In the fall, the Council will also launch "Council Labs," a mobile-friendly website to help New Yorkers navigate city government functioning; for instance, visualizing the budget process.
"This is truly what government is about, reaching everyday New Yorkers where they live, work, and raise their families," said Gibson. She called texting "a way of life" that will help with direct engagement at a local level.
In July, to help develop the public tech initiatives further, the Council will host a "Digital Inclusion Summit."
"Government is going mobile first, from a click away to a swipe away," said Ben Kallos, who chairs the Council's governmental operations committee and is himself a software deveoper. "Inclusive government means using every tool at our disposal, now and in the future, to engage New Yorkers where they're at, whether by text or online."
***
by Samar Khurshid, Gotham Gazette
@samarkhurshid