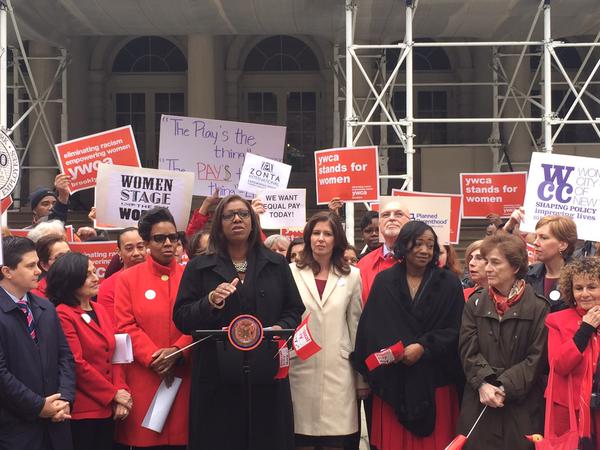 Public Advocate James at a rally at City Hall (photo: @JaviLacayo)
---
New York City Public Advocate Letitia James will file a brief today with the New York State Supreme Court seeking expedited appeal hearings against the denied petitions to release grand jury transcripts and evidence in the Eric Garner case.
After a Staten Island grand jury decided in December not to indict NYPD Officer Daniel Pantaleo for the July chokehold death of Eric Garner, a request for disclosure of the transcripts and evidence presented to the grand jury was brought before the court by Public Advocate James, the New York Civil Liberties Union, the National Association for the Advancement of Colored People, and The New York Post.
But on March 19, State Supreme Court Judge William Garnett refused to unseal the evidence saying in his opinion that the petitioners had failed to show a "compelling or particularized need" for the evidence. James had then vowed to appeal the decision.
Today, James will file a motion to expedite the appeal, which itself will be filed sometime this week. "Without [the motion to expedite] it'll likely take a year for it to be heard," she said in a phone interview this morning. "A decision in about a year is unacceptable."
The motion's justification is simple. A speedy appeal is necessary since the case implicates a "pressing and time-sensitive matter of deep public concern," the motion states. It also says the appeal will have direct bearing on legislation and policy reform that is currently being considered.
"There's a crisis of confidence in our criminal justice system," said James. "But we're undaunted in our quest for justice. The secrecy of the grand jury process is not sacrosanct. This is bigger than the Garner case, bigger than one borough, bigger than one individual. it's about restoring confidence in our criminal justice system."
Grand jury evidence is protected by state law, and New York has strict laws about concealing most information from grand jury proceedings. After the Eric Garner case decision, there was widespread outrage against what people saw as a failure of a broken system, sparking weeks of protests in the streets. The release of evidence would bring more transparency to the system, James said. "The public has a right to know."
Staten Island District Attorney Daniel Donovan, who presided over the Pantaleo grand jury and is now running for Congress, urged the court to deny the petition for disclosure and later called Judge Garnett's decision "well-reasoned."
But James argues that Donovan set the precedent for their appeal. He had originally filed a motion for limited disclosure of the evidence and it was granted. "We're arguing the same law," James said.
***
by Samar Khurshid, Gotham Gazette
@samarkhurshid