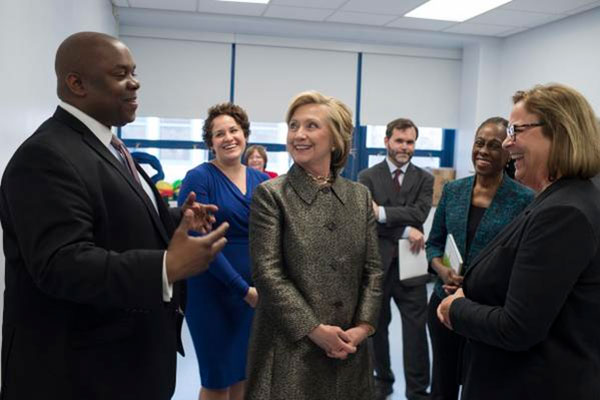 Hillary Clinton during a recent appearance in NYC (photo: NYC Mayor's Office)
---
Mayor Bill de Blasio may not have endorsed Hillary Clinton's presidential bid yet, but her candidacy could be instrumental in accomplishing something he and Governor Andrew Cuomo failed at last year: putting the State Senate in the hands of Democrats.
"I think she will have longer coattails next year than Cuomo did last year," said Kenneth Sherrill, who taught political science at Hunter College for decades. "Turnout will be higher and more partisan. There won't be any winks and nods toward Republican incumbents."
If the Democrats can wrest control of the Senate in 2016 they would control both houses of the Legislature come 2017 (they already hold a significant majority in the Assembly), and, at least in theory, be able to force the governor to the left.
"A presidential year with a rock star from New York running for president will immensely help voter turn out," State Senator Liz Krueger, a Manhattan Democrat, predicted enthusiastically.
Democrats have been creeping toward the majority in the Senate after holding it briefly from 2009 to 2010. In 2012 the breakaway Independent Democratic Conference, a splinter cell of dissatisfied Democrats, gave Republicans the majority - with Cuomo's blessing.
In 2014 de Blasio launched a campaign to win outright control for Democrats and pressured the IDC to return to the fold - its members promised to conference with Democrats, but that seemed to hinge on the Democrats winning enough seats to have a majority. Cuomo, who faced a tepid response from his liberal base, barely campaigned for himself let alone Democratic candidates and flirted with backing Republican legislators who had supported his major policies in the past.
Republicans won outright control, in part thanks to Brooklyn Sen. Simcha Felder, an elected Democrat who conferences with Republicans. Now de Blasio and like-minded Democrats face a Senate Majority that holds a grudge and the fate of rent laws, mayoral control of schools, and other key elements of de Blasio's progressive agenda in its hands. Cuomo holds a bag of progressive 2014 campaign promises that Senate Republicans seem dead set on preventing him from delivering, while they do enable him to deliver on the more conservative or centrist pieces of his economic and education agendas.
However, a massive advantage in voter registration and a younger base appear to make a Democratic takeover an eventuality. Hillary Clinton's candidacy could be the shove Democrats need to get them over the threshold and to never look back. Compared to Republicans, Democrats see larger turnout fluctuations in presidential and non-presidential years, with Clinton expected to provide a significant (if not Obama-esque) boost.
Cuomo would be faced with a liberal tidal wave in the Legislature and he might not be able to find a strong middle ground, though underestimating his ability to do so might be dangerous. Democrats further to the left, including de Blasio, would have two houses of the Legislature looking to deliver on progressive issues.
For some Democrats 2016 is D-Day. They expect Democratic turnout will spike and Clinton coattails - Hillary is technically a New York resident who represented the state in the US Senate and whose campaign office is in Brooklyn - will drag Democrats into perhaps permanent control of the chamber.
"I really think this is it," said New York State Senator Neil Breslin, a Democrat from Albany. "Her candidacy will be a strong attractor for new candidates, for veteran legislators to increase their involvement, and it will boost Democratic turnout."
Krueger said that with Clinton's candidacy, the push by US Senator Kirsten Gillibrand to recruit more women candidates, and efforts from advocacy groups and PACs, "I do think we will see more interest in people who are willing to run for state government. The trouble is that a lot of people say: 'Albany, really? Yuck!' We need to get people...past that cynicism. When women see other women in leadership it makes [them] think, 'I can do this,'" she added.
Breslin believes Clinton's candidacy will also give some Republicans pause, and perhaps lead to the retirement of some more senior members.
Senate Republicans have been playing defense for years, fighting off changes to election law, redistricting, and campaign financing. They've also had to convince older members to stay in their seats for fear that their name recognition, not their party affiliation, is what has kept their seats in Republican hands.
"I get a 25,000 boost in votes in a regular presidential year," said Breslin. "That is the margin of victory for most candidates. Now translate that to Hillary."
Senate Democrats have worked diligently on presenting a unified front during their time in the minority, rallied around leader Andrea Stewart-Cousins, and even begun to openly challenge the policy decisions of Gov. Cuomo, who has done little to help them electorally and undermined and overlooked them legislatively.
In a sense Democrats have been liberated and become less fractious because they have lost some of their more rural and conservative districts to Republicans; meanwhile, districts that used to be fairly conservative are trending more liberal.
"We are in an extremely strong place regardless of whether 2016 is a presidential year," said Sen. Michael Gianaris, a Democrat of Queens, who noted the Senate Democratic Campaign Committee is out of debt for the first time in years. "We have 31 elected Democrats [in a 63-seat chamber] and there could be special elections before then for any number of reasons. Now add a Clinton candidacy to that - [she] is a daughter of New York - and we are in an amazing position."
Gianaris incudes members of the IDC in his count - they may quickly attempt to reconcile with mainline Democrats if the party is able to take a majority.
Republicans have laboriously tried to maintain some level of bipartisanship, fostering their alliance with the IDC and allowing them to bring some more Democratic issues to the floor including the DREAM Act and parts of Cuomo's Womens Equality Agenda. And they partnered with Cuomo to pass marriage equality and the SAFE Act - but they also saw incumbent legislators defeated after facing backlash on their votes on those two issues. And in the past two years Majority Leader Dean Skelos has pushed back hard against the progressive agenda.
Even some Senate Republicans say privately that passing the DREAM Act could be beneficial to the conference in certain districts with growing Latino populations, but Skelos has been adamant that the conference remain united in its public opposition to the measure. It's a certainty that Clinton and other presidential candidates will be heavily courting Latino voters.
Skelos has also refused to budge on a new round of minimum wage increases, and appears to have opposed a number of criminal justice reforms put forward after the July death of Eric Garner in New York City.
"We want to see these policies enacted for the good of the people of New York," said Gianaris of a progressive agenda. "The more these guys reject these common sense issues like a minimum wage increase and paid family leave for things like tax breaks for yachts and private jets the more it becomes obvious to voters how out of touch they are."
As bright as the state Senate future may seem for Democrats and as inevitable a 2016 Democratic ticket headed by Clinton may seem at the moment, some in the party acknowledge that without Hilary they could be in serious trouble. "Forget it," said one Democrat who asked to remain anonymous."If Hillary loses the primary we are in major trouble. All bets are off."
***
by David King, Albany editor, Gotham Gazette
@DavidHowardKing