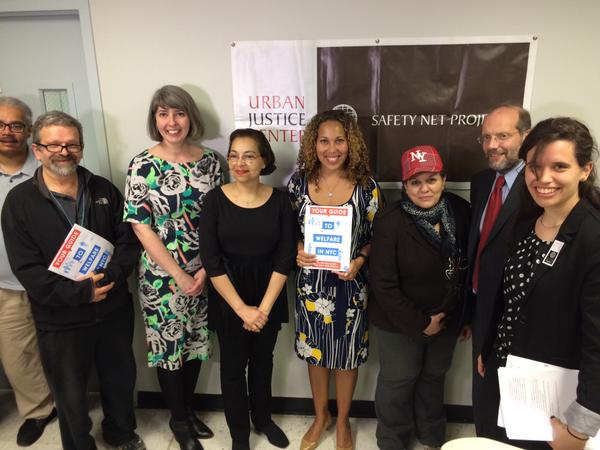 At Thursday's guide release (photo: @DMirandaSNP)
---
New Yorkers in need of public assistance provided by the city must navigate a maze of bureaucracy and paperwork. In an attempt to provide clarity and ensure that the neediest access available benefits, the Safety Net Project at the Urban Justice Center in collaboration with the Center for Urban Pedagogy today released a visual guide to the city's welfare system.
Titled "Your Guide to Welfare NYC," the poster is designed to help the 350,000 city residents who rely on public cash assistance to access benefits and protect themselves when those benefits are in danger of being revoked.
The guide was created over the last year through feedback from recipients of public benefits and advocacy groups. The city's Human Resources Administration (HRA) also helped review the poster drafts and its commissioner, Steve Banks, was at Thursday's launch event.
The Safety Net Project has printed 2,000 copies, a portion of which will be distributed today throughout the five boroughs while the online version of the guide is disseminated through social media and other channels.
"With over 350,000 people relying on public assistance, there aren't enough resources to ensure everyone has access," said Denise Miranda, managing director of the Safety Net Project. "There's an urgent need to help those people who rely on benefits for their survival."
Going forward, Miranda hopes that they can translate the multi-page poster into different languages and print and distribute on a larger scale. "We're hopeful that the city might participate in raising funds for distribution," she said. "It's a resource tool that will be invaluable to New Yorkers."
The poster - in red, white and blue - has a step-by-step visual guide divided into three easily readable sections with graphics. The first section lays down the basics of eligibility for benefits, how they are disseminated, and where to apply. The second section gives simple instructions for how to apply, including the documents needed and tips for visiting HRA centers. The final section shows people how to retain benefits, avoid sanctions, and settle disputes with HRA.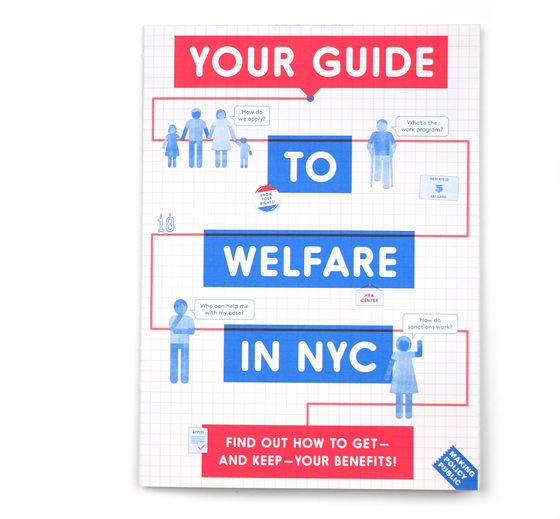 Showing renewed cooperation between HRA and advocacy groups, the release was held at HRA's Waverly Job Center in midtown. "We have been partnering with community groups all over the city," Commissioner Banks told reporters. "Over the past year we've been making dramatic reforms in the agency and we think efforts like this are helpful to get information out to our clients. We look forward to continue to partner with the Urban Justice Center and other efforts to make sure our clients are aware of the services that we have and help them navigate that process."
Under Banks, who was appointed by Mayor Bill de Blasio, HRA has seen significant changes from past administrations. "After 20 years of administrations that showed disregard, some might say disdain, for people in need of assistance, there's been a shift in outreach, policy and culture in the new administration," said Safety Net Project's Miranda.
HRA has also been making efforts in easing the process of accessing benefits. Just last week, the city announced a new website, foodhelp.nyc, to help people apply for Supplemental Nutrition Assistance Program (SNAP) benefits, also known as food stamps. The city estimates that more than half a million New Yorkers qualify for SNAP but have not availed of them.
"Anything that helps people know about and navigate the complicated process [of public assistance] is important," said Liz Accles, executive director of Community Food Advocates. "The administration has taken big steps forward. But there have been 20 years of policy and public practice in place that make it nearly impossible to access public assistance. It takes the full effect of both the city administration and advocacy organizations to see that people are able to get assistance and navigate the process."
Wendy O'Shields has volunteered at Safety Net Project for the last year and worked on the new guide. Her perspective is doubly relevant considering that during the Great Recession, she had to reluctantly apply for public assistance. "There was nothing I could reference to learn the rules that HRA goes by," she told Gotham Gazette after today's press conference. "I had to learn by the experience, the school of hard knocks. It would have been very helpful going through crises if there was something I could have referenced so I could have not made the learning curve beginner mistakes."
The new poster does just that. Perhaps more aptly called a pamphlet, it translates legal technical information into conversational language and has a flow-chart-like design. "We often think of it as building a narrative that helps people move through the information in a way that's accessible," said Christine Gaspar, executive director of the Center for Urban Pedagogy. "The process is about bringing those pieces together."
***
by Samar Khurshid, Gotham Gazette
@samarkhurshid