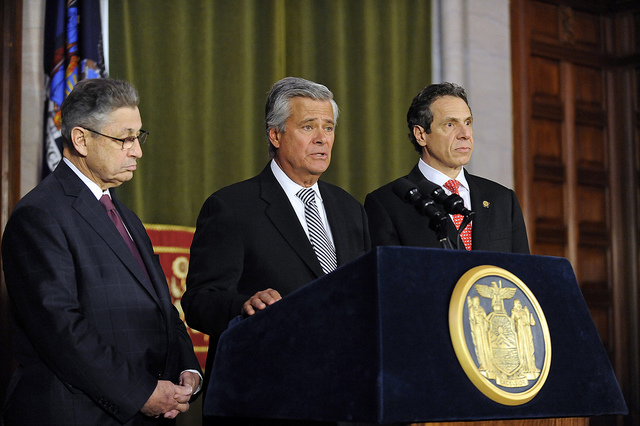 Dean Skelos in 2012 (photo: The Governor's Office via flickr)
---
In June 2008, after serving 23 years as the State Senator from Nassau County, Dean Skelos inherited the troubled Republican conference from retiring Majority Leader Joe Bruno. It wasn't exactly the most enviable position.
Facing an aging conference and with Democrats enjoying a huge enrollment advantage across the state, 2009 saw Republicans enter the Senate minority for the first time in decades. The same month Skelos began his stint as minority leader his predecessor was indicted on eight counts of corruption. It began Skelos' long but successful fight to keep his conference not only relevant but in charge when it mattered the most in terms of decision-making for the future of his party.
Now, seven years later, Skelos faces a federal complaint with several charges, including monetizing his office by arranging payments to him and his son through a developer who sought favorable legislation. The case involves many elements of state government that have been attacked as corrupt and unethical - from the LLC loophole that allows donors to pump the lifeblood of campaign cash into the Republican conference, or the 421-A tax break for developers that has been attacked as a giveaway to corporate donors, major issues at play in the indictment are parts of how Skelos managed to keep himself and the Senate Republicans in power in Albany.
"I'm going to be president of the Senate, I'm going to be majority leader," Skelos allegedly told his son during a phone conversation about their deal with a developer - a call being recorded by federal agents. "I'm going to control everything, I'm going to control who gets on what committees, what legislation goes to the floor, what legislation comes through committees, the budget, everything."
On Monday Skelos issued a statement claiming his innocence and worked to maintain his role as leader of the Senate Majority.
Karen Scharff, executive director of Citizen Action, an organization that has advocated many major reforms that Skelos directly opposes, said that Skelos' power can be directly traced back to the policy he delivers and the reforms he opposes.
"It was never more clear than in last year's Senate elections how much the system helped keep the Republicans in power," said Scharff. "They raised vast amounts of money from hedge funds that were interested in very specific policy points and had them spend massive amounts of money in independent expenditures to deliver the policy that keeps them in power."
During his time as Majority Leader Skelos won battles on redistricting, not only pushing back efforts to create independently drawn lines but even succeeding in the creation of the 63rd Senate seat upstate. He publicly derided campaign finance reform, public financing of campaigns, and efforts to have lawyers disclose their clients. And behind the scenes he was mostly successful in holding back the tide of government and campaign finance reform. He's appointed members to the state's Joint Commission on Public Ethics, or JCOPE, and fought successfully to kill the Moreland Commission on Public Corruption. As the federal charges against him and much political history show, Skelos has not been alone in any of this.
The indictment against Skelos alleges he monetized his office by abusing the same systems and loopholes that he protected from reform. The charges against Skelos say that the developer involved in the kickback scheme used the LLC loophole to subvert campaign finance limits. Only last month, Skelos' new appointee to the Board of Elections thwarted efforts to eliminate the same loophole.
Skelos maintained this power by cutting deals with Democrats like Gov. Andrew Cuomo and Independent Democratic Conference head Sen. Jeff Klein who both share some of Skelos' economic concerns and larger donors.
"Skelos' indictment gets to the core problem," Scharff told Gotham Gazette. " Those who raise the most money are the ones who have the most power and they have gone out of their way to make sure reform doesn't happen. They have made sure it is built into how Albany works."
How He Got Here: The Coup
In 2009, Senate Democrats reveled in their new-found power. Exposing Bruno's largess - personal, customized vans for his use, private printing facilities, and television studios, Democrats were riding high as they took control of the chamber. But Democrats only enjoyed a few seat margin over Republicans.
The "Three Amigos" including Pedro Espada, Carl Kruger and Ruben Diaz pushed for more power within the conference in exchange for their loyalty. Democratic Majority Leader Malcolm Smith appeared weak and scattered. Meanwhile Buffalo billionaire Thomas Golisano, who had helped Democrats win the majority, felt ignored by Smith. He and his political fixer Steve Pigeon met with Skelos and Republican Sens. Tom Libous and George Maziarz in an Albany rock club and began devising a Senate takeover.
They recruited the dissatisfied and particularly-ambitious freshman Espada and Espada recruited Sen. Hiram Monserrate. On June 8, 2009, with only days left in session, facing the expiration of mayoral control of schools and the rent laws, Republicans lept into action. Republicans moved for a surprising leadership vote and although it was disputed by Democrats soon Skelos was standing in the chamber shaking hands with Espada - the two split Smith's positions as Majority Leader Espada and Senate President Skelos.
Control of the Senate was disputed for months. Eventually Espada and Monserrate rejoined the Democratic conference but the damage had been done - rifts in the Senate Democrats were made public, and they were painted as dysfunctional during their first shot at the majority in decades.
Worth noting is that at the time both Monserrate and Espada faced ethical questions beyond just conniving for Senate power. Espada was eventually convicted of stealing from his own health clinics, in one case using cash for HIV victims to fund his campaigns, and Monserrate was eventually expelled from the Senate for slashing his girlfriend's face with a bottle. And yet, Skelos partnered with both men for a tenuous shot to regain control of the Senate.
Keeping Power Through Redistricting
In 2011 Skelos regained the title of Senate Majority Leader thanks to major donations from real estate, developers, and New York City Mayor Michael Bloomberg, and it wasn't a moment too soon. A coalition of reform groups led by former Mayor Ed Koch were pushing for legislators to deliver a redistricting plan that better reflected the actual enrollment and population of the state. For decades Senate Republicans and Assembly Democrats engaged in a redistricting process that allowed them to draw districts that would assure their incumbents had the best chance of being reelected, disregarding the actual makeup of communities. Skelos played hardball, slamming Koch's efforts as "partisan."
Eventually Cuomo gave up his pledge to veto any district lines that were gerrymandered and agreed to new lines that drastically favored Senate Republicans, even creating a 63rd district upstate that suspiciously carved its way around major population centers and incorporated rural towns populated by more voters who were more likely Republican.
During this time Skelos proved to be a valuable ally to Cuomo as he helped the governor pass some of his more conservative fiscal plans, including a tax cap, while also delivering Cuomo the votes he needed on same-sex marriage. Although Cuomo also delivered a highly-touted ethics package that year, advocates insist that major issues were ignored because Skelos and Senate Republicans refused to cede any ground on campaign finance reform as they believed the current system was essential to keeping them in the majority.
2013-2014 Deals and The Death of Moreland
Democrats technically held enough seats for a majority after the 2012 elections but Skelos cut a deal with the IDC and newly-elected Sen. Simcha Felder to create a coalition government which saw Skelos rotate control of the chamber with Klein. During this time a number of legislators were indicted on corruption charges and advocates began a major push for public financing of campaigns. Skelos stood steadfast against campaign finance reform, even holding a hearing against the policy featuring national anti-public finance advocates.
"Public financing of elections would not have stopped any one of those crooks and idiots from doing what they did," Skelos told reporters on April 23, 2013. Skelos directly referenced Smith who had been indicted that day on counts that he tried to bribe his way onto the Republican ticket in the race for New York City mayor.
As pressure mounted in 2013 Skelos obstinately opposed a series of reforms proposed by Cuomo - a package of reforms most advocates actually considered insignificant. Finally Cuomo made good on his longtime threat to empanel a Moreland Commission to investigate public corruption. For months, as Moreland held hearings, Skelos and now-indicted then-Assembly Speaker Sheldon Silver waged a court battle against Moreland and publicly decried it as a "witch hunt."
"These actions amount to an attempt to coerce or threaten the Legislature and upset the separation of powers that exists between the executive and legislative branches, and cannot be accepted," Skelos wrote to Senate Republicans in November 2013.
It was in 2013 that reports of possible influence by Cuomo's office into the commission began. Some Moreland insiders insisted Cuomo's office was particularly deadset on stopping subpoenas to the Real Estate Board of New York, whose members are key Cuomo donors, but also major backers of Skelos and Senate Republicans. Cuomo began facing increasing pushback from Skelos and Silver during 2014 budget negotiations.
Moreland was reportedly closing in on ties between donations from the real estate industry and policy and it was making everyone in charge antsy. In March, Cuomo quietly announced he had killed Moreland in exchange for his proposed slate of reforms. "Skelos killed the commission just as it was starting to expose the quid-pro-quo system that is built into Albany," said Scharff.
As the 2014 election season kicked into high gear Cuomo felt increasing pressure to support a Democratic Senate and align himself with liberal policy. The governor promised the Working Families Party he would help elect Democrats to the Senate and the IDC promised it would caucus with Democrats.
Senate Republicans mobilized their major donors, reminding them of the coming sunset of the rent laws, the push to expand charter schools in the state, and of the "Democratic dysfunction of 2009." Not only did the real estate industry pour record amounts of cash into Senate Republican coffers, but it marshalled a number of independent expenditures to boost candidates in important districts.
This Year
Republicans started 2015 with the wind in their sails. They had won complete control of the Senate and soon after the year began Silver, longtime Democratic Assembly majority leader, was indicted. But quickly word came that Skelos was also a target of US Attorney Preet Bharara. Still, Skelos rejected just about any Democratic policy proposed in the state budget: tossed out were proposals on campaign finance reform, renewing mayoral control of schools, criminal justice reform, raising the minimum wage, and a host of other issues.
After returning from the budget break in mid-April, Republicans largely ignored the major outstanding issues. Session became a parade of small-time legislation having to do with vanity license plates and honoring local sports teams. Last week as more chatter picked up around Skelos' possible indictment, session slowed even further with Republicans spending more time in conference.
Finally on Friday the New York Times and Wall Street Journal reported federal prosecutors might arrest Skelos on Monday. Skelos and his son faced charges in court and the Senate Majority leader proclaimed his innocence. Senate session went on as planned Monday afternoon, with little of substance being discussed and many Republican Senators expressing solidarity with Skelos, the man who kept them in power against the odds. But signs exist of a possible break in the solidarity. Some, like Sens. John DeFrancisco and John Flanagan jockeyed to replace Skelos while others like Sen. John Bonacic said Skelos had to resign with an indictment over his head.
Democratic Sen. Michael Gianaris said he was "troubled" by the allegations against Skelos, adding: "Senator Skelos should now step down as Majority Leader for the good of our state and in the interest of allowing the remaining weeks of our legislative session to proceed without distraction. There are too many important issues which remain unresolved, ironically including several long overdue ethics reforms and expiring housing laws."
Saying that "Legislative leaders must be held to a higher ethical standard of conduct and his actions violate that standard," good government group Citizens Union called for Skelos to step down from his leadership post on Tuesday.
Klein, who maintains a deal with Senate Republicans, did not call for Skelos to resign. "The burden now falls on the Republican Conference to determine if new Republican Leadership is warranted," Klein said in a statement.
Cuomo, who has remained mostly in New York City of late, was in Albany Monday, but his only public event was an announcement that he participated in by phone. He did not comment on the Skelos matter.
Scharff and Blair Horner of the New York Public Interest Group both said it is now up to Cuomo to push through the reforms he could not achieve earlier this year. "At the top of that list of legislative "must dos" are initiatives to overhaul ethics enforcement, limit outside income, and reign in the influence of New York's powerful special interests," said Horner. "The governor must take up the unfinished Moreland Commission agenda to restore the public's confidence in state government; specifically closing the LLC loophole."
***
by David King, Albany editor, Gotham Gazette
@DavidHowardKing
Note: Gotham Gazette is an independent publication of Citizens Union Foundation, sister organization of Citizens Union