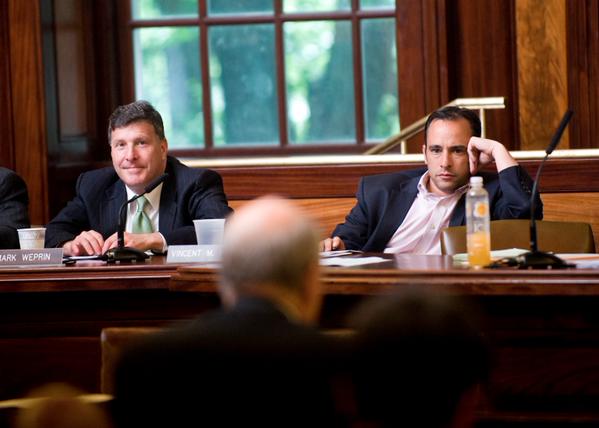 CMs Weprin, left, & Ignizio, right, are both leaving the Council (photo: William Alatriste)
---
City Council member Mark Weprin, a Democrat who represents part of Queens, announced on Monday that he will step down from his seat to join Governor Andrew Cuomo's administration as Deputy Secretary of Legislative Affairs, making him a key liaison between the governor and the state Legislature, City Council, and others.
On Friday, news came from the Staten Island Advance that Council Member and Minority Leader Vincent Ignizio, a Republican, will resign from the City Council sometime this summer to become "the chief executive officer of the soon-to-be Catholic Charities of Staten Island."
Separate special elections will be called to fill the seats. When a City Council member officially resigns, the mayor has three days to call a special election for the seat, which would then be held on the first Tuesday after 45 days from that day. Once announced, petitioning starts immediately and candidates have seven days to get the necessary signatures to get on the ballot. City Council special elections are nonpartisan and there are no run-offs, meaning that there are no party primaries, that anyone who can make the ballot is in, and whichever candidate earns the most votes wins.
Weprin, who was elected to the Council in 2009, has indicated he will officially resign sometime around the end of May. "It has been an honor to represent Eastern Queens as an elected official for twenty-one years, first in the New York State Assembly and then in the New York City Council," said Weprin in a statement released on Monday. "I will be forever grateful for both opportunities."
There are already a host of rumors about who may seek to succeed Weprin in the Council - it will be a frenetic, short race, and could very well competitive one, as other specials have been in the past. Ignizio, who represents Staten Island's South Shore, actually joined the Council via special election in 2007.
Meanwhile, what's to be of a council member's office between resignation and the special election to find a replacement? A spokesperson for Weprin confirmed that the district office would remain open and that staff would continue to serve constituents until the special. It is likely that this will occur in coordination with City Council central staff, as directed by Council Speaker Melissa Mark-Viverito. Once a new member is elected, Mark-Viverito's staff will assist in the transition process. It is safe to assume that the same process will occur with Ignizio's move.
Weprin's council district includes Bayside Hills, Douglaston, Floral Park, Fresh Meadows, Glen Oaks, Hollis Hills, Little Neck, New Hyde Park, and Queens Village, among other Queens villages. Mark Weprin previously served as a member of the state Assembly for fifteen years, representing the overlapping 24th district - which his brother, David, now represents in Albany - their father, Saul, held the seat before Mark Weprin ran to succeed him upon the elder Weprin's death. There had been talk, including from David Weprin himself, about the current Assembly member resigning to seek Mark's seat in the Council, where David served before joining the Assembly, but David put those rumors to rest on Thursday.
As the city, and the two districts especially, looks ahead to the special elections to replace Weprin and Ignizio, there are some interesting facts and trends to note. "Because they're nonpartisan, many of them are particularly close," said Jerry Skurnik, political consultant and founder, Prime New York, said of City Council special elections. Since 2001, Skurnik said, five of the ten council members who won special elections received less than 50 percent of the vote.
The most recent City Council special election, in February 2013, saw now-Council Member Donovan Richards win in a crowded field with just 29% of the vote - he defeated his closest runner-up by 80 votes (there were only 9,091 votes cast).
There were three council members - two still serving - elected via special election in Feburary of 2009.
Moreover, of the upcoming special Skurnik said, "Weprin's two-weeks notice gives candidates some time to organize. Usually there's a special election when someone is arrested or dies which leaves possible candidates scrambling."
The names of a few Queens Democrats are already making the rounds as possible contenders, and the Queens County Democratic Party will surely play a key role in determining both candidates and their chances.
Another key aspect at play is Mark Weprin's role as head of the City Council's Queens Delegation, which puts him at the forefront on member item distribution and other important insider tasks.
Following Weprin's announcement, Speaker Melissa Mark-Viverito praised his record on the Council. In a statement emailed to Gotham Gazette, she said, "Council Member Weprin has been a great representative for his community in Queens. As the head of the Zoning Franchises Committee and head of the Council's Queens Delegation, Council Member Weprin has always put New Yorkers first and the City Council wishes him all the best in his new role with Governor Cuomo."