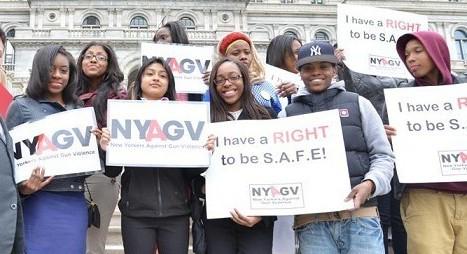 Student activists in Albany (photo: @NYAGV1)
---
Earlier this month, New Yorkers Against Gun Violence brought 150 school children from the Bronx and Harlem to Albany to recite poetry, sing songs, and perform skits about the impact gun violence has on their daily lives.
They didn't get the warmest of welcomes. Kicked out of the space they had booked - the very public well of the legislative office building - they were forced into a hearing room. They were replaced in the well by a wine tasting.
Leah Barrett, executive director of NYAGV, told Gotham Gazette she had booked the well months ahead but at the last minute the Republican Senate Majority moved her group to a hearing room, well out of public eye.
The move would fit a theme. For the past year gun issues have been taboo in Albany, especially as they became a flashpoint during the 2014 election cycle. Gov. Andrew Cuomo felt blowback in upstate counties for advocating for and signing The SAFE Act after the 2012 Sandy Hook massacre in Newtown, CT, as did legislators from both parties who voted for it.
In the face of this trend, gun control advocates have slowly been ramping up efforts to introduce new gun-safety measures and educate the public about what they say are the "common sense protections of the SAFE Act." As they set their sights on the last weeks of this year's legislative session and beyond, their effort became more challenging given developments last week, when the leadership vote brought up upstate-downstate divides in the Senate Republican conference.
"Contrary to what many lawmakers probably think, we're not done with guns," Barrett told Gotham Gazette, saying that NYAGV and regulation-minded legislators will not be dropping their agenda, which includes things like tougher requirements for keeping guns locked up in homes.
Gun rights groups, angry that upstate Senators backed Sen. John Flanagan of Long Island to take over as majority leader, turned up the pressure on Senate Republicans to repeal the SAFE Act. They threatened to primary upstate legislators who backed Flanagan, who voted for the act, while his opponent in the leadership race, Sen. John DeFrancisco, voted against it.
"How can we possibly support an institution that is being run by someone who voted for the SAFE Act, which was probably the most draconian piece of legislation to affect the Second Amendment in New York State in our lifetime?" Thomas King, president of the New York State Rifle and Pistol Association, said this week of the Senate and its majority conference.
Flanagan told The Buffalo News and other interviewers that he would consider bills to reform the SAFE Act, but cast doubt that the Assembly or Governor would take them up, much less a full repeal.
Gun rights advocates insisted from the start that the SAFE Act was rushed through the Legislature by Cuomo out of political expediency and that some of its measures don't make practical sense.
NYAGV's Barrett dismissed the uproar in the Senate as "just bluster," but it certainly hasn't made her job any easier.
Barrett and legislators had been pressuring new Assembly Speaker Carl Heastie, a Democrat from the Bronx, to dedicate a session day to passing laws encouraging gun safety and combating gun violence. So far Heastie has rebuffed those efforts. And since the leadership change in the Senate, advocates appear to have backed off those efforts.
"We are less concerned about a day than just allowing bills to come to a vote - that is what is important and I believe the speaker is more inclined to do that," Barrett said.
Heastie's office did not return request for comment.
Assembly Member Amy Paulin, a Democrat from Scarsdale who has a long history of sponsoring gun safety bills, admitted that the time may not be right for major action on guns. "There is really nothing onerous about anything in the Safe Act, but that isn't how people think of it now. Any real change is hard. All the parts of the SAFE Act were bills that we fought for over years. Change doesn't happen quickly," Paulin said.
Barrett has a list of legislation her group would like to see addressed, at least by the Assembly this year - even though those votes would be largely symbolic, with advocates and legislators knowing the Senate is extremely unlikely to take any up. The laws include legislation that would require gun owners to more safely store firearms, fight interstate gun trafficking, mandate safety training for employees of gun retailers, and train employees to better recognize buyers who simply plan to resell guns on the black market.
Barrett said that some of these bills are unlikely to pass the Senate because of pressure from the gun-rights lobby. However, she does expect some gun safety laws could make it through both houses. For example, Republican Senator Kathy Marchione of Rensselaer County and Manhattan Democratic Assembly Member Brian Kavanagh are sponsors of a bill that would provide tax credits to those who purchase gun safes.
Nicholas' Law, which requires safer storage of guns, is sponsored by Paulin in the Assembly and Sen. Jeff Klein, Independent Democrat of the Bronx, in the Senate.
The bill is named after 12-year-old Nicholas Naumkin, a resident of Saratoga Springs who was shot dead by a friend who was playing with his father's pistol, which had been left loaded and unlocked.
"Nicholas' law is a gun safety bill that advocates from both sides can agree on. It's common sense," said Paulin. "So I think we can pass that as a one-house bill this year," she said of at least moving it through the Assembly.
Paulin's general hesitancy about advancing further gun regulations likely has to do with some of the pressure upstate Democrats feel from their constituents around the SAFE Act. Many continue to voice a desire to see at least tweaks to the act.
Buffalo Democratic Senator Mark Panepinto broke with his party to challenge Flanagan to pass a series of bills that would tweak the law to make it easier for families to pass guns down through estate planning and keep private except to law enforcement all information regarding pistol permits. "We've got five weeks and I hope that Senator Flanagan will do the right thing and bring these things to the senate floor and I'm confident they'll pass," Panepinto recently told reporters.
Panepinto's seat is critical for Senate Democrats who hope to reclaim the majority in 2016. It may make strategic sense for Democrats to look the other way as Panepinto and others challenge the SAFE Act.
Sen. Jose Peralta of Queens is the Senate sponsor of a bill that would implement tougher restrictions on gun retailers like requiring them to have a security plan, ban those 18-years-old and younger from their premises, and require that guns are only sold on the premises or at gun shows. Paulin is the Assembly sponsor. Peralta said that he would be surprised to see any action on relevant issues in the Senate this year.
"I think it is really about education upstate," said Peralta. "Not only senators, but constituents because it's the constituents who move legislators. New Yorkers Against Gun Violence are working on that, but it's not easy."
While most of the consternation over the SAFE Act is based in upstate and western New York it appears its effects are being felt increasingly downstate where there is more gun violence. State records show that from March 2013 to the start of 2015 about 3,300 arrests were made under the SAFE Act. The majority of those arrests were made due to the provision making possession of an illegal firearm a felony. The majority of the total arrests were in New York City, with a large portion of those coming in the Bronx and Brooklyn.
Barrett said that NYAGV plans to continue educating legislators and the public about the impact of gun violence in cities across the state while advocating local gun safety ordinances. She notes that New York City, Buffalo, and Rochester already have an ordinance like Nicholas' Law on the books. She hopes cities like Albany will soon follow. "It takes a long time to pass any good piece of legislation, we know that," said Barrett. "We're patient."
***
by David King, Albany editor, Gotham Gazette
@DavidHowardKing