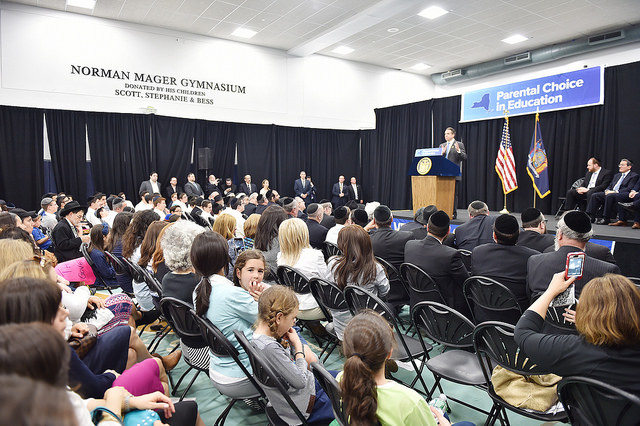 Gov. Cuomo on Sunday in Brooklyn (photo: Office of the Governor - Kevin P. Coughlin)
---
It was as if Gov. Andrew Cuomo was on the campaign trail again last week, visiting Long Island and Buffalo one day and then four churches and a Yeshiva in Brooklyn on another. Cuomo doesn't have to run for office again for another three years, of course, but his barnstorming last week was designed to promote what he's calling a top priority: passing a $150 million plan mostly aimed at giving tax credits to families whose children attend private and religious schools and to others who donate to those schools. The push is so campaign-like that Cuomo's visage is plastered across television screens in ads sponsored by supporters of the Parental Choice in Education Act.
With the 2015 legislative session winding down Cuomo has been saying in no uncertain terms that he is committed to seeing the education tax credit pass. To some, Cuomo sounds like a guardian angel. To others, he sounds more like a villain. The governor's message has pained advocates and legislators who support the DREAM Act, which would allow qualifying undocumented immigrants access to state tuition assistance when attending college or university.
"It's upsetting to us because our members have been receiving daily mail with his face on it pushing for the education tax credit," said Javier Valdes of Make the Road New York, an advocacy group that includes many immigrants. "The only time we got mailers with his face on it supporting the DREAM Act is when he was running for re-election."
Cuomo touted The DREAM Act as a major priority during his 2014 re-election campaign - especially during visits to New York City - but it appears to many advocates and legislators that Cuomo is still holding the act hostage in an attempt to force the Assembly to pass the education tax credit. The Democrat-heavy Assembly has deep ties to teachers unions that oppose the tax credit, saying that it will take money away from traditional public schools.
At the same time, some advocates and legislators have withheld criticism of Cuomo, believing that Cuomo will move on the DREAM Act. The governor has continued to express support for the act, but not in such grand terms. Many believe he could and may still take executive action to create a tuition assistance program for immigrants within SUNY and CUNY. Even that possibility would not satisfy some legislators who want the act passed and fear executive action might serve as a distraction.
Cuomo linked the DREAM Act and an older version of the education tax credit in his budget proposal, angering supporters of each. Both measures were discarded from a final budget deal, but legislators who support DREAM say they had Cuomo's assurance he would return to the issue with a vengeance. Public enthusiasm from the governor has thus far been absent in the post-budget session. "Heck yes, it bothers me the governor isn't doing for the DREAM Act what he is out there doing now for the education tax credit," Assembly Member Francisco Moya told Gotham Gazette.
In some ways it appears the two issues have become wrapped up in Cuomo's war of attrition with forces in public education. Education advocates like Billy Easton of the Alliance for Quality Education and Michael Mulgrew of the United Federation of Teachers, both Cuomo foils, are adamantly opposed to the education tax credit because they say it will take away funding from public schools while benefitting large corporate donors - donors who have close relationships with Cuomo. The UFT has even launched a radio campaign called "Mr. Money Bags" slamming the tax credit and Cuomo.
Many legislators remain under the impression that Cuomo won't put his full force behind the DREAM Act until the Assembly passes the tax credit. "We need to see if the Assembly can't sort things out on the tax credit and after that I believe the Dream Act will come into play," Sen. Jose Peralta told Gotham Gazette.
Blair Horner of the New York Public Interest Research Group, which supports the DREAM Act, said the Assembly has plenty of reason to believe action on the tax credit will not get them anything on DREAM. "At the end of session everything is connected," said Horner. "But I would counsel the Assembly that some people have been known to promise things and forget those promises when it becomes convenient."
Cuomo was asked if he might link the DREAM Act and the education tax credit in his future advocacy during his stops in Brooklyn on Sunday.
"Yes," Cuomo responded. "There are about seven or eight bills that we're pushing. This is an event on this bill. You can go to the events on sexual assault and say 'are you only doing sexual assault? Why didn't you mention the Education Tax Credit at the sexual assault event?' It's because it's a sexual assault event. You can go to a DREAM Act event and say 'why didn't' you mention sexual assault?' So the DREAM Act is a priority, sexual assault is a priory, ETC is a priority, mayoral control is a priority, 421-a is a priority. They're all priorities."
If both issues remain linked it appears likely they will both fail, as Assembly Speaker Carl Heastie told reporters on Tuesday that there wasn't enough support for the tax credit bill to pass his conference. "I still think the conference is where it is," Heastie said. "It still has some members that support it. It's an unwritten rule, but it's a rule: This is a governmental body and majority rules. I've been very clear that if we don't have a majority of Democrats to pass a bill, we're not going to bring it to the floor."
Heastie then tweaked Cuomo on the DREAM Act:
"We'd love to see the Dream Act passed," said Heastie. "But I think that's a question you need to ask the governor, why he's not out campaigning to get the Senate to pass the Dream Act."
As for executive action around the DREAM Act, there are some legislators who believe that Cuomo may be in the mood to make an impact on the issue without the help of the Legislature. Hamstrung by Senate Republicans on a minimum wage increase, Cuomo recently called for a state wage board to consider hiking the hourly rate for fast food workers. Some observers believe the move is boxing Republicans in on the issue by highlighting the popularity of a minimum wage increase and showing that Cuomo can take action without them.
However, some advocates worry that the move may give Republicans more reason to oppose actual legislation and that the same could happen if Cuomo takes executive action related to DREAM. Moya doesn't think things are that complicated.
"I think it would be a good thing but we are focused on working to see the governor keep his promise and deliver the DREAM Act before the end of the session," said Moya. "We've seen that when he puts his energy into an issue he can make anything happen."
Horner said that his organization has advocated the governor take executive action on other issues before and he doesn't see much reason the governor shouldn't act on tuition assistance for undocumented students.
"If the governor can take action and help students without giving the Legislature something then I think it is pretty cut and dry," said Horner.
***
by David King, Albany editor, Gotham Gazette
@DavidHowardKing